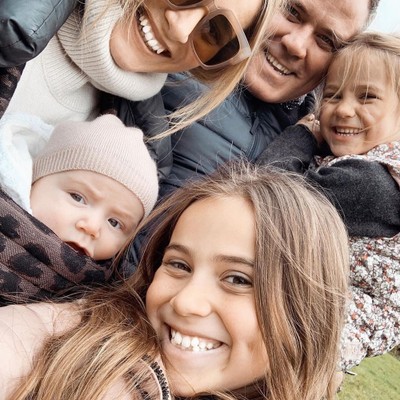 My Journey Into Motherhood: Katie Impey

As mother to Isabella, Lottie and Olivia, creative director, stylist and influencer Katie Impey, like many others, has had her hands full over the last year – not to mention the fact she gave birth for the third time at the height of the pandemic last July. Here, she tells us what becoming a mother has meant to her, and what she's learnt along the way…

Photography: ALL IMAGES COURTESY OF KATIE IMPEY
Photography: ALL IMAGES COURTESY OF KATIE IMPEY
My husband and I have been together 18 years. We had our first date on 20th March 2003, when I was 17 and he was 23 but we've only been married just shy of two years. We have three girls – Isabella, ten, Lottie, four and Olivia, who is seven months. We didn't place too much importance on marriage before having Isabella – being engaged felt official enough, plus life just got in the way. All that changed when my mother was diagnosed with terminal cancer – she was my husband's biggest fan and I felt if my mum wasn't around to see me get married, I would probably never do it. As a result, we turned our wedding around within a week. 
Having children was something we'd always discussed. Our relationship turned serious early on, but we were together for several years before we had Isabella. I was 23 when I got pregnant for the first time, and our lives changed overnight. We went from living in a one-bed party flat in central London straight to the suburbs as a mum and dad. People say giving birth is the moment your life changes, but for me it was getting pregnant. 
Even after I had Isabella, I didn't feel particularly maternal. I was still quite young and had to go back to work. It wasn't a great experience – I was treated quite poorly as a working mum and felt like a statistic. In the end I was made redundant, which is what pushed me to pursue my career in fashion. We didn't rush into having a second baby because I wanted to carve out a name for myself in the industry. 
When I had Lottie, I took six weeks maternity leave. After my experience with Isabella, I was very conscious of not being replaced. The difference this time around was I'd built up some equity and trust at the company I was working for, and knew it was a job I could juggle with decent childcare arrangements. Plus, I often took her along to shoots in the hope she would sleep.
My first pregnancy was the dream – textbook, you'd never have known anything was different. It was probably because I was so young. I had everything they say to expect: glow-y skin, glossy hair, and I loved every minute. But my second pregnancy was totally different. It was the worst nine months of my life. I felt sick, tired and anaemic all the way through. It was quite upsetting because it was something I'd looked forward to and wasn't able to enjoy. To anyone currently suffering in the same way, remember it does end – eventually. It was also a reminder that no two pregnancies are the same. My third pregnancy was more like my first. It was tiring looking after two other children, but the 2020 lockdown meant I was able to rest more. 
I definitely had more anxiety during my third pregnancy. Everything about the [Covid-19] virus was so unknown and it felt like everything was changing from one day to the next. I was constantly checking the latest advice for pregnant women. Initially we were told to shield for 12 weeks, which I tried to do, bar taking the girls to school. I gave birth in July 2020, when restrictions were slightly more relaxed, which meant my husband was able to join me for my last scan and for the labour. I went to everything else on my own but because it was my third, I knew what to expect. That said, I have complete empathy for first time mums right now because, if I think back, labour can be terrifying.
There's a running joke in our family that I was a nightmare baby. Everyone said I'd get my comeuppance when it came to having children of my own, but Isabella was the dream delivery. I loved giving birth – it's the most exciting thing you can do. Lottie was straightforward, too. My aunt is an anaesthetist, and I told her I wanted an epidural. Her advice to me was not to waver once I was admitted to hospital. In the end everything felt pretty chilled – I even did some online shopping in the early stages of labour!
The second time round was not quite so smooth. I went into labour on the day of the junior doctors' strike, so the whole ward was run by consultants – which was great – but my epidural didn't work, and I could feel all the contractions. It made me swear to get an epidural in plenty of time if I ever gave birth again. Having said all that, I'm forever grateful to the staff at St Thomas' hospital. I don't live nearby, but I've had all my children there for a reason. 
The first time you bring a newborn home, it's scary. I was one of the first of all my friends to give birth, and I'd never even changed a nappy before. But when it's your child, the maternal instinct just kicks in. And that baby bubble – there's nothing else like it. It's tough, but it's such a magical time. Second- and third-time round I've become more aware of how time moves so quickly, but having social restrictions in place over the last few months has made it more special because you get to bond as a little unit. Usually, when you have a newborn, it's a revolving door of visitors, which can be overwhelming. 
My husband says this is our last baby. I would love another, but I'm treating her as if she's my last. I'd love to adopt – specifically a child with special needs. My mum worked with adults with special needs for 30 years so it's something I feel very strongly about. I'd love to be able to give a child the best opportunities in life but I'm also aware of the commitment it would be for our family. 
It's controversial but I don't think women can have it all. I'm in a position now where work is more flexible, but first time around I was in a corporate environment in a proper 9-5 job with zero flexibility. It made life really difficult, and it was a very dark period. I felt so guilty about leaving Isabella. Working mums need to find the right childcare setting – it's crucial if you want to be able to focus. Looking back, I was constantly up at the crack of dawn, commuting and leaving work early to make it back in time. It made me very unwell, both physically and mentally. 
Now I'm in a better place, it's important my girls know you can be a mum and have a career. I strongly believe working mums are some of the hardest working people in the world. We have so much to prove. They're an asset to any business because they've made the choice to be there.
I look back on my own childhood so fondly. My mum always worked, but she was always there. When I had my own children, I knew I wanted to work part time. It didn't feel right not to be able to take them to school and pick them up. My memories of our family holidays are so precious to me as well. It's something I want to foster for my own family, especially in this modern world where there are so many distractions. 
Becoming a mother did make me feel differently about my own mum. My girls are all very sassy and it's made me realise I wasn't the easiest of teenagers to deal with. But I never lied to her – even if I was doing something I wasn't supposed to, she always knew where I was and who I was with. It's the kind of relationship I want to replicate with my girls. I want them to know they can always come to me and talk about anything. If they have a problem, I'll do everything I can to try and help.
In our house, it's very much good cop, bad cop. My husband says yes to everything. Chocolate biscuits for breakfast? It's a yes. They love going to the supermarket with him, too – for obvious reasons. But they have the most incredible relationship. He's so hands on – he'll bath them, feed them, everything – and he has done from the very beginning. 
It sounds like the ultimate cliché, but I only want my children to be happy. Shortly before my mum passed away, she said she was at peace knowing my brother and I were happy. She said her work as a mother was done and that she was leaving this life knowing she'd achieved everything she could. 
Children have shown such resilience throughout this last year. If other parents feel like they're struggling – and we all are in some way – I'd tell them to try and focus on the positives. Try to make being at home as good an experience as possible. Use the time to create memories. Thank god for technology, too – can you imagine this happening when we were little? There were only four channels on the TV!
Never underestimate your maternal instincts. I was never a maternal person before my first baby, but I remember having gut feelings. I'd then completely confuse myself by googling the problem or asking someone for advice. But I'd always revert back to my first instinct. Not having access to baby groups, healthcare workers – all of whom have strong, often conflicting opinions – perhaps it's a blessing right now. No one knows your baby better than you. 
Ultimately, motherhood has taught me to be totally selfless. These days, I'm way down the pecking order – my girls are my top priority. I was 33 when my mum died, but I knew I was her priority right up until the very end. You're a mum for life – no matter what. 
You can follow Katie @TheMumLife_Styled on Instagram. 
DISCLAIMER: We endeavour to always credit the correct original source of every image we use. If you think a credit may be incorrect, please contact us at info@sheerluxe.com.