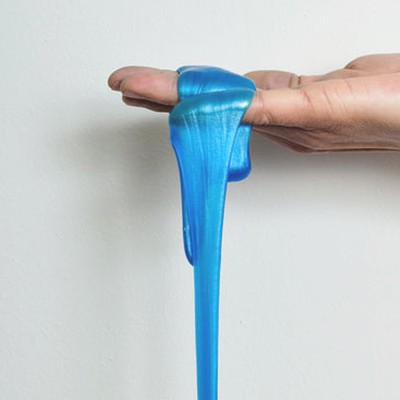 Is Slime Harmful To Your Children's Health?

As those with children will know, slime products have had a resurgence in popularity this last year. But while children are enjoying the squishy, gooey substance, new reports have suggested they could be causing more harm than good. So, what's really in the playtime favourite, and should we be throwing it straight in the bin?

What exactly is slime?
Slime was created by toy manufacturers Mattel in 1976 and made was from guar gum. Since then, many iterations of the slime have followed, with some now incorporating glitter and a number of different colours. These days it gets its sticky, stodgy texture from mixing sodium borate, also known as borax, with water.
Since then, slime has become something of a niche product not just limited to children. Type slime into YouTube and you'll come across a plethora of strange, addictive, mesmerising videos where the slime is played with for ASMR purposes or for instant relaxation.

Why has it been in the news recently?
New reports suggest that the curious substance could be toxic. An investigation by consumer group Which? found that out of 11 commonly-purchased slime products, only three met safety regulations. The other eight breached EU regulations due to the amount of boron they contained. (Borax is a boron compound.)
The worst offenders for boron are the following slimes:
Fluffy Slime (pink) by CCINEE
Crystal Slime Magic Clay (pink) by Cosoro Dodolu
Mini Bucket Putty (green) by Baker Ross
Slime Toy (purple) by iBase Toy
Fluffy Slime (blue) by LOYO
Brezeh Free Slime Toy (orange) by Brezeh
My Fluffy Slime (green) by Virtuotrade
One product tested - Toysmith Jupiter Juice – had four times the permitted level of boron. Boron has been linked to convulsions and diarrhoea, and could even have an adverse effect on fertility.
Which? has also been advising parents to avoid making homemade alternatives, which often call for borax – something that is often found in cleaning products. In fact, a 10-year-old schoolgirl made news just this week after an attempt to make homemade slime resulted in painful burns on her hands. Her concoction mixed PVA glue, shaving foam and a contact lens solution, the latter of which contains borax.

What happens next?
All the products that failed the tests were subsequently removed from Amazon's UK site. "All Marketplace sellers must follow our selling guidelines and those who don't will be subject to action including potential removal of their account," an Amazon spokesperson said. "The products in question are no longer available."
There are several more natural slimes that parents can try making for their children that contain corn starch and gelatine, but the texture will be significantly different to shop-bought slimes. On the other hand, there were three slimes that did pass the Which? test: HGI Goopy Slime from The Works; Glam Goo Deluxe Pack from Smyths; and Planet Slime Shop's Hulk Green Halloween Slime from Amazon.
Despite this, according to New Scientist reporter Michael Le Page, it's very unlikely that any of the shop-bought slimes listed by Which? would harm children. The company said in their study: "Exposure to excessive levels of boron could cause irritation, diarrhoea, vomiting and cramps in the short term" – and, while this is true, Le Page says it's "exceedingly unlikely to have excessive levels of boron even after playing with the slime found to have 1400 milligrams of boron per kilogram, way above the European Union safety limit of 300 mg/kg limit for toys of this kind."
It is repeated exposure to high doses or borax that is dangerous, rather than one-off events, says David Schubert, an expert on borates, AvidChem Solutions: "If you were to eat a few grams of borax, you would get sick to your stomach and throw up, and that would be the only harm that would come to you."
So you might not need to give up your slime just yet - chemist and slime maker Kat Day recommends the best way to avoid any issues with the product is simply by limiting kid's slime time and washing hands thoroughly afterwards.
DISCLAIMER: We endeavour to always credit the correct original source of every image we use. If you think a credit may be incorrect, please contact us at info@sheerluxe.com.