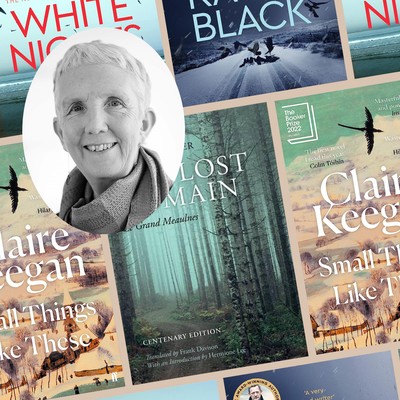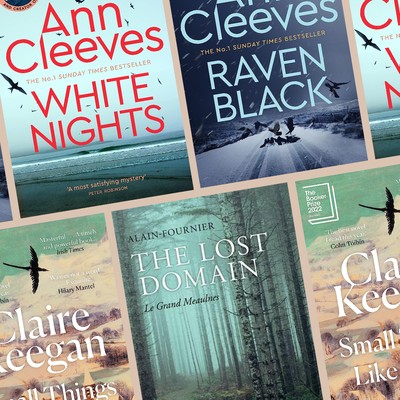 My Life In Books: Ann Cleeves

Ann Cleeves is one of the UK's most successful crime writers – you may well be familiar with her Vera Stanhope, Jimmy Perez and Matthew Venn series, all of which have been adapted for television. The recipient of the Cartier Diamond Dagger from the Crime Writers' Association for 'sustained excellence' in crime fiction, she was also awarded an OBE in the New Year Honours List 2022 for services to reading and libraries. We sat down with Ann to find out about her own reading habits, where she buys her books, the ones she goes back to time and again, and what she's looking forward to picking up next.

All products on this page have been selected by our editorial team, however we may make commission on some products.
What are you reading right now? 
I'm very lucky to get sent lots of proof copies and right now I'm reading the new Richard Osmond, The Last Devil To Die. I'm enjoying it – it's very entertaining. I love that his books are about older people, and this one explores the pain within a relationship when one member of a couple gets Alzheimer's. Although it is quite light-hearted, it does explore that dynamic really beautifully. His transition into novels has been really quite extraordinary and really inspiring.
When did you know you wanted to be a writer? 
I always loved reading – from when I was young. It was a lot easier to be passionate about reading then because there were no other distractions and very little television. I didn't come from the sort of family where it seemed possible to be a writer, which is probably why my first book came out when I was in my early 30s. At the time, my husband and I were living on a very small tidal island off the coast of north Wales, which was fairly boring if you weren't into birds, which I wasn't really. So that's when I started writing. But it was a lot easier to get published in the 1980s, too. My first book was called A Bird in the Hand and it came out in 1986. I carried on writing, publishing roughly a book a year, but had no real commercial success until 2006 when Raven Black came out and I won the Duncan Lawrie Dagger. The thing to realise is I always had to have other work. There's this myth that once you're a published author, you're going to make a fortune. Not many people know I also trained to be a social worker and worked for a bit as a probation officer, before working in public libraries as a reader development officer.
Can you tell us a bit about your writing routine now? 
I travel a lot these days to various festivals and things but, when I've got a clear day, I always wake up very early – around 5:30am – and make myself tea. Then, I sit at my kitchen table until I've written about 1,200 or 1,500 words. After that, my concentration starts to go, and you need that to write properly. So, the rest of the day I dedicate to editing or I focus on my Reading for Wellbeing project. By the early evening, my brain just stops working, so the next morning I'll read what I did the day before and then carry on. 
What do you enjoy so much about crime as a genre? 
I suppose it was always my comfort reading. Whenever I was miserable, had been dumped by a boyfriend or had the flu, it was crime that I came back to. There is something about the structure and the sense of resolution that people find attractive, especially in times of chaos. Given the pandemic and cost of living crisis, I think people do like to feel as though that sense of order has been restored somewhat – even in crime novels. 
Whose crime writing do you really admire?
Sarah Hilary's new book Black Thorn is stunning. It's a sort of gothic psychological drama that's very claustrophobic and really interesting. I think it's the best book she's written. I also love Mick Herron's Slough House books because they're just so funny. Then there's Cath Staincliffe who created the Blue Murder series back in the day and now writes some really brilliant drama for radio. She wrote a book called The Girl in the Green Dress that I really admire. This year I read a book by Emma Flint, called Other Women, which looks at what might have happened to the women who became more independent after the First World War. That was a really interesting read.
What are the books from your childhood you'll never forget?
All of Malcolm Saville's books. He wrote mysteries, but quite classy ones – definitely a step up from the usual Enid Blyton! I can remember writing him a fan letter and getting a handwritten letter back. It was very exciting. He had something called the Lone Pine Club, which you could join, and I recently found out that the crime writers Ellie Griffiths and Mick Herron were both members too. So we all loved his books. There was also someone called Lorna Hill who also wrote books about dancing but she also wrote a series set in Northumberland about a clan of wild kids who went out and had adventures. That's when I decided I wanted to live in Northumberland.
How do you like to read?
I always read in bed and sometimes in the afternoons when I've been working. I find reading then just sort of marks the break between work and doing other things. 
And where do you like to buy your books?
We have a fabulous independent bookshop where I live called The Bound and I buy all my books from there. They're part of a group of three bookshops in the northeast – one in Corbridge called Forum Books and one called The Accidental Bookshop. They're all run by the same couple and they also do great events. They're just very supportive to authors. If I'm doing a library event somewhere or a big charity gig, they'll often come along.
And what about Kindle versus hard copy? 
I don't have a Kindle. When I'm travelling, I will download stuff onto my phone to read. But if I'm at home, it's always a physical book.
I didn't come from the SORT OF FAMILY where it seemed POSSIBLE TO BE A WRITER, which is probably why MY FIRST BOOK came out when I was in my EARLY 30s.
Do you have a favourite literary character? 
That is really tricky. Choosing my favourite book is easier in a way. I did A Level French and we read Le Grand Meaulnes, which translates as The Lost Domain, by Alain-Fournier and I just love it. It has so many faults, but it's still magical. Even though I can't read French anymore, I love it in translation, so I go back and re-read that a lot. 
Is there a book you think everyone should read?
Absolutely not. I'm very anti snobbishness around books. We put a lot of people off reading by forcing them to read the books we like. If you're having a good time with a book, it's a good book for you. At one time, crime fiction was despised by reviewers. So just find something you love and then maybe be a bit more adventurous – and join your local library because it's free. 
If you had to give a book to someone as a gift, what would it be? 
I just read Small Things Like These by Claire Keegan and gave it everyone I knew for Christmas. She's brilliant and I thought it was just perfect. It was also very short, which is great – so it was almost like giving people a Christmas card.  
How do you decide what to read next? 
It really depends on what I'm into at any given time. Right now I'm loving Vaseem Khan's books. He writes about Bombay in the 1950s and his lead character is the first female detective. He also hosts this great podcast with fellow crime writer Abir Mukherjee called Red Hot Chilli Writers.
Crime writing is all about the plot – how do you plan yours?
Honestly, I don't really plan at all. I suppose I write like a reader – and then I have to go back and edit a bit to tie it all up properly. But I only go back if I'm getting lost. So, it's quite organic. I'll write the first chapter, then when I know what's going happen next, I write the next one. And so, I carry on until the end. Most writers are more observers than participants, so sometimes inspiration comes from something that makes you angry that you want to write about, or it's something you're not sure about and you want to explore it. Although crime fiction is entertaining, it's ultimately about social justice, isn't it? Because I travel a lot, I tend to overhear conversations or see interesting people, and that's helpful for sparking new ideas. 
What's the best book you've read this year? 
Probably Emma Flint's Other Women. I thought it was beautifully written. Her earlier book is called Little Deaths, which again, was incredibly skilful. 
In your opinion, has there been a crime book that was adapted particularly well for television?
Some authors are more involved in their adaptations than others – and I'm not really. From the beginning I decided I didn't know what made good television, so just let them get on with it. I thought the Karen Perry adaptations were very good – as were the adaptations of Val McDermid's books.
Tell us a bit about your upcoming book, The Raging Storm…
It's a Matthew Venn book and it's set in north Devon, where I grew up. It's always fun to go back there, in my head at least. I suppose I wanted to write about a bit of north Devon that wasn't pretty, that people didn't know. So, that's how it started. It's about a lifeboat crew and rescue as well. I enjoy writing for all my characters – but I'm very into Vera Stanhope at the moment. 
If someone reading this has always wanted to write, what would your advice be for them? 
It's never too late. You've probably got lots of life experience, so you've got something to write about. Tell the story that you want to tell. Find your own voice and then get to the end – because lots of people start but never finish!
Ann Cleeves won the Theakston Old Peculier Outstanding Contribution Award at this year's Theakston Old Peculier Crime Writing Festival. Ann's upcoming book, The Raging Storm, will be released next month. Pre-order your copy here.
---
Shop The Books Mentioned Below
DISCLAIMER: We endeavour to always credit the correct original source of every image we use. If you think a credit may be incorrect, please contact us at info@sheerluxe.com.