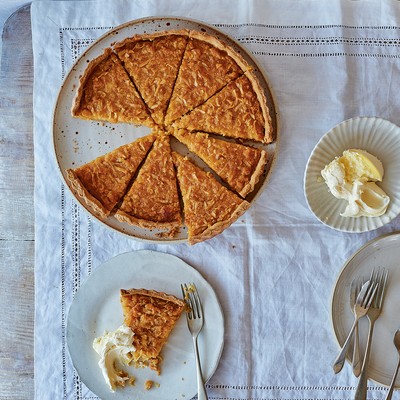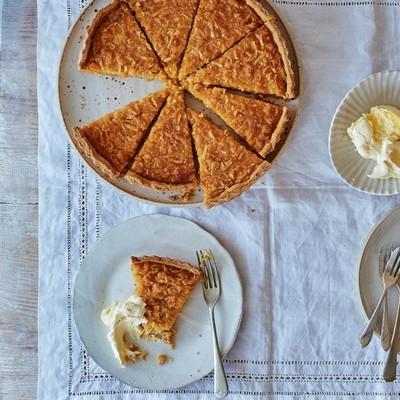 3 Cornish-Inspired Summer Recipes To Try

Time & Tide is the latest cookbook from chef Emily Scott, whose Watergate Bay restaurant in Cornwall is one of our favourites. Recognised by Michelin since 2016, Emily has cooked for world leaders as one of the G7 summit chefs and appeared on the likes of Great British Menu. In her new book, Emily weaves together everything that influences and inspires her cooking, from the salt-scented Cornish air to plants along the coastal path. Here, she shares three recipes for you to try at home.

All products on this page have been selected by our editorial team, however we may make commission on some products.
I am comforted by the rhythms of my daily life. I have learned to appreciate the rituals and routines that mean everyday tasks get done. They give me a feeling of contentment. Just being is a wonderful thing, knowing that however challenging life can feel, things can always be sorted out. A simple cup of tea, a strong negroni, a walk on the beach, a big hug or someone telling you that you are great is often the best medicine. On high days or low days, I find constant solace in the ebb and the flow of the tide, the gentle sea breeze and the waves lapping at my feet.
Cornwall is beautiful, whatever the season, and will always lift your spirits. In my first book, Sea & Shore, I took readers through the seasons by the sea with chapters on Spring Tides, Summer Seas, High Summer, Autumn Tides, Noël and Winter Seas. In Time & Tide, I take readers through the heart of my kitchen as the days unfold in moments of time, to tell you about what is important to me and brings me joy. From my style and how to keep things simple yet thoughtful, to my favourite times of the day and the importance of making time. Join me to discover recipes from my coastal garden, for long lunches, beach days, boat days, salty swims and sunsets by the sea, all using beautiful ingredients, with nostalgia and provenance always at the core of my cooking.
I am always at the restaurant early, discussing, checking menus, arranging tables, organising plants and herbs, dressing the set and catching up with my team. As my team has grown, my routine has slightly changed. Gone are the days of me doing every service and working – apron on – every hour. There is now more balance and more time for the other opportunities that have come my way. Lunch and supper service, my restaurant runs Tuesday through to Saturday. I am always pushing harder, trying to do better. When you work for yourself, there is never an end to your day. I often find I wake in the early hours and lie awake thinking of words to write, so I am often found at my desk writing in the early morning, not wanting to miss a word or a thought. I genuinely have a passion for what I do. There are always challenges, but I'm so happy to have found my place.
---
Inspired? Here are three great recipes to try at home…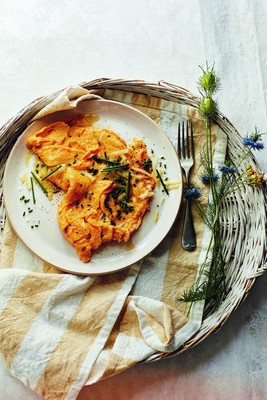 BRUNCH:
Omelette, Keen's Cheddar, Chives
Like many people, I am inspired by Julia Child, the American cooking teacher, television personality and author. I love her warmth and generous spirit. She loved to learn and never rested on her laurels. Julia's open curiosity, love for food and passion for cooking made her such a star. Mastering the Art of French Cooking volumes one and two are the most wonderful books. They transport me straight back to my days spent in France. Homemade mayonnaise, the perfect poulet roti, crème anglaise, puff pastry, that boeuf bourguignon with red wine and, of course, the wonderful humble omelette. Julia Child died in 2004, but her legacy remains and she continues to be such an inspiration to so many people around the world. Omelette is perfect for a lazier start to the day and we always have it for breakfast on the warmer days of the year, eaten outside. It is also one of our go-to lunches or easy suppers. The wonder of eggs and all they do.
Ingredients
2

medium free-range eggs, at room temperature
15

-20g

of unsalted butter
25g

of Keen's cheddar (or similar), grated
1

handful of chives, snipped
Cornish sea salt and freshly ground black pepper
Method
Step 1
Crack the eggs into a bowl and whisk to combine, then season with a good pinch of sea salt and black pepper.
Step 2
On the stove, melt the butter in a small non-stick frying pan add the eggs and tilt to spread the mixture out evenly over the base of the pan. As the eggs begin to firm up, but are still a little runny, add most of the grated cheese and chives. Use a spatula to go round the sides of the omelette and fold over in half. Cook for a further 1-2 minutes until golden brown, then gently slide onto a plate and sprinkle with the remaining cheese and chives.
Step 3
Served on toasted, buttered sourdough, this is my kind of breakfast. Chopped parsley or chervil can replace the chives, or all three chopped together are delicious.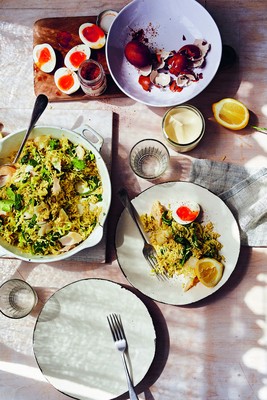 SUPPER:
Kedgeree with Leeks, Spinach, Spring-Note Herbs, Crème Fraîche
Comfort in a bowl, there is something so nostalgic about kedgeree – or spicy rice, as we call it in our house. A dish that is so versatile, perfect for a weekend brunch or feeding a crowd, a moreish hangover cure, or a quick and simple midweek supper. Deliciously simple, it's also a great way to introduce children to cooking with fish. Salmon or haddock can replace the smoked fish, if you prefer.
Ingredients
450g

of long-grain brown rice
650g

of undyed smoked haddock (from a sustainable source), pin boned
2

garlic cloves, finely chopped
3

leeks, trimmed and thinly sliced
1

tsp

of curry powder pinch of chilli flakes
100g

of baby spinach, stalks removed, washed
1

x

200g

tub of crème fraîche
3

tbsp

of flat-leaf parsley, roughly chopped
2

tbsp

of coriander, roughly chopped
Cornish sea salt and freshly ground black pepper
Method
Step 1
Cook the rice in a pan of boiling water according to the packet instructions, then drain and refresh under cold water.

Step 2
In a medium saucepan that has a lid, heat the milk with the bay leaves and cardamom pods. Bring to a simmer, then turn off the heat, add the haddock and let it gently poach in the milk for 10 minutes covered with the lid. Carefully remove the fish to a plate with a slotted spoon and remove any skin or bones. Reserve the milk. Set both aside.

Step 3
Heat the butter and olive oil in a large frying pan over a medium heat, add the garlic and leeks and gently cook for 10-15 minutes. Never rush anything from the allium family. Stir in the curry powder and chilli flakes and gently cook out the spices. Gently fold in the rice so it stays light and fluffy, then stir in the warm milk and bring back to a simmer. Stir in the spinach leaves and cook for 3-5 minutes until just wilted. Stir in the crème fraîche, season with sea salt and black pepper, then stir in most of the chopped herbs and the lemon juice. Fork in the poached fish. Taste and consider. Halve the eggs lengthways and arrange on top with the remaining herbs.

Step 4
You can serve in warm serving bowls, but I love nothing more than serving this from the pan placed in the middle of the table for everyone to share.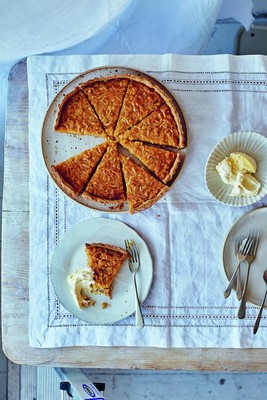 PUDDING:
Treacle Tart
Golden syrup deliciousness and the sweeter the better, this is a favourite pudding in our house. It brings back memories of my childhood and treacle tart for Sunday lunch, as this was always one of my mother's signature puddings. The right balance of syrup to crumbs is essential here. Not enough and the filling will be dry and chewy; too much and it will not set. Another method I love to use, which my grandmother always swore by, is to grate the pastry into the tin and then pat the pastry out with your hands to line the tin. Always handle pastry with care and do not overwork. If time is an issue, ready-bought pastry from supermarkets really is good. If you do not have ceramic baking beans, rice is a perfect replacement. Any leftover pastry can be used to make jam tarts.
Ingredients
For the sweet pastry:

125g

of unsalted butter, cold and diced
250g

of plain flour, plus extra for dusting
For the filling:

Finely grated zest of

1

orange
Finely grated zest of

1

lemon
2

Granny Smith apples, peeled, cored and grated
½

tsp

of Cornish sea salt
1

medium free-range egg, beaten
75g

of fresh white breadcrumbs
Method
Step 1
First, make the sweet pastry. Place the butter, flour and icing sugar in a food processor and blitz until it resembles breadcrumbs. Add the egg and pulse until the dough comes together and away from the sides. Transfer the dough to a floured work surface and shape into a round, then wrap in cling film and refrigerate for at least 2 hours. This can always be made a day ahead or make several batches and freeze, so you always have some pastry to hand.

Step 2
Preheat the oven to 200°C/180°C Fan/Gas Mark 6). Line a 22cm fluted tart tin with a circle of greaseproof paper.
Step 3
Remove the pastry from the refrigerator and roll it out to about 2mm thick. Carefully line the tin with the pastry, then place back in the refrigerator to chill.

Step 4
Line the chilled pastry case with some greaseproof paper and tumble in some ceramic baking beans. Bake blind for 15 minutes, then remove the baking beans and greaseproof paper and cook the pastry case for a further 2 minutes. Remove from the oven and set aside.

Step 5
For the filling, gently heat the syrup, cream, orange and lemon zest, lemon juice, grated apple and salt together in a pan. Remove from the heat and whisk in the egg, then add the breadcrumbs and stir together.

Step 6
Fill the tart case with the filling and cook for 20-25 minutes until set and golden brown. Allow to cool.

Step 7
Slice with a hot knife – this will give nice clean edges to your slices. Serve with ice cream or some clotted cream.
DISCLAIMER: We endeavour to always credit the correct original source of every image we use. If you think a credit may be incorrect, please contact us at info@sheerluxe.com.