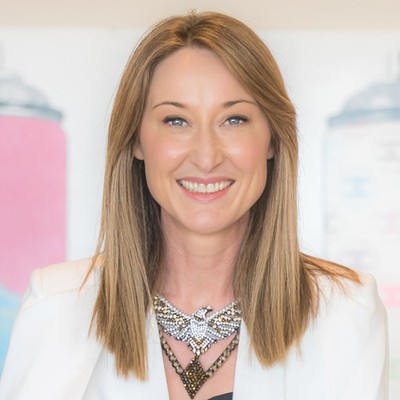 The Woman 'Transforming' Millennials' Bank Accounts

A no-nonsense guide to making smart decisions and taking control of your money, financial expert Melissa Browne says her latest book is "transforming" the relationship millennials have with their bank accounts. Here's why Unf*ck Your Finances is well worth a flick through...

As a former accountant, author Browne understands numbers. But as a serial entrepreneur, she knows that numbers are only part of the story. The Founder and CEO of award-winning accounting and advisory firm A&TA, CEO of The Money Barre (a financial planning business for 28- to 48-year-olds who want to grow up) and Co-Founder and Director of Business at the long-day early learning school for 3-5 year olds, Thinkers.inq, she's an expert in growing successful businesses and achieving real-life results. 
Her first book, More Money for Shoes, compares building a business to building a wardrobe and demonstrates how to build a profitable, successful business. Her second, Fabulous but Broke, uses financial fairy-tales to challenge the notion that you need a fairy godmother or knight in shining armour to save you. And her third, ​Unf*ck Your Finances, is aimed specifically at the millennial market – a wise move considering the latest statistics on young people's saving habits (nearly 40% of millennials say that saving for retirement is not a priority right now).
"Most of us aren't actually dealing with our finances in a way that is helpful because we don't enjoy it," Browne explains. "We don't value it and we're carrying twisted money messages around with us which sabotage us from actually creating great finances. Which is a problem." She believes that because people aren't taught how to handle their finances at school or university, people piece things together themselves far later in life. "I think it's concerning that we're abdicating our responsibility to learn about finances," she says. "It's a really dangerous option because there's ever-increasing change in the world of finance and, if we don't even have a basic level of financial literacy, it could leave us all at risk."
According to the Sydney-based money expert, if you're a member of Gen X or Y who is looking to change your approach to your money, the first thing you need to do is take a long hard look at the figures: "The first step to breaking up with money is realising it's like a bad boyfriend and it's not a healthy relationship," she says. Then, once you've acknowledged this, it's time to figure out what you want to be and what you really value.
The first step to breaking up with money is realising it's like a bad boyfriend, and it's not a healthy relationship.
Next, Browne recommends embarking on a 30-day 'financial detox' from whatever sucks the most from your salary, such as online shopping or eating out in restaurants. "Before you start, figure out what you're going to do instead – whether it's meeting up with friends for a walk or trying a new hobby – and stay off social media as much as possible, which might tempt you to shop," Browne advises.
After this, it's time to track your finances. Refreshingly, Browne hates the word 'budget'. "It's like a diet," she says. "It's too restrictive and might work for a short period of time, but inevitably you'll trip up in the long term." Instead, she recommends tracking your spending via free finance apps, monitoring where your money's really going and whether you're spending it wisely.
There's also her 'bowl theory': Brown believes that spreading your money across various accounts will trick your brain into thinking you have less to spend – resulting in actually spending less. "The idea is that when you have a large bowl or plate, the instinct is to fill it," she explains. "Whereas when you spread your money across various accounts - and therefore create smaller bowls – then you can trick yourself into thinking you have less and therefore amass more." She recommends creating an everyday account, a bills account, a holiday and fun account, a savings account and a 'f**k off fund' – which should, ideally, contain around three months of your salary – and splitting your cash between them, making sure you don't dip into them.
Her informative-yet-relatable style and witty chapter titles, such as 'Be A Goal Digger', 'Dirty Planning' and 'Just Stop It!', make Unfck Your Finances both an easy and entertaining read – we came away knowing a whole lot more about money than we did before, and were actually inspired to start looking at our finances differently, thanks to Brown's easily implementable solutions. If, as the author puts it, you're in a "deep hole" with your finances, unsure how you arrived there and "absolutely fcking sure" you don't know how to get out, this book will change your whole perspective after just a few chapters.
Browne isn't afraid to tell it like it is. She's confrontational about spending habits, but doesn't shame – she encourages readers to face the facts with a genuine understanding of what it's like for them, and as such, what she says really hits home. Along with a lot of useful practical advice – including her favourite apps and tools – she shares reading resources, useful websites and motivational quotes from the likes of Carl Jung and Beyoncé. And our absolute favourite part? There's not a graph or chart in sight.
DISCLAIMER: We endeavour to always credit the correct original source of every image we use. If you think a credit may be incorrect, please contact us at info@sheerluxe.com.