The Best Exhibitions To Book This Season

As the year draws to a close, we've rounded up an essential selection of the best exhibitions to visit in London before the end of 2019. From immersive mirrored rooms to a trio of deep-dives into the world of fashion, here are 12 shows to see this season…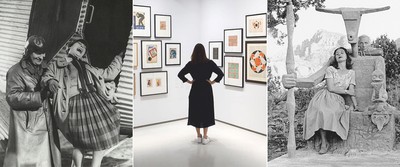 Modern Couples: Art, Intimacy and the Avant-garde
From Virginia Woolf and Vita Sackville-West to Lee Miller and Man Ray, Modern Couples: Art, Intimacy and the Avant-garde is a rich exploration of couples in the arts. The show looks at how creative individuals have challenged traditional ways of living and ideas about gender and stereotypes, all while creating brilliant work across photography, sculpture, architecture, poetry, music and dance. Featuring some of the biggest names in modern art, the exhibition explores creative relationships and offers an intimate look at the artist couples that forged new ways of making art. Duos on show include Dora Maar and Pablo Picasso; Salvador Dalí and Federico García Lorca; Camille Claudel and Auguste Rodin; Frida Kahlo and Diego Rivera; plus Emilie Flöge and Gustav Klimt.
Barbican, Silk Street, Farringdon, EC2Y 8DS; until 30th March 2019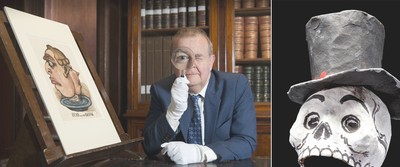 Ian Hislop: I Object
History, so the saying goes, is just one damned thing after another. But is it really? Who decides what is 'history'? Traditionally, the answer is 'the winners'. But in this exhibition Private Eye Editor Ian Hislop and the British Museum have set out to investigate what the other people had to say – the downtrodden, the forgotten, the protestors. On his search though the museum archives, Hislop has hand-picked a range of intriguing objects that explore the idea of dissent, subversion and satire. A wide variety of objects are on display – from graffiti on a Babylonian brick to a banknote with hidden rude words, from satirical Turkish shadow puppets to a recently acquired 'pussy' hat worn on a women's march. See what tales these objects tell – sometimes deadly serious, often humorous, always with conviction.
British Museum, Great Russell Street, Bloomsbury, WC1B 3DG; 20th January 2019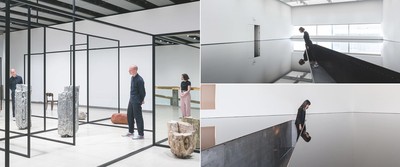 Space Shifters
A major exhibition has hit the Southbank Centre's newly redesigned Hayward Gallery. Bringing together sculptures and installations that explore perception and space, Space Shifters features 20 artists and spans a period of roughly 50 years. The exhibition includes innovative, minimalist sculptures from the 1960s as well as recent works that extend the legacy of this 'optical' minimalism in different ways. In bringing together artworks that activate our perception of Hayward's unique new space, Space Shifters provides a dramatic and fitting conclusion to the gallery's 50th anniversary year.
Hayward Gallery, Southbank Centre, Waterloo, SE1 8XX; until 9th January 2019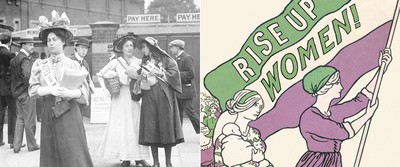 Votes for Women
2018 is the centenary of the 1918 Representation of the People Act, the law that gave the first women the right to vote in the UK. To commemorate the anniversary, the Museum of London has created a series of displays and events, titled Votes for Women. Dedicated to those who campaigned tirelessly for over 50 years to achieve the law, the exhibition features iconic objects from the museum's vast Suffragette collection, including Emmeline Pankhurst's hunger strike medal. At the centre of the display is a powerful, newly commissioned film that reflects on the contemporary relevance of the militant campaign that continues to inspire, shock and divide opinion.
Museum of London, 150 London Wall, City, EC2Y 5HN; until 6th January 2019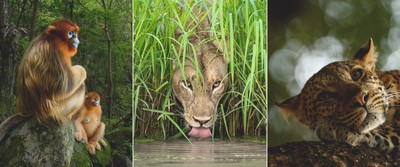 Wildlife Photographer of the Year
Now in its 54th year, the Natural History Museum's annual Wildlife Photographer of the Year exhibition continues showcases extraordinary animal behaviour and the breathtaking diversity of life on earth. Guests can explore the world's best nature photography, exhibited on 100 light panels, experience the changing face of nature and uncover the surprising, and sometimes challenging, stories behind the photographs. Chosen from over 45,000 entries by expert judges, the images were awarded for their creativity, originality and technical excellence. A day out for kids.
Natural History Museum, Cromwell Road, South Kensington, SW7 5BD; until 30th June 2019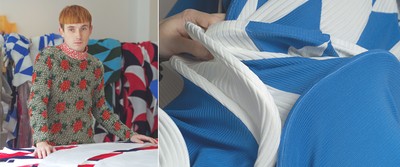 Richard Malone: Rinse, Repeat
Fashion designer Richard Malone has curated his first art installation, held at Now Gallery on Greenwich Peninsula until the end of January. Entitled Rinse, Repeat, the interactive multi-disciplinary exhibition is made up of three elements, creating a conversation around fashion, movement and art, offering insight into Malone's processes and passions. Visitors will be invited to interact with all the elements within; discovering insider tips and techniques from Malone's own sketchbooks; listening to transcripts of his private appointments to understand his applauded understanding of the female shape and the technical and architectural structure his clothing entails; as well as trying on the clothes themselves.
Now Gallery, Peninsula Square, Greenwich, SE10 0SQ; until 27th January 2019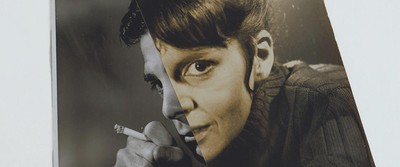 Atelier E.B: Passer-By
Passer-By is a new exhibition by Atelier E.B, the collaborative fashion label by designer Beca Lipscombe and artist Lucy McKenzie. Taking the figure of the mannequin as its central theme, the exhibition has transformed the gallery into three distinct interiors: a bespoke showroom for Atelier E.B's latest collection, in which visitors are able to try on and order clothes; a display of historic material, photography and objects, and a series of newly-commissioned works by contemporary artists including Tauba Auerbach, Anna Blessmann, Marc Camille Chaimowicz, Steff Norwood and Elizabeth Radcliffe. Altogether, the show features the work of more than 30 makers spanning fashion, sculpture, painting, graphic and commercial design, photography, craft and film.
Serpentine Sackler Gallery, Carriage Drive, Hyde Park, W2 2AR; until 6th January 2019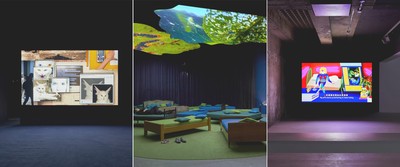 Strange Days: Memories of the Future
Strange Days: Memories of the Future is an immersive, polyphonic show curated by Massimiliano Gioni. The exhibition presents the work of 21 acclaimed artists and filmmakers who've shown video works at NYC's New Museum on the Bowery. The exhibition considers how images shape memories while anticipating visions of what the future may hold. Featured works include Kahlil Joseph's Fly Paper, a deeply personal portrait of black cultural life in Harlem; John Akomfrah's Vertigo Sea, an epic three-screen meditation on the ocean as an environmental, cultural, and historical force; Camille Henrot's Grosse Fatigue, in which a rapid succession and layering of images tells the story of creation; and Pipilotti Rist's video and sound installation 4th Floor to Mildness. 
Store X, 180 The Strand, Covent Garden, WC2R 1EA; until 9th December 2018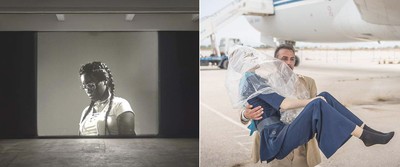 Turner Prize 2018
The Turner Prize has returned to Tate Britain for its 34th edition. Each year, the prize is awarded to a British artist for an outstanding exhibition or other presentation of their work in the preceding year as determined by a jury. Tackling pressing issues in society today, the four shortlisted artists for 2018 are: Forensic Architecture (an interdisciplinary team that includes architects, filmmakers, lawyers and scientists) for The Long Duration of a Split Second; Naeem Mohaiemen's Tripoli Cancelled 2017 and Two Meetings and a Funeral 2017; Charlotte Prodger's BRIDGIT 2016; and Luke Willis Thompson's Cemetery of Uniforms and Liveries 2016, Autoportrait 2017 and _Human 2018. This year's crop of contenders mainly work with video, so make sure to allow plenty of time to discover them all.
Tate Britain, Millbank, Westminster, SW1P 4RG; 6th January 2019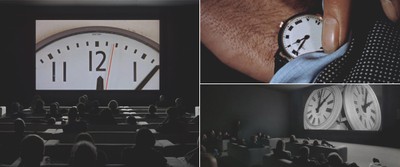 Christian Marclay: The Clock 2010
Christian Marclay's acclaimed installation The Clock 2010 has captivated audiences across the world from New York to Moscow. At 24-hours long, the installation is a montage of thousands of film and television images of clocks, edited together so they show the actual time. It's a thrilling journey through cinematic history as well as a functioning timepiece. Following several years of rigorous and painstaking research and production, Marclay collected together excerpts from famous and lesser-known films including thrillers, westerns and science fiction. He then edited these so that they flow in real time. When watching the clock visitors experience a vast range of narratives, settings and moods within the space of a few minutes. A mesmerising masterpiece of contemporary art, this is one of the best things we've seen all year.
Tate Modern, Bankside, SE1 9TG; until 20th January 2019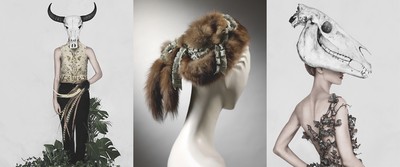 Fashioned from Nature
A pineapple fibre clutch-bag, Emma Watson's Calvin Klein dress made from recycled plastic bottles and a cape of cockerel feathers are amongst the 300 beautiful, intriguing and unsettling objects from this major fashion exhibition at the V&A. Fashioned from Nature traces the complex relationship between fashion and the natural world since 1600, exploring how fashion's processes and constant demand for raw materials damage the environment. Along the way we hear from campaigners and protest groups that have highlighted this issue, such as Fashion Revolution and Vivienne Westwood. This exhibition presents fashionable dress alongside natural history specimens, innovative new fabrics and dyeing processes, inviting visitors to think about the materials of fashion and the sources of their clothes.
Victoria & Albert Museum, Cromwell Road, South Kensington, SW7 2RL; until 19th January 2019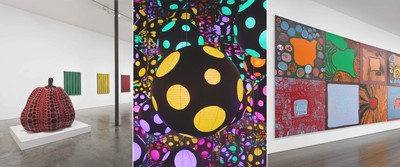 Yayoi Kusama: The Moving Moment When I Went Into the Universe
Yayoi Kusama is a Japanese contemporary artist who works primarily in sculpture and installation, but is also active in painting, performance, film, fashion, poetry, fiction, and other arts. The Moving Moment When I Went Into the Universe is a major exhibition of her newest works and her 12th at this particular gallery. The exhibition features new paintings, including works from the iconic My Eternal Soul series, painted bronze pumpkin and flower sculptures, and a large-scale Infinity Mirrored Room, which has already become an Instagram sensation.
Victoria Miro Gallery, 16 Wharf Road, Hoxton, N1 7RW; until 21st December
DISCLAIMER: We endeavour to always credit the correct original source of every image we use. If you think a credit may be incorrect, please contact us at info@sheerluxe.com.