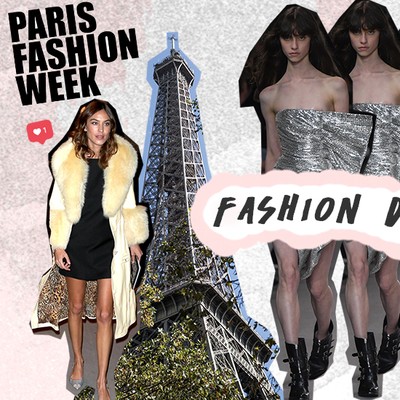 Fashion Diaries: A Blogger In Paris (Fashion Week)

Why do we wear what we wear? SheerLuxe's Fashion Diaries series asks Londoners to record their thoughts behind getting dressed. This week, Athena* a 27-year-old fashion blogger living in Notting Hill, deliberates what to wear to last Friday's Paris Fashion Week shows…

7am
I swore I wouldn't do this many shows in a month again, but here I am, exhausted. I'd only get up this early for Loewe. I suppose I am in Paris, although we're staying right on Rue Saint Honoré (I prefer Pigalle, much cooler vibe) and this hotel's pretty flashy; paradise' as the PR put it, but it's a bit too done. Got to keep that content original. Not many other people seem to be doing so…
My phone's already pinging so I check how many likes last night's posts have racked up. Just over 10,000 for Off-White, even less for Marant. What the hell?! It was so artistic – all the silver balloons on the ceiling at Jardin des Tuileries.
I should have shared the blurrier one. People really resonate with 'grain' effects right now.

8am
My photographer Gany* and I grab a drink at Wild & The Moon nearby (I get 'The Tiger' cold-press and him a 'Blue Star' latte, because drinking algae in your coffee is supposedly a thing).
He's a sweet guy but he just can't keep up. I told him I needed to get these Ganni Marlyns in frame (yes, my heart-adorned cowboy boots and personal paparazzo have the same name, I'm a walking cliché), and not a single shot from our morning shoot has them in focus. The brand won't be happy.
"But the light on the silk…"
I raise my hand to cut him off. That Vince midi came out of my own pocket and it's getting sent straight back once I'm home. And this Balenciaga blazer, or that's my rent out the window for a while…

9am
We try round two before the show (a street away from the venue, I don't want to look desperate), but there's not much time and he keeps faffing about. It's just one simple shot! I don't have the money for a proper professional, but his grad work looked good – he should see this as a big opportunity.
The same thing happened in London. Dragging him around the shows was like trying to herd a cat. At one point Bat Gio walked right past but he was miles behind.

11am
Our next show isn't 'til five so I've booked us an Uber to a big-name PR's gifting suite to stock up on free snacks and sunglasses. It's such a parade but showing face is professional and, when bloggers are ten-a-penny, needs must.
"Hurry up," I mouth back at Gany, who once again has been carried off in a sea of sunglassed attendees. I have to stand and wait by the entrance, and it looks like I'm trying to get street style snapped by all the photographers! One raises his camera and I dart my eyes down at my phone. Nonchalant.
Can't tell if he took a photo or just wiped the lens. Should I ask for his Instagram handle?
1pm
I'm in the queue for Balmain when I see her. Lindie Liv*… Something about her just seriously irks me. She's one of the 'new' lot, the ones all the big fashion editors love complaining about – never had a career before Instagram; never even had a blog, but she's everywhere; six outfit changes in as many hours, taking selfies on FROWs during shows.
Doesn't she realise this is work for some of us? Creating content, planning social strategies, knowing the craft behind collections… I highly doubt she'd be interested in fashion if it didn't involve all that showing off. Back in the day she wouldn't even be invited to Michael Kors.
The queue snakes closer, and the two of us end up inches apart. Awkward. I did see her the other week at Anya Hindmarch's Chubby Cloud, but only from afar, and – yep… I knew it – she doesn't even look that good in person. This is so satisfying. And she's actually wearing cycling shorts. In public! They looked a lot better in her Insta story than they do in front of me right now… The wonders of FaceTune.

3pm
The show ran late, as per, and everyone's jostling to get out. We're going to miss Issey Miyake. To be honest, Olivier Rousteing just did structural pleats even better.
Is there time for a nap?

8pm
It's the moment we've all been waiting for. Hedi Slimane's 'Celine 01' – sans accent now, which the majority of the industry are still reeling about if the small talk as we file into the Les Invalides is anything to go by.
Turns out, it was more like Saint Laurent 2.0. The Philophiles won't be happy… I bet the @OldCeline followers are having a field day.
Gany, quelle surprise, is nowhere to be found. I'm not waiting around. As I make it away from the crowds outside, I spot Alexa Chung in the distance (that furry Saks Pott trench was a giveaway). She's speaking to someone, a fan, no… Lindie Liv! And now she's taking a selfie a with her, the absolute shame.
I walk past, rolling my eyes, but accidentally catch Lindie's instead. She reaches out to tap my arm. "Athena, hi," she's saying. "Do you want me to get a photo of you two? Alexa would that be OK?".

10pm
I'm still reliving it all in my mind, like an out of body experience; I watch myself standing there stunned, handing Lindie my phone, smiling next to Alexa, posting the photo (I couldn't not post the photo). Lindie's words keep replaying: she's always loved my blog; it was what made her want to get into fashion.
I turn off the light, set my alarm andcheck Instagram one last time. Not bad – over 20,000 likes in the first hour alone.
 
*All names have been changed.
 
DISCLAIMER: We endeavour to always credit the correct original source of every image we use. If you think a credit may be incorrect, please contact us at info@sheerluxe.com.