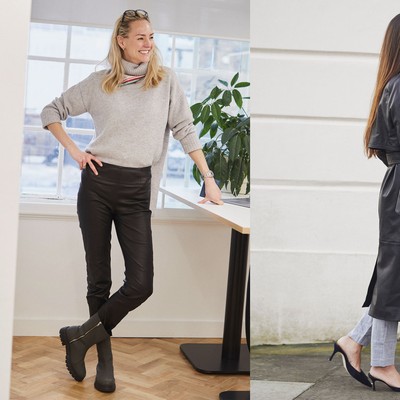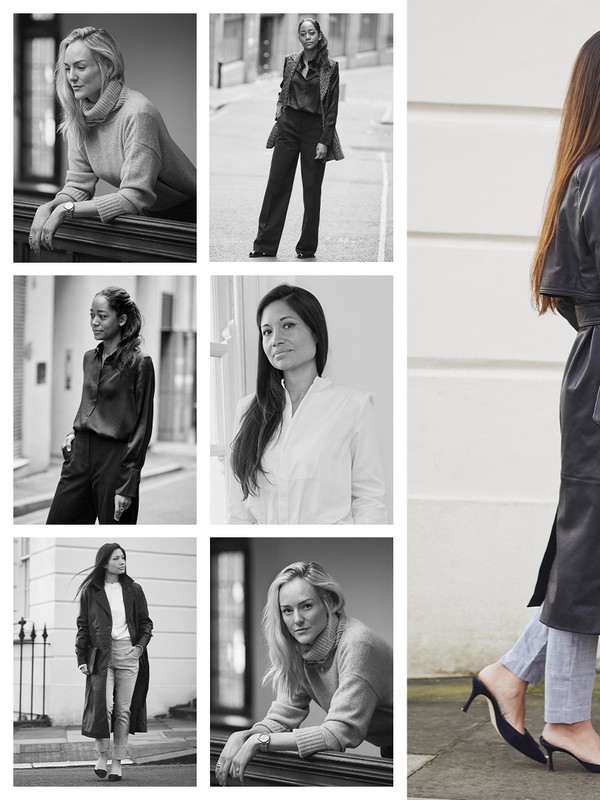 How 3 Successful Women Dress For Work

It can take time to build up a work wardrobe full of great tailoring, smart shirts and other reliable staples – especially one that also reflects your personality and is true to your style. To help expedite the process, we asked three high-achieving women how they dress for success…

Plus, if you're looking for a brand that has workwear basic covered, Novo is one of our favourite home-grown labels creating reliable hero pieces that work with everything – as these stylish women prove…
As Liberty's chief marketing officer, Madeleine has the fashion world at her fingertips. She is responsible for building the famous department store's brand.
My style is best described as no frills. I'm tall so I'm drawn to more masculine pieces – I'm definitely not what you'd call a 'pretty' dresser. In the summer, I actually feel sad I can't wear boots and jackets. I'm also addicted to buying jackets – I currently have two wardrobes dedicated to them. I think it's important to know your body, its proportions and how to dress for them. There's no reason to resent it – just work on understanding the correct lines that work best for your shape. 
I used to be a bit of a chameleon when it came to fashion. Before Liberty, I worked in-house for different brands and always took on that particular brand's style. At Liberty, you can be much more yourself. Experimentation is encouraged. Dressing for work is about who you are as a person outside of the office, too. The expression 'work-life balance' irritates me. We need to be better at knowing how these two things flow together – in the modern world, they can't exist totally separate of each other.
I think it's important to KNOW YOUR BODY, its proportions and how to dress for them.

For that reason, my personal style isn't that different outside of work. That said, when I do go out, I try to make the most of my 'dress' wardrobe. I make a lot more effort than I used to – I think I missed it during the pandemic. I've also started wearing make-up during the day, which I never used to do. 
I always have a Liberty scarf in my bag. I used to collect vintage Liberty scarves before I started working here, and they're the best thing to throw on for a bit of colour, personality – or just to protect against overzealous air-conditioning. I used to love a kitten heel, but now that I walk across the park to get to the train, boots are a more practical choice. And I wear a watch. I feel lost without one during the week, but I don't wear it on the weekend. It's probably the one part of my outfit that says 'work'. It's always a man's watch, so the size adds that chunky, masculine edge I love so much.
Follow Madeleine Macey; Visit LibertyLondon.com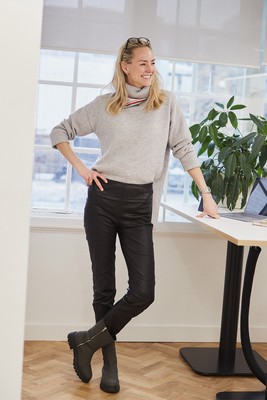 As an angel investor and partner in a venture capital firm, Pippa spends her time meeting new business owners and supporting existing start-ups. Her varied schedule calls for a working wardrobe that's equal parts smart and stylish.
Venture capital tends to be more laid back than other areas of the finance industry, as you spend most of your time working with start-ups, entrepreneurs or creatives. There are plenty of fashion clichés in this business, many of which I don't play into. I tend to dress according to my mood – that can range from sneakers and a hoodie to a white shirt and a blazer for an important meeting.
My personal style is pretty laid back. I like to combine colours and prints with classic staples, like a more structured blazer or coat. You can't beat a great white shirt. I also love to wear black tops or knitwear with interesting trousers and a great coat. I live in sneakers or a flat boot, seeing as I spend most of my day walking from meeting to meeting. In the evenings I'll keep the base the same but elevate things with a pair of heels or a fitted jacket. 
How I dress outside of work isn't radically different. In venture capital, pretty much anything goes. Earlier in my career I worked in more formal environments and felt under pressure to do the pencil skirt or tailored dress look – I'm so glad those days are over. I also hope the next generation don't feel as much pressure to conform to a particular dress code. I think Gen Z are a lot more self-expressive which is brilliant.
I like to combine colours and prints with CLASSIC STAPLES, like a more structured blazer or coat.

I lean towards classic pieces that can be easily enhanced by statement details. In venture capital your personality is a huge part of your progression – after all, it's up to you to convince founders to work with you. A pair of interesting sneakers can go a long way, and I'm a huge jewellery fan – it doesn't have to be expensive, but it's the small details that can elevate your overall look. I wear my gold Oura ring every day, which also helps me keep track of my sleep. 
Other wardrobe staples include my black Gucci brogues, Reformation jeans, and assorted items from Novo London, Claudie Pierlot, Maje and Sandro. I used to have an incredible vintage navy blazer from Miu Miu that was given to me by my aunt. The fabric never creased, so I could throw it in my bag without worrying. Sadly, I lost it on holiday in Italy a few years ago. I still miss it today. 
One of my most successful work looks was a Ganni dress. Just before the pandemic I hosted an event with the actor Maisie Williams and her designer boyfriend Reuben Selby. I wore this long blue textured dress from Ganni with chelsea boots and still get compliments on the photographs today.
Follow Pippa Lamb; Visit SweetCapital.com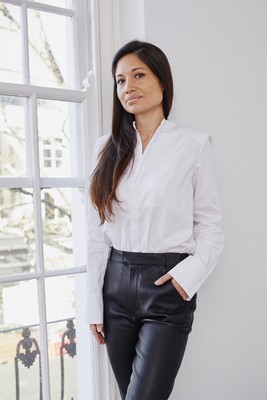 Theresa is Head of Business Development and Marketing for a law firm, as such, she relies on a capsule wardrobe full of polished separates. With no two days quite the same, she needs to be prepared for anything  – which is why comfort and confidence are key.
I only buy something new if I'm certain I'll get the wear out of it. It probably makes my style a bit safe, but I've bought so many clothes in the past that I've not worn. I take a lot of inspiration from the way the French and Italians dress. I tend to have two colour palettes on the go, one for autumn/ winter and one for spring/summer, and I rarely deviate.
I dress to reflect both my personality and my profession. One couldn't exist without the other, although there are pieces I save just for the weekend. Otherwise, my wardrobe is best described as a capsule collection of reliable staples. My go-to tends to be a white shirt and a longline blazer or a bouclé jacket. 
Working in a law firm, we're encouraged to dress formally. Luckily, I really like structured tailoring and specifically suits. I always have, and for me it's all about the jacket. My working wardrobe revolves around a very pared-back look, good shoes, a watch and gold  – it's all I need to feel good. I look for quality, mainly from brands like Joseph and Marie Marot. During the pandemic, I was very focused on being comfortable, but now it feels like I'm back on track. 
I dress to REFLECT both my PERSONALITY and my PROFESSION. One couldn't exist without the other.

When it comes to accessories, I follow Coco Chanel's advice. I always take one thing off before I leave the house. Accessories are a key part of my wardrobe, whether it's a signature ring, gold necklace, watch or bracelet – gold always brightens up my look and gives me confidence.
On dress-down Fridays, I like Levi's 501s with a trophy jacket. That said, I do like to wear at least one item that might surprise people – something a bit playful. Outside of work, it's jeans all the way. And I love a statement trainer – the louder, the better.
Visit LawrenceStephens.com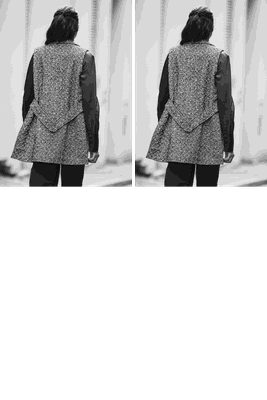 Between 21st February - 2nd March, SheerLuxe readers can enjoy 25% OFF all Novo products by entering the code SHEERLUXE25 at checkout.
Visit Novo-London.co.uk
DISCLAIMER: We endeavour to always credit the correct original source of every image we use. If you think a credit may be incorrect, please contact us at info@sheerluxe.com.