SL Meets The Ganni Creative Director

Believe it or not, there was a time when Scandi style wasn't on the agenda, designer clothing meant shelling out a small fortune, and social media didn't determine the growth of a brand. All that changed with Ganni, the Copenhagen-based label who has taken both the fashion world and Instagram by storm.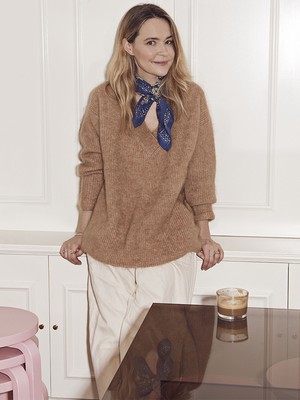 Famed for trend-defining designs fashion girls love, the brand's cool separates, comfy accessories and, most importantly, unbeatable price point has earnt it a gaggle of devoted fans. Putting tongue-in-cheek slogan tees on the map, making ironic, vintage looks cool again and creating last winter's most popular knitwear are just some of their accolades. With exclusive collections with some of retails biggest names coming up, the brand's star looks set to continue rising. We sat down with creative director Ditte Reffstrup to find out just what it takes to launch fashion's coolest brand…
When we started out with Ganni I felt there were so many stereotypes in Scandinavian fashion. I didn't feel like anything really represented the way my friends or I dressed. It was all either high-concept Scandi-style or girly-boho. Aiming to create a Scandi 2.0 sense of style, we sought after a more playful and effortless approach to design, that encapsulated my own personal style.  It was important for me to create something without dogmas or rules, but with room for personality, contrasts and experimentation.
Back in 2000 when Ganni was founded it was owned by a friend of ours. It was a very simple set up and the main offering was cashmere knit. When Nicolaj (my co-founder) and I came into the company in 2009 a lot needed to change. Looking back, maybe it would have been easier to start something completely new instead of turning something upside down. But there are no regrets - we have come a long way!
We didn't feel like we'd truly made it until our runway collection showed in August 2014. It was the perfect Copenhagen summers day, and we were holding our show at the tennis court of a run-down hotel that used to belong to an eccentric bon vivant. Faith no More's Epic was playing as the models walked the tennis court-cum-catwalk, and we had all the right people seated in the front row. Justin O'shea called the show 'epic' – everything just came together.
We didn't have a master plan for Instagram and we never even had a Social Media Manager. It was a pretty organic effort. Even the really successful #gannigirls started out as a coincidence. Back in 2015 Kate Bosworth and Helena Christensen met up one evening in New York wearing the same Ganni coat and coined the term on Instagram - and we like liked it. So we picked it up, and it became a thing.
It was important for me to create something without dogmas or rules, but with room for personality, contrasts and experimentation.
We have been really lucky to have great girls like Pernille Teisbæk, Veronika Heilbrunner and Camille Charriere as loyal ambassadors from the very beginning. Their support has meant a lot to us and created ripples in the water. It's something that has evolved over time. But honestly, it still gets me every time I see a stranger wearing Ganni on the streets. It makes we me feel so proud to see cool girls on street corners around the world wearing our designs.
There isn't a one-size-fits all 'Ganni girl' instead, we need to talk about 'her' in plural - Ganni Girls. Not one perfectly polished persona, but all the kick-ass girls I see and admire everyday. They march to the beat of their own drums. Playful, fiercely independent and uncomplicated - they instinctively know that fashion is about discovering your own style, rather than copying looks from a magazine.
I'm not surprised Scandi style has really taken off. I think there's a certain force of attraction towards the Copenhagen style because it's uncomplicated, colourful and casual. Copenhagen girls ride their bikes everywhere, which creates a need for their outfits to be  grounded and not too fancy. Another important factor is we Danes are taught to appreciate beautiful aesthetics simply by being brought up surrounded by quality design given our design heritage. It's a quality that is latent in everything we do, from dressing to interiors.  
We pioneered the tongue-in-cheek t-shirts because I have always loved styling a humorous tee with a dressy skirt or a spaghetti strap dress and sneakers, as it adds contrast. So naturally I wanted to create the look in our own collection! We have a lot of fun when designing the t-shirts each season - if you're not having fun, it's not worth it.
Our ambition is to operate within the advanced contemporary fashion segment, and we are convinced that we have hit a sweet spot between contemporary fashion and luxury
Our price point is at the core of who we are. Our ambition is to operate within the advanced contemporary fashion segment, and we are convinced that we have hit a sweet spot between contemporary fashion and luxury; the equilibrium between price and quality but more importantly also brand equity. This is the point at which you get the most bang for your buck.
All Street style images: Style du Monde
We've loved collaborating with Net-a-Porter, and next up we have an awesome collaboration with the Italian performance footwear brand Diemme.  We have created a sneaker and a winter hiking boot - both the ultimate urban expression of utility footwear in perfect balance with our more feminine styles.
We have worked denim into our FW18 collection by fusing our playful approach with denims' casual qualities, to create bright and colourful denim pieces that are bold and something new. I am especially looking forward to the pink denim boiler suit we showed on the FW18 runway.
Our next step will be to open a few well curated stores in international cities, to underpin the experience of Ganni for our customers. We have experienced a huge appetite for the brand internationally, so we are super excited about this!
Visit Ganni.com
Shop our picks below...
DISCLAIMER: We endeavour to always credit the correct original source of every image we use. If you think a credit may be incorrect, please contact us at info@sheerluxe.com.