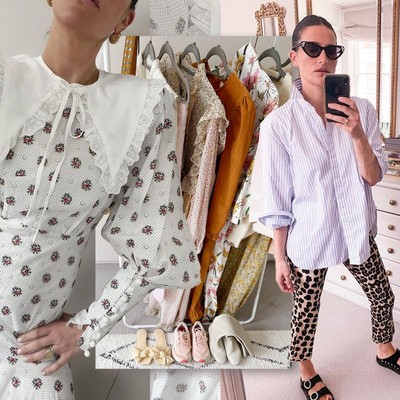 A Stylist Reveals Her Fashion Dos & Don'ts

As a revered stylist and former Tatler fashion director, Anna Bromilow knows a thing or two about personal style. In this month's instalment of her column, she shares her fashion dos and don'ts – from what goes into building a great wardrobe to nailing your look every time…

DO Your Hair & Makeup Before Getting Dressed
Style is 75% confidence and if you look good from the neck up, chances are you'll make a better choice when it comes to the rest of your outfit. Gone are the days when I can roll out of bed, put on a bit of lip gloss and leave the house looking fresh – my collection of under eye concealers is extensive. If I cover the basics and spend at least five minutes making sure my skin is primed, blemishes concealed and my hair is vaguely in place, then I inevitably feel more put together – it empowers me to be more daring with the rest of my look, rather than gravitating towards the safety of all-black. Once I'm dressed, I can pull everything together with some accessories.
DO Merchandise Your Own Wardrobe 
This technique is a must if you have a more extensive wardrobe. If you're one of those people who, like me, goes through phases with colour combinations and styles, depending on the weather or your mood, it pays to shop in your own wardrobe – by pulling out a succinct edit and outfit planning for a few days in advance, you'll be on a roll. For instance, last week I bought a beautiful, printed summer dress from Stella Nova with a chic patchwork of prints in pale yellow, cream and blush. By using it as my starting point, I expanded on the theme, adding separates to the rail within the same colour palette. It works like a concise capsule collection from which you can create outfits each day and saves so much time. The process is also seriously satisfying – plus, it's a great way to fall back in love with any forgotten items.
DO Use Leopard Print & Stripes As A Neutral
There is virtually nothing these two prints don't work with, so be bold with them. Leopard print lends a vibrant twist to any outfit and works with most wearable colours. Use it either as a starting point, or as a good canvas to pull a look together (a leopard midi skirt is a useful piece and I get plenty of wear out of a pair of cropped cigarette pants, too) or use it to complete a look with outerwear or accessories (flat summer sandals give most summer dresses a point of interest). 
Meanwhile, stripes have such a fashion heritage, which has really stood the test of time. Preppy and cool, they offer a refined touch to most looks and are a gentle way to experimenting with clashing prints. Don't be afraid to use stripes together if they're a good tonal match. An oversized men's shirt can is a wardrobe staple – not just used for layering purposes but also worn in contrast with leopard, tweed or a bright colour.
DO Buy In Bulk If It's A Winning Staple 
If you find something that is flattering, it is worth investing in multiple colours. Generally, trousers (including jeans) tend to be the most difficult purchase to nail, particularly when most of us are shopping online and tailoring and fit are so key. If you find some trousers that work and successfully support, flatten and elongate those tricky areas, they soon become one of the hardest working items in your wardrobe. Ulla Johnson has solved this problem for me and I now own a few pairs of her high-waisted, belt-tying bottoms in various tones. By investing in additional colours, it opens up the opportunities in your existing wardrobe and saves you from going on the hunt for something similar. 
DON'T Save Things For Best
If the last year has taught us anything, it's to wear your favourite clothes now. Don't save things for the perfect opportunity (unless it's something seriously statement). I tend to go off pieces that sit there unloved and unworn, with no memories attached – and there's nothing worse than investing time and money in a carefully edited wardrobe that only goes to waste. Like most things, dressing with purpose is a habit, and the more regularly you put proper consideration into your outfit, the easier it becomes. Tone dresses down with trainers for the day (I've also been wearing my dresses as skirts with light cotton jumpers over the top), divide a suit into separates to wear the trousers and blazers independently (I love evening trousers dressed down with a sweat and trainers) and generally push those high/low styling skills to the max.
DO Mix Pre-loved & Vintage Into Your Wardrobe
It's not the easiest way to shop, particularly when many of us are time poor but there are few things more satisfying than buying something you know is a one-off – plus, it's the most transparent way to shop sustainably. In my wardrobe, my most treasured pieces are not necessarily the most expensive ones, but the pieces I've found through a bit of hard work. Etsy is always my go-to, particularly for boho and prairie styles – it's all about purposeful and specific search terms (think '1970's smock dress' – it normally throws up some gems). Instagram has a wealth of international vintage shops, too – just be warned you have to move quick. If you want more tips, gravitate towards less structured pieces where the perfect fit is not essential (returning items is generally off limits when it comes to vintage shopping) – coats and dresses are the obvious choice, as are bags and jewellery but for me, second hand shoes are a no go.
DO Dress From The Feet Up
The British weather is so unpredictable, it's easy to find yourself in entirely the wrong shoes by midday. It's therefore always worth checking the forecast first and then dressing from the feet up. If open toes are a no-go and a court or trainer are your only option, then dress with that in mind. If the sun is out and sandals are beckoning, the world is your oyster. In elegant strappy shoes, everything from cropped pants to mini dresses will work. Boots require an entirely different mindset and you need to plan ahead depending on the shape of your trousers (a wide leg with flat boots are an absolute no-no). 
DON'T Over Complicate Your Look
Effortlessness is everything when it comes to nailing great style. I feel uncomfortable in anything too fussy and find the answer is never to over-accessorise or excessively layer. This doesn't mean always opting for total minimalism – I love experimenting with colour and print – simply to keep your adds ons to the bare minimum. Don't use a belt on a dress unless it really changes the silhouette for the better. Keep your jewellery toned down if you're wearing a busy prints, too. If the essential elements of your wardrobe are considered, there's no need to rely on the art of distraction. Pick your hero pieces and let them sing.
DO Dress According To Your Mood
Clothes are emotive – in other words, what we wear can drastically alter the way we feel. When you try something on for the first time or style up a new look, always check to see how it makes you feel. Of course, it's vitally important to shop with purpose and that every new purchase fills some kind of gap in your wardrobe or lifestyle, but it's rare to love an item of clothing you bought just because it made sense on paper. If you don't love how it makes you feel, you just won't wear it. And since we're all buying more responsibly and with longevity in mind, it's worth holding out for that ideal piece which ticks both the practical and beautiful boxes.
DON'T Buy A Sale Item Unless You Really Love It
However tempting it may be to get that buzz when you pick up a bargain, make sure this isn't the main thing seducing you into making a purchase. Even the most tempting price tags should lead to a long term, investment buy – in other words, an item you would have bought regardless. If you consider cost per wear, it's generally your most expensive items, such as a designer bag, that come out on top. Also, don't be panicked into a discount purchase, unless it's something you had already earmarked. End of season sales shopping is often a minefield, so I normally do a targeted Google search of my favourite designers and see where it takes me rather than trawling through various online platforms to see if something random catches my eye.
Follow @Anna_Bromilow on Instagram
Read More From Anna Bromilow
DISCLAIMER: We endeavour to always credit the correct original source of every image we use. If you think a credit may be incorrect, please contact us at info@sheerluxe.com.