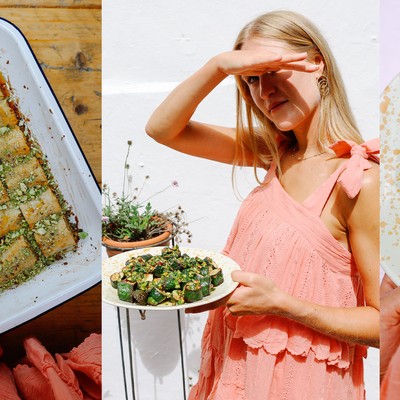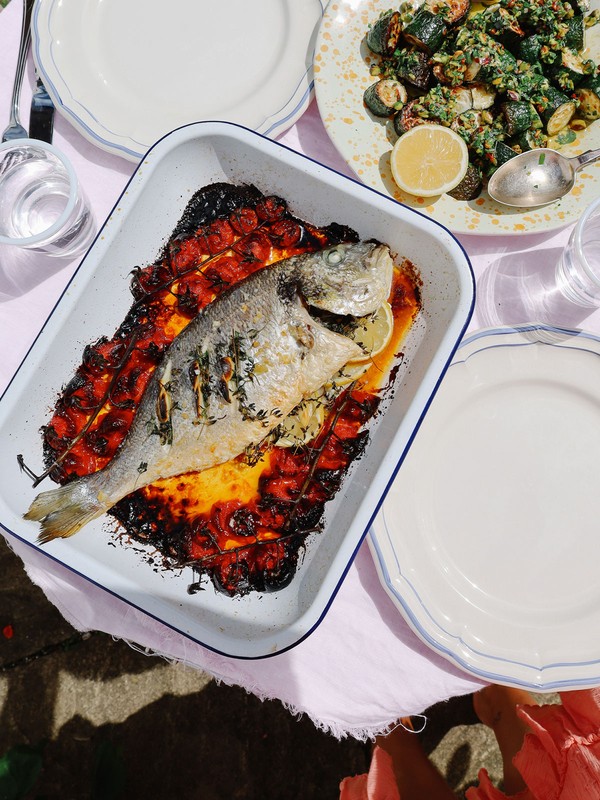 How To Entertain This Month – With Alexandra Dudley

Alexandra Dudley is a food columnist, cookbook author and host of the Come For Supper podcast. In this instalment of her monthly column, she shares a late-summer dinner party menu inspired by a recent Greek getaway.

By Alexandra Dudley
I spent a blissful two weeks on the Greek island of Spetses this summer. Every lunch and dinner started with a delicious medley of salads and vegetables that were often my favourite part of the meal. The Greeks do vegetables exceptionally well and without much intervention. The trinity of peppery green olive oil, sea salt and oregano makes plates of boiled wild greens (or horta as it is called in Greece), beetroot, tomatoes and cucumber come alive in a way that tastes so much better than they do in the UK. Ice-cold Mythos beer and stunning views of the Mediterranean sea undoubtedly played a part. But it was these three simple elements of seasoning that I remember the most. 
This month's menu is an ode to Greece and to simple seasoning done well. I've shared the recipe for a simple baked fish stuffed with oregano and garlic, and cooked with tomatoes until they turn jammy. A starter or a side (you decide) of courgettes are cut into generous chunks with no need for precision, fried until golden and tossed with a garlicky parsley and pistachio spiked butter. For pudding, a simplified take on Greek baklava. Very much a cheat's version, my honey pistachio filo rolls can be enjoyed as a sweet finish alongside a cup of a coffee (how we often enjoyed baklava after suppers in Greece) or jazzed up with a spoonful of ice-cream or Greek yogurt and some freshly chopped fruit. 
Margaritas are in no way a traditional Greek drink, but we drank a lot of very good ones at the beautiful Hotel Poseidonion bar overlooking the sea. My favourite was a take on a spicy margarita which they served with a black pepper and chilli rim. It's reignited my love for a spicy rimmed margarita and I've been reminded of my obsession with Tajin seasoning. It works particularly well with a frozen mango margarita, too.
---
DISCOVER ALEXANDRA'S MENU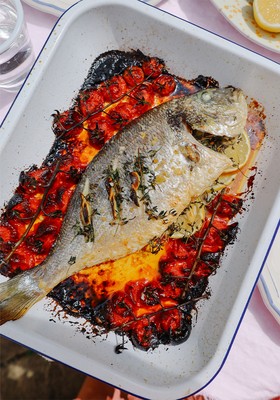 Oregano & Thyme Oven-Baked Sea Bream With Jammy Tomatoes
This is a deliciously simple way to cook fish. The herbs and garlic bring so much flavour to the fish, while the butter keeps it beautifully tender. Make sure you oil the fish all over to ensure crispy skin
Ingredients
2

vines of cherry tomatoes
1

large sea bream, scaled and gutted
50g

of butter, thinly sliced
3

garlic cloves, peeled and finely sliced
Handful of fresh oregano sprigs
Handful of fresh thyme sprigs
Method
Step 1
Preheat the oven to 220ºC Fan.
Step 2
Snip the each of the tomato vines in half so that you have 4 little vines. Place into a baking tray large enough to accommodate the fish later on. Drizzle with olive oil, sprinkle with sea salt and cook for 10 minutes while you prep the fish.
Step 3
Using a sharp knife, make three slits in the fish on each side, then season all over with olive oil and sea salt.
Step 4
Stuff the butter, sliced lemon, most of the garlic and herbs into the cavity of the fish. Then stud the slits with the remaining garlic slices and some more thyme.
Step 5
Place into the tray with the tomatoes and cook for 25 minutes until the fish is cooked through and the skin is golden and crisp.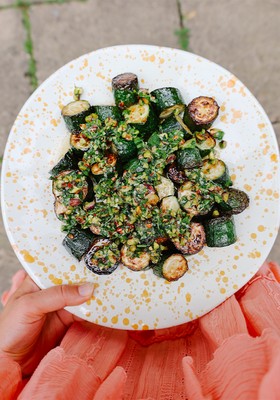 Pan-Fried Courgettes With Pistachio Thyme & Parsley Butter
It is the butter that makes this dish. Garlicky, nutty and full of herbs, it brings a real pep to simply pan-fried courgettes.
Ingredients
1

clove of garlic, grated
Handful of finely chopped parsley leaves
1

tbsp

of fresh thyme leaves
1

tsp

of dried chilli flakes
Method
Step 1
Cut the courgettes into thick rounds (about 2 cm). Toss in a bowl with a glug of olive oil and a good pinch of salt.
Step 2
Heat a thin layer of oil in a heavy based pan and add the courgettes. Arrange them so that they are cut side down and cook for about 4 minutes on each side until golden and charred. They should still have a bit of bite in the middle.
Step 3
Meanwhile, melt the butter in a saucepan. Add the remaining ingredients and allow it to sit for five minutes.
Step 4
Arrange the courgettes onto a serving plate and spoon over the butter.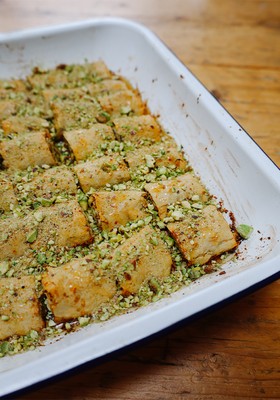 Honey Pistachio Filo Rolls
Heavily inspired by the delicious baklava eaten on trips to Greece and Turkey, these are a cheat's baklava of sorts. There is a bit of fiddly work, but the result is worth it.
Ingredients
270g

of shelled pistachios
Method
Step 1
Preheat oven to 180ºC Fan and butter a roughly 14x10 inch baking dish.
Step 2
Combine the pistachios, sugar, cinnamon and lemon zest in a food processor and pulse until you have a course breadcrumb texture with some uneven pieces remaining. Set aside about 2 tbsp of the mix for finishing.
Step 3
On a piece of baking parchment, brush a sheet of filo with melted butter. Top with a second sheet and brush again with melted butter. (Keep the remaining filo covered with a damp tea towel to stop it from drying out.) Sprinkle with about 4 tbsp of the pistachio mix and tightly roll from the long end of the filo. I find it easiest to start by using the paper to help me roll initially.
Step 4
Slice into roughly 2-inch rolls and transfer to the greased baking dish. Repeat with remaining filo. Once the tray is full, brush the top of the filo with the remaining butter. Bake for 25 minutes until golden.
Step 5
As the rolls cook, make the syrup. Combine all the ingredients in a saucepan. Bring to a boil then reduce to a simmer for 15 minutes. Drizzle the syrup over the rolls with syrup and sprinkle over the remaining pistachio mixture.
Step 6
Serve at room temp or still warm with some Greek yogurt if you like.
Read More From Alexandra Dudley
DISCLAIMER: We endeavour to always credit the correct original source of every image we use. If you think a credit may be incorrect, please contact us at info@sheerluxe.com.