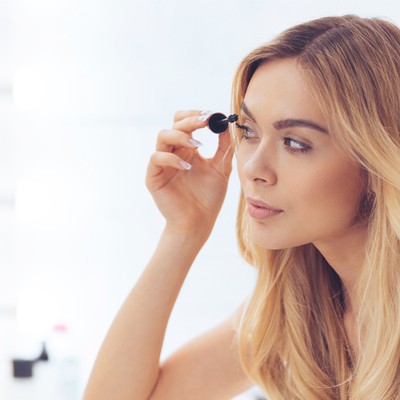 11 Expert-Approved Mascara Hacks

A true desert island beauty essential, a hard-working mascara is our go-to for a polished, wide-eyed look. But when it comes to applying your favourite formula, are you in the know? Keep reading to discover the ultimate hacks for your best application to date – your lashes can thank us later...

1. Find The Right Formula
"The mascara market can be really overwhelming and while a big, jumbo brush may look appealing, it can be difficult to apply if you have shorter, finer lashes. If this is the case, seek out a smaller, finer brushed mascara which will ensure you won't get mascara all over your eyelids. Finding the right mascara really is all about trial and error." – Ruth Crilly, A Model Recommends

2. Use A Comb
"For a polished, wide-eyed finish, try using a metal lash comb after you've used your mascara – this can really help to lengthen the lashes. Try using a lash comb after using Lancôme's cult Hypnose mascara – my all-time favourite mascara – you'll be seriously impressed with the results." – Emma Day, make-up artist

3. Get The Angle Right
"It may sound simple but making sure your head is positioned correctly will make it easier to apply your mascara. Try to tilt your head back very slightly, meaning you can really get into the root of the lash and sweep it through without it getting all over your eyelid." – Ruth Crilly

4. Revive Your Old Tube
"If you've noticed your mascara is beginning to dry out, try putting a couple of drops of saline solution – the kind you use for contacts – into the tube and swirl around with a brush. This will give your mascara a second life." – Brandie Hopstein, make-up artist

5. Brighten Your Eyes
"I like to apply one coat of blue mascara before applying black directly on top but leaving around a quarter of the lash blue at the lash line. This way, you get the pop of colour close to your eyes, which will draw focus to them and intensify the colour, but you still get the look of black lashes." – Paige Padgett, make-up artist

6. Ignore The Price Tag
"Rule number one of mascara – you can't judge a mascara by how much it costs. Some of the best mascaras out there can be found in your local Boots or Superdrug – think brands like Rimmel, Max Factor and L'Oréal Paris." – Tor Cardona, SL Health & Beauty Editor

7. Don't Pump
"Try to avoid pumping your mascara wand up and down before you apply – this can bring too much air into the bottle, decreasing its life expectancy. Instead, open it slightly and then swivel the wand around inside the tube to coat the wand without letting the air in." – Mickey Williams, celebrity make-up artist

8. Get Curling
"Even if you're lucky enough to have naturally curly lashes, a good eyelash curler should still be an essential item in your make-up bag. My all-time favourite ones are from Shu Uemura – simply hold them in place for a few seconds before applying your mascara. If your lashes are very straight, hold them there for a little longer and if you're feeling brave, heat them up slightly with a hairdryer before using. Japonesque also do heated curlers which are amazing." – Lily Pebbles, beauty blogger & YouTuber

9. Try A Lash Primer
"To boost any mascara payoff, prep with Smashbox's Photo Finish Lash Primer, which boasts ten benefits, including making mascara last longer. The preconditioning formula boosts the longevity of any mascara, conditions lashes to prevent flaking or smudging, volumises and lengthens lashes before you apply your mascara, amping up your look for maximum pay-off." – Lori Taylor Davis, US Smashbox Global Pro Lead Artist

10. Add A Clump-Free Coat
"If you're going straight out from work and want to add another layer to your mascara, but don't want it to clump or flake, try this hack. Pour a few drops of liquid make-up remover onto a mascara tester brush, or an old (clean) mascara brush from an old tube, so the whole brush is damp. Next, comb the brush gently through your lashes to thin out your existing mascara and loosen up any clumps or potential flakes. Then apply your evening coat of mascara like you normally would – it will glide through your eyelashes with ease." – Julia Foskey, Bella Box Beauty Writer

11. Try A Waterproof Formula
"If you have short, fine lashes, try using a waterproof mascara. These tend to dry quicker and will set the curl well on shorter lashes. Start by curling the lashes with a curler and always give them a few pumps right at the root." – Lois Moorcroft, make-up artist
DISCLAIMER: We endeavour to always credit the correct original source of every image we use. If you think a credit may be incorrect, please contact us at info@sheerluxe.com.