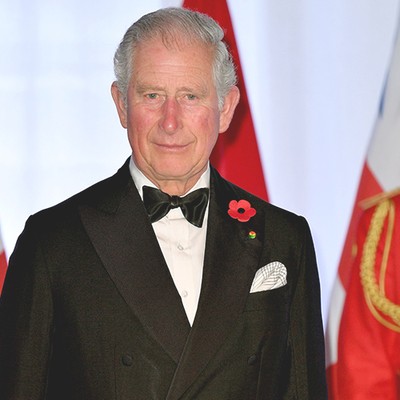 9 Things We Loved From The New Prince Charles Documentary

As the Prince of Wales prepares to turn 70, a documentary celebrating his life and achievements was aired last night – and like many Brits, we were engrossed in the show, which revealed a side to Prince Charles we've never seen before. From his extensive environmental work to his penchant for pidgin, here's what we learned about the heir to the throne.

1. He's Not Going To Stop Meddling
Speaking out on when it's his turn to be king, the Prince of Wales said he will stop speaking out on topics he is passionate about once he takes the sovereign (this is because monarchs are constitutionally barred from expressing their opinions in public). But until then, he's got no plans of slowing down: when asked about his campaigning, which some have referred to as 'meddling', Charles said: "If it's meddling to worry about the inner cities as I did 40 years ago, then if that's meddling I'm proud of it." But he did note that the role of prince and that of king are completely different. "It's vital to remember there's only room for one sovereign at a time, not two," he said. "So, you can't be the same as the sovereign if you're the Prince of Wales or the heir."

2. His Car Runs On White Wine
As a strong campaigner for the environment, Prince Charles has shunned the use of petrol in his Aston Martin Volante and now runs entirely on… white wine?! Yes, the car that Charles has driven since he was 21 runs on a surplus of the tipple after he insisted Aston engineers find a more environmentally friendly way to run his vehicle. And the royal said not only does his car run better and more powerful thanks to the English wine, but it "smells delicious" when he's driving, too. Now that's drink driving we can get behind.

3. He Speaks Pidgin
On a visit to Lagos during his nine-day tour of West Africa, the Prince of Wales tried his hand at speaking a little bit of the local language. Pidgin is spoken by tens of millions of people across the area, even though it is not officially recognised as a language. "How you dey?" he asked the former heads of state, presidential candidates and leading politicians who had assembled in his honour. "I find it hard to believe that nearly thirty years have passed since I first came to this city," he told the people of Lagos, "and having finally made it back here, Ladies and Gentlemen, all I can say is that 'God don butta my bread!'" Who knew!

4. He's A Genuine Environmentalist
Prince Charles was an early advocate for the environmental movement at a time when people weren't really willing to talk about it. In 1970, when he was just 22 years old, he spoke out on plastic pollution: "There are 55 million of us… using indestructible plastic containers. It is not difficult to imagine the mountains of refuse that we shall have to deal with."
His son, Prince William, hailed him as the "most charitable Prince of Wales there's probably ever been," adding that it was his father who had got this generation of advocates to care more and be more involved in charity. In fact, William and Harry's dad is such a big environmentalist, that he even made them go litter-picking on holiday in Norfolk when they were teenagers – which makes us think our caravan holidays in Wales weren't so bad after all…
5. He Just Loves Turkeys
On a visit to Dumfries House, Charles shows the camera crew around the sprawling land, filled with rare breeds of farm animal. "We wanted to have an educational farm so we could reconnect people with where their food comes from," he said, before becoming utterly distracted by a pen full of turkeys. "I love these turkeys, they make me laugh so much," he said, before doing multiple impressions of the birds – which some people on social media hailed as the best they'd ever heard, which you'll agree is quite the accolade…
6. His Sons Think He Works Too Hard
Even as he approaches 70, the Prince of Wales shows no sign of slowing down. But although his sons admire their father's strong work ethic, they did express that they wished he would take it down a notch – something that William said used to frustrate him. "This is a man who has dinner ridiculously late at night and then goes to his desk later that night and will fall asleep on his notes to the point where he'll wake up with a piece of paper stuck to his face," said Prince Harry. But, as wife Camilla said, "duty will always come first with him".
7. His Relationship With Camilla Is Still Going Strong
We're sure many would hate to work closely with their spouse (what would you talk about when you get home from the office?!), but not Charles and Camilla. Having met and fallen in love in the early 70s (before splitting and, after a notoriously messy recoupling, marrying in 2005), the pair still regularly attend events together. And they've both still got a cheeky sense of humour – as they walked through their land in Brikhall, Aberdeenshire, Camilla even joked that Charles does a "rain dance" to encourage his trees to grow.
8. He's An Amazing Grandfather
Not many people have managed to catch a glimpse of William and Kate's youngest son, Prince Louis, since he was born in April, but a sweet snap revealed on last night's documentary showed a sweet moment between the young prince and his grandfather. In the snap, taken by royal photographer Chris Jackson, Kate holds baby Louis as he holds on to Charles's hands.
Prince William described his dad as being "brilliant" with his children, although he wished he was able to spend a bit more time with the youngsters. The Duchess of Cornwall also revealed how much the grandchildren love Charles, too: "He will get down on his knees and crawl about with them for hours, you know making funny noises and laughing and my grandchildren adore him, absolutely adore him," she said. "He reads Harry Potter and he can do all the different voices and I think children really appreciate that."
9. He's A Genuinely Kind Man
As we all know, when Prince Harry married Meghan Markle in May of this year, it didn't entirely go to plan. Meghan's dad backed out of the ceremony, citing health issues – and as such, Prince Charles stepped in at the last minute to walk Meghan down the aisle. "I asked him to, and I think he knew it was coming, and he immediately said, 'Yes, of course, I'll do whatever Meghan needs and I'm here to support you,'" Harry said. "For him that's a fantastic opportunity to step up and be that support, and you know he's our father, so of course he's gonna be there for us."
Camilla also offered a brief glimpse into Charles's relationship with Meghan's mother, Doria Ragland. "A lot of people, seeing my husband actually take the bride's mother by the hand to sign the registry, it's something that moved everybody," she said. "It's the things he does behind the scenes that people don't know about. I don't think people realize quite how kind he is."
You can watch Prince, Son and Heir: Charles at 70 on iPlayer now.
DISCLAIMER: We endeavour to always credit the correct original source of every image we use. If you think a credit may be incorrect, please contact us at info@sheerluxe.com.