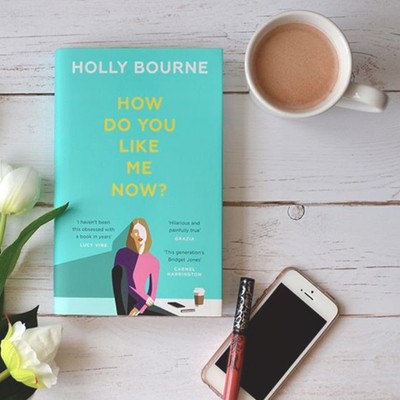 The Book People Are Calling 'Bridget Jones For Millennials'

Dubbed 'Bridget Jones for Millennials', How Do You Like Me Now? is the book everyone's talking about right now. The debut adult novel from bestselling YA author Holly Bourne, SL picked up a copy to see if it lives up to the hype…

What's it about?
This novel begins after the 'happily ever after'. It follows Tori Bailey, a 31-year-old who gained fame in her twenties with her bestselling memoir, Who the F*** Am I? – a book about ignoring society's expectations, and one that's inspired millions of women to stick two fingers up at convention (slightly ironically, however, as the memoir ends with Tori finding her dream man, Tom).
But it seems Tori is living a lie. Surprise, surprise, six years later, the ethos of her book isn't holding up – and neither is her 'perfect' boyfriend, Tom. Everyone around her is getting married and having babies, but Tom won't even talk about getting engaged. Then, when Tori's best friend Dee (the only person who understands her struggle) falls in love, she's thrown into even more of a life crisis and grows terrified of being left behind. "Turning thirty is like playing musical chairs," her character muses. "The music stops, and everyone just marries whoever they happen to be sitting on."
Turns out, it's time for Tori to truly practice what she's preached – but, the question is: will she be brave enough?

Is it any good?
In a nutshell, yes. It's well-written, genuinely funny (there's no shortage of wit from Tori) and movingly honest – there are so many relatable moments, and Bourne really does capture the angst of navigating the emotional rollercoaster of turning 30. And don't think you can guess how it ends – the pacy narrative will have you hooked and rooting for Tori from the first page to the last.
We also loved the unique, and very relevant, narrative – witty musings aside, this is where the Bridget Jones comparisons really come into play. Tori's life plays out through Instagram comments, texts and Facebook posts – alongside a diary-like stream of observations (with shouty caps for emphasis) – which sometimes feel jarring, but really does represent our intrusive obsession with social media.
Along with slamming the pressure put on women once they reach a certain age and stressing the importance of female friendship (which most definitely gets our vote), How Do You Like Me Now? highlights another hugely important issue – the prevalence of under-the-radar emotional abuse, such as gaslighting. Considering a shocking number of young women (like the novel's main character Tori) don't recognise the signs of emotional abuse, it could be a life-changing read for many.
Turning thirty is like playing musical chairs. The music stops, and everyone just marries whoever they happen to be sitting on.
Do critics rate it?
A Stylist 'Must-Read' and a Red magazine 'Best Book of 2018', the novel has been met with rave reviews since its release last month. Stylist described it as "brutally honest but charmingly funny"; the Metro as "deeply feminist"; Grazia as "hilarious and painfully true"; the Times said it's "injected with such reality it can't help but be hilarious", while the Evening Standard called it "a f***ing good novel".
Emerald Street said it was "raw and very funny", and will "resonate with anyone trying to convince themselves that sticking it out is better than being alone." And the BBC wrote that it "perfectly addresses the storm of emotions you go through as a young woman, growing up in a world where you need to have the best boyfriend, best career and best group of friends (and it's all got to be displayed beautifully across your social media profiles.)"

What else has Holly Bourne written?
Bourne started her writing career as a news journalist, before turning her hand to editing. She also worked as a relationship advisor and agony aunt for a youth charity, helping young people with their relationships and mental health. Inspired by what she saw, she started writing teen fiction, including It Only Happens in the Movies, Soulmates and the award-winning Spinster Club series, which helps educate teenagers about feminism. How Do You Like Me Now? marks her first foray into adult fiction (and judging by the reception, it won't be her last).
The author also has a keen interest in women's rights and is an advocate for reducing the stigma of mental health problems – she's helped create online apps that teach young people about sexual consent, works with Women's Aid to spread awareness of abusive relationships, and runs Rethink's mental health book club.
DISCLAIMER: We endeavour to always credit the correct original source of every image we use. If you think a credit may be incorrect, please contact us at info@sheerluxe.com.