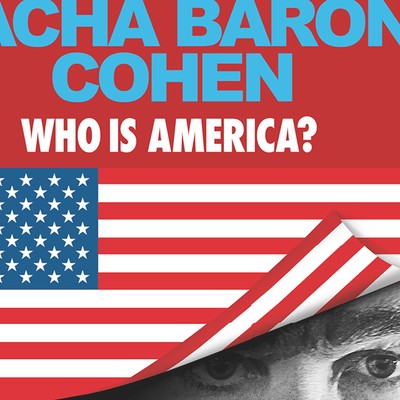 Everything You Need To Know About Controversial New Show Who Is America?

Sacha Baron Cohen is back with a new show and, in classic SBC style, it's about as controversial as it gets. New satirical comedy Who Is America? has been hit with a barrage of criticism and has made him a few sworn enemies in the republican party. So, is it worth your time?

What's the premise?
Who Is America? follows the same formula as most shows helmed by Sacha Baron Cohen: just like Borat and Ali G before that, the actor dons a disguise and attempts to make fools out of unsuspecting people. Only, in this series, Cohen takes on a number of different characters, including Billy Wayne Ruddick, a right-wing conspiracy theorist who runs a site called 'Truthbrary.com'; Dr Nira Cain-N'Degeocello, a hipster liberal who gets a couple to believe he and his wife are in an open relationship with a dolphin; Ricky Sherman, an ex-convict with a love for making fecal art; and, probably the best of the bunch, Erran Morad, an Islamophobic, ex-Mossad agent Israeli with a penchant for guns.
In the first episode, each character has a moment to sit down with a different American personality. For Billy Wayne, it's a conversation with Democrat favourite Bernie Sanders; for Ricky Sherman, it's art dealer Christy Cones – who he manages to convince to give him some of her pubic hair for a paint brush he's creating.

What's right with it?
When it comes to the character Erran Morad, it feels like we're back to the good old days of Sacha Baron Cohen genius. He feels fully fleshed out and has a real purpose: to show the absurdity of pro-gun lobbyists in the US. In one particularly perfect moment during a meeting with Republican representative Matt Gaetz, he asks Morad: "You want me to say on television that I support three- and four-year-olds with firearms? Is that what you're asking me to do?Typically members of Congress don't just hear a story about a program and then indicate whether they support it or not." It's the perfect introduction to a montage of Republican politicians that do.
In conversations with Larry Pratt, Executive Director Emeritus of Gun Owners of America; Philip Van Cleave, Presient of the Virginia Citizens Defense League and US congressman Joe Wilson all featured in Morad's promotional video advocating arming toddlers with guns. This is Cohen at his best: shining a light on the absurd.

What's wrong with it?
The other characters just don't hold that strong a purpose. Beyond Morad, the characters are largely forgettable and have nothing to prove. As Rolling Stone put it: "Back in the day, Cohen's goal was to trick people into vocalising The Things We Think But Do Not Say. Only nothing really qualifies for that list anymore. Nothing is taboo, nothing is shameful and everything is defiantly tribal."
In one part of the show, when Morad is talking to Larry Pratt, Moran jokes: "It's not rape if it's your wife." Pratt lets out a big laugh, and shakes Moran's hand, saying, "That probably won't be in the video we send to the Hill." Years ago, this would have been a truly shocking statement, but today all it elicits is another sad, despairing headshake. In the #MeToo era, it still shocks, but it's not a surprise to anyone.

Has there been a backlash?
Oh yes. Sarah Palin, who is due to appear in a later episode, hit out at Cohen for apparently presenting himself as a disabled veteran whilst in character as Billy Wayne Ruddick in their interview together. Cohen and the show's cable network, Showtime, have since hit back, claiming that was never the case. "Baron Cohen never presented himself as a veteran of the U.S. military to former Alaska Governor Sarah Palin during the booking process or during the filming of her interview, and contrary to her claims he did not appear in a wheelchair," a statement released earlier this week said.
Philip Van Cleave also published an epic 1,400-word rant on the Virginia Citizens Defense League page Facebook page way back in February, sensing he'd be duped into something suspicious, but stating he went along with it anyway, so he could find out who was behind it and wherethe interview would end up. "I figured if I was right about this being a set up, I could blow the whistle and get a warning out to the gun-rights community across the country to protect as many people as possible and maybe derail this attack," he said in the post.
Other have deeply criticised the rape joke shared between Morad and Pratt, stating rape is not something to be joked about. "Raping your wife is not funny. Dirtbag new Sacha Baron Cohen series Who Is America? faces fresh controversy over rape skit," one person tweeted, while another added: "Here's my real problem with Sacha Baron Cohen making rape jokes. What is funny about using someone else's severe life-altering pain as a gag to make a third party look bad? If you're a master of comedy, you should do better than this."

What are critics saying?
So far, reviews have been mixed, leaning slightly more towards negative. Rolling Stone described the show as "toothless"; the Guardian called it "too frightening to be truly funny"; while the Telegraph called Cohen "one of the most merciless and subversive satirists at work today."
And it seems Cohen has once again divided the nation – so we suspect his work here is done.
DISCLAIMER: We endeavour to always credit the correct original source of every image we use. If you think a credit may be incorrect, please contact us at info@sheerluxe.com.