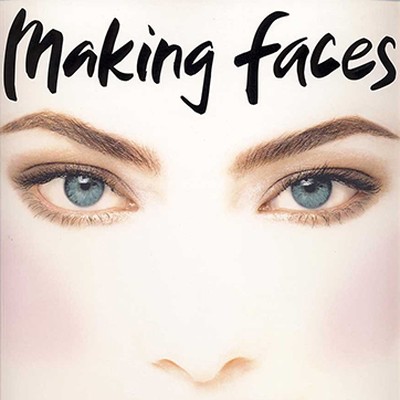 The Star-Studded Documentary Make-Up Lovers Need To See

The first megastar make-up artist, Kevyn Aucoin paved the way for today's beauty billionaires – revolutionalising the industry and shooting to fame in the process. But having passed away in mysterious circumstances in 2002, at the height of his fame, much of his story remained untold. That's why a new documentary has the world hooked; exploring every corner of his captivating life…

In the words of Kate Moss, who's interviewed in the film, Larger Than Life: The Kevyn Aucoin Story portrays the legendary make-up artist in a new, and authentic, light. "It shows a side of Kevyn I never knew about," Moss said. "It shows the whole man and makes me love him even more." And she's not the only supermodel to pay tribute, Naomi Campbell and Christy Turlington also share their memories of working with Aucoin in the 80s and 90s (as do his family and friends, including famous faces Cher, Tori Amos and Isabella Rossellini).
We may know Aucoin best today as the man who brought contouring into the mainstream (not Kim Kardashian, as some believe, but the man her make-up artist calls his "idol" and "inspiration"), the man whose eponymous cosmetics brand is still unrivalled when it comes to contouring products (The Sculpting Powder, available at NET-A-PORTER.com, fyi), but the story of just how he turned make-up artistry from an underpaid profession to an influential art form is nothing short of inspiring. His groundbreaking techniques of course played a part, but it was his unique ability to instil confidence in others, making them feel truly beautiful, that set the late icon apart.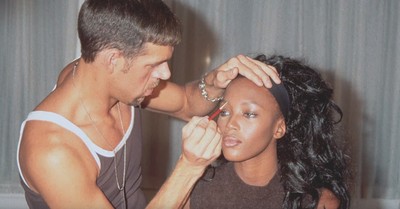 Larger Than Life: The Kevyn Aucoin Story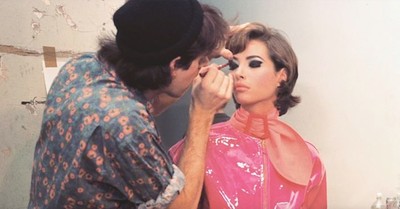 Larger Than Life: The Kevyn Aucoin Story
Told through these touching interviews and intimate personal footage, the documentary paints a deeply personal portrait of Aucoin. It explores a childhood spent drawing and painting in the small town of Lafayette, Louisiana; his first makeover he gave his little sister aged 11; and the isolation he felt due to constant bullying and struggling with his sexual identity. "I got called ugly most of my childhood," Aucoin would later say. "I was told I was ugly constantly."
It shows how he found the acceptance he was craving in the fashion world, how his talent and risk-taking transformed the industry (with beauty such big business in 2018, it's almost hard to believe models would be expected to do their own hair and make-up), and his explosive rise to fame; which allowed him to create his own line of cosmetics. "When we went into [beauty store] Make Up For Ever, it was like Brad Pitt walked in," Cher says, recalling the Kevyn Aucoin Beauty launch party back in 2001.
There would be no Bobbi Brown, Pat McGrath or Charlotte Tilbury if not for Aucoin. There would be no YouTube beauty gurus.
The film is a reminder of how ahead of his time Aucoin really was – his dedication to the LGBTQ movement, his passion for diversity in beauty; including cosmetics that cater to all skin tones. For Aucoin, make-up wasn't about covering up, but a way of experimenting with identity; an ethos finally being championed by major beauty brands today). He loved working with unusual faces: "I have been working towards acceptance of diversity in this business," he said, "because I don't believe that one person at Vogue magazine should be able to say, 'This is the new look and everyone has to wear that.' "
It also explores his death in greater detail – Aucoin's untimely passing at the age of 40 sent shockwaves through the industry – and charts his lasting legacy. That's why it's such essential watching for beauty lovers now: there would be no Bobbi Brown, Pat McGrath or Charlotte Tilbury if not for Aucoin. There would be no YouTube beauty gurus (a pioneer of the make-up tutorial, Aucoin shared his wisdom in a series of coffee table books). And, perhaps most unimaginable of all, given her all-pervasiveness in modern culture, there would be no Kim K (because if a Kardashian isn't contoured, are they even a Kardashian at all?).
 
Larger Than Life: The Kevyn Aucoin Story is available to watch on iTunes.apple.com now
DISCLAIMER: We endeavour to always credit the correct original source of every image we use. If you think a credit may be incorrect, please contact us at info@sheerluxe.com.