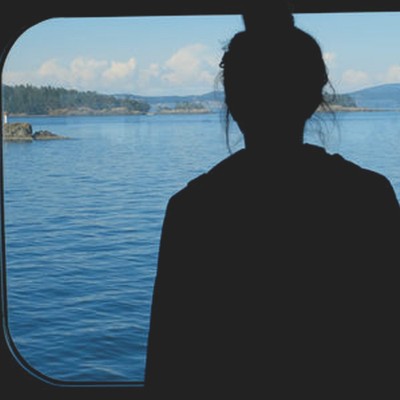 How To Travel The World If You're Terrified Of Flying

Getting to see the world is hard when you have a crippling fear of flying. But the great thing is, there are ways to make it to your top destinations without setting foot on a plane. If you've got the time, dedication and the money, you can tick some places off your bucket list using different modes of transport. Here's how…

By Cruise Ship
Once deemed the holiday choice of the elderly, cruises have had a makeover and are becoming increasingly more appealing to millennials tastes. U by Uniworld's cruises (£1,119 per person) are aimed at 21-45-year-olds and has two ships: The A and The B. They sail around the likes of Northern Paris, Amsterdam, Germany and the Danube, stopping off to offer activities such as kayaking, wine tours and mixology classes in popular cities. And gone are the cruise club nights – the line has partnered with supper club eatwith.com, which gives cruisers the chance to dine with locals.

By Train
If you're happy to catch a train, then the world is your oyster. Europe is easy to travel through via trainline, if you don't mind spending a little (or a lot) of time on public transport.
The Eurostar, which departs from three different ports in the UK (London St Pancras, Ebbsfleet and Ashford), will take you to the Netherlands, Belgium and a large number of places in France (some with prices as low as £29 each way). But what if you want to travel further afield?
The TGV line is France's high-speed inner-city rail service, and will easily transport you to the countries that surround it. You can get from Paris to Milan in just seven hours, Zurich in four, Barcelona in six and a half (for as low as £62), and Madrid in just under ten.
Alternatively, if you're keen not to waste any time, get the Eurostar to Paris around lunchtime and jump on the Stendhal overnight sleeper to Italy. Have dinner in their on-board restaurant as you watch France whizz by outside, before heading to bed in one of their couchettes – or more comfortable private sleepers, if you're willing to splash out a little. Paris to Venice takes around 13 hours and as little as £145 for a basic couchette, arriving at your destination around 9.30am the next morning – just in time for some breakfast pizza…
But you're not just limited to Europe. If you've got the time, the money and the patience, you can get halfway across the world by rail – literally. To get all the way to Australia, first you must start at the Eurostar and take it all the way to Berlin Hbf. Then, travel from Berlin to Warsaw by EuroCity train, which takes about six hours. Travel from Warsaw to Moscow on the sleeper train Polonez at around 4pm and, taking about 19 hours, it'll bring you to Moscow around 1pm the next day.
The Trans-Siberian Railway will take you every Tuesday (so time your travel before this carefully) from Russia to Beijing via Mongolia, which crosses through Siberia, Mongolia and the Gobi Desert before reaching China, taking about six days in total.
If you want to stop there and explore China for your holiday, that's great – they have an excellent high-speed rail system that'll get you all over the country. But if you want to go even further, you can grab a freighter (although they don't run that frequently) to Australia or New Zealand. Admittedly, sleeping on a cargo ship is no luxury cruise, but some really rate them. Check here for freighter dates.
By Ferry
Luckily, there's a wealth of places you can reach via ferry from the UK. If you fancy France, you can take your car aboard the vessel and sail to Normandy, Dunkirk and Calais – the latter of which has the beautiful Lille close by and is just a three-hour drive from Champagne (and an eight-hour drive to Bordeaux).
You can also get to Amsterdam from the UK, or you can keep it more local with a trip to Belfast, Larne (Northern Ireland), The Channel Islands and the Isle of Wight. The prices are slightly hit and miss, but around this time of year you can get to France from Dover for around £51.
​
Want to get even further? Iceland is not the easiest place to get to, even by air. But just a hop, skip, a train and two ferries and you'll be there. Beware, though: it does take a good few days. Travel on the Eurostar to Copenhagen, then get the train from Copenhagen to Hirtshals, where you can jump on a Smyril ferry over to Iceland – you can check here for their 2019 schedule.

By Car
As most will know, once you hop on the ferry or the Eurotunnel to France (or in the case of the latter, you can also get to Brussels) with your car, you can drive pretty much anywhere around Europe. There are a few things you need to remember if you decide to drive through countries, however – the RAC advise that you must have a GB sticker on display on your vehicle and ensure your breakdown cover extends to Europe. Ensure you have the correct visas for the countries you're visiting – these will be checked before you're allowed to enter. Learn the rules of the road and, of course, always make sure you have an emergency fund – if you break down, you're going to need to pay for it. Plan a route and have a few accommodation spots booked in advance. A lot of road trips require many hours of driving, so make sure you get enough sleep and aren't driving around aimlessly trying to find accommodation after a long day.
DISCLAIMER: We endeavour to always credit the correct original source of every image we use. If you think a credit may be incorrect, please contact us at info@sheerluxe.com.