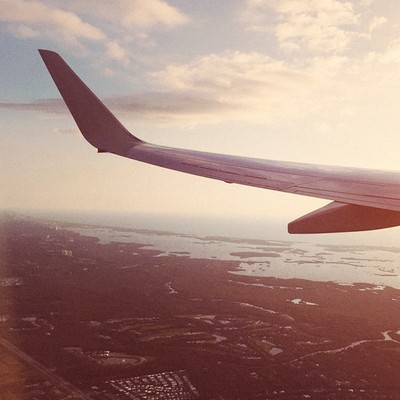 What You Need To Know Before You Travel

With lockdown restrictions across the UK and much of Europe starting to relax, it's easy to get over-excited about the prospect of being able to travel again. From booking flights to ensuring your hotels are safe to stay in, there's a lot that's still uncertain. Here, LastMinute.com chief executive Marco Corradino answers our burning questions…

First and foremost, if you want to book a holiday before the end of 2020, what are the most important things to consider?
Safety, flexibility and financial security are the three most important factors. In terms of safety, we know airlines and hotels are doing all they can to put travellers' minds at rest. We also know countries are opening borders, but government advice across the world can change overnight, so be sure to look for flexible options. These might include no fees for changing dates and free hotel cancellation. Finally, financial security will be more important than ever as the travel industry recovers. It's why you'll see a huge rise this year in what we call the 'dynamic package' – when you book your flight and hotel together. This package gives you Atol protection in case the airline cannot fly, or the hotel can't have you to stay. You can mix and match your trips, so you can fly budget but stay five-star and it covers everything from an overnight European city break to a fortnight in the Maldives. If you're confused, we've created a travel safety hub full of tips, from what hotels are doing regarding hygiene to what to expect at the airport.
How do you make sure a travel company is completely protected and financially secure?
That is a million-dollar question – and I can only talk about our own company in this context. As the virus hit, we had just released record financial results for the second year in a row, but not every travel business has been so fortunate. We were cash rich and asset light, which is the best model for seeing out a crisis. But we went from being a booking engine to a cancellation engine overnight. The fact is, our company mobilised rapidly to totally change the way we work, and all from home. Being able to scale up, scale down and diversify our products has been crucial and will be key for our future, given how much the industry has changed, maybe forever. 
If you're forced to cancel a trip that was subsequently moved but still looks unlikely to go ahead, what are your rights?
For all intents and purposes, the same rights apply. For instance, if it was Atol protected, it will remain Atol protected. For future booking, if there are no restrictions to travel, and flights and the hotel are confirmed, then it would only be a voluntary cancellation where the standard cancellation policies apply. If the booking is cancelled because of restrictions beyond your control, you are entitled to change dates or get a refund, as long as it's an Atol-protected package. The rules may be different for a flight or hotel-only booking, but in most cases you can change dates or request a refund – though not if you decide you simply don't 'fancy' the trip.
Is there any way to find an insurance policy which gives you adequate protection?
In any circumstances, travel insurance should be the first thing to have before you set off on holiday. Some travel insurance policies have said they won't cover Covid-19, while companies like Travelex are actually selling new policies which more adequately reflect these times. Check out this travel insurance guide if you have specific burning questions.  
Are there any countries which are a safer bet than others? 
If you're a massive fan of beautiful beaches and rich history, you'll be pleased to hear Croatia is currently topping our travel rankings. Designed by our in-house data-scientists, the rankings not only consider the safety of the location and its attractiveness, but also the availability of accommodation. The safety of customers is our main priority and hopefully this kind of information can help them make an informed decision – especially while this information is tending to change week by week.
What are the most important things to check in terms of airlines and flights?
It's always important to read the small print before booking because airlines can vary on policy. Quite a few have been quick to offer refunds, like Jet Blue and EasyJet. Others, however, have been very slow and only offered vouchers to their customers. At the moment, while airlines are releasing more flights and dates, bear in mind they might have to be moved again, so flexibility and zero admin fees are important. In terms of getting on a plane, there are various measures that are being introduced to ensure that flying is safe once travel resumes. We have created a guide on what to expect when you fly.
What should you do if your hotel has rebooked you but your flight is cancelled?
This is why we are advising customers to book their trip as a package. Atol-protected packages offer peace of mind. Book a package and you'll be entitled to a full refund, regardless of whether the hotel allows cancellations or not. The rules vary for flight only or hotel only; in most cases, you can change dates or request a refund – but it has to be an involuntary cancellation.
Is it possible to book flexible trips or tickets which can be moved for zero cost?
The short answer is yes. Together with airlines and our hotel partners, we've been able to introduce measures which give travellers much more flexibility and peace of mind when making future travel arrangements. Just liaise closely with your travel company to ensure this is the case.
Is it possible to drive over to the continent if you don't want to fly?
We're seeing a huge surge in hotel-only bookings, which suggests drive-and-stay holidays in Europe will be a key trend. The UK is still a little bit behind, but our brands in Italy, France, Spain and particularly Germany are showing that people are moving from booking not only staycations in their own countries but 'Eurocations' where they take a road trip across the border. Having said that, flights are definitely on the rise as consumer confidence increases. For example, our flight bookings from Milan to the south of Italy and its islands are increasing week on week. We are obviously still far from last year's numbers, but from the lowest point at the beginning of April, the numbers are already ten times higher. The 'air bridges' mean that in all likelihood France will relax quarantine measures for the UK, so when you think it takes around a day to drive to the Côte d'Azur from London, we expect Brits to jump in their cars and head off for some sun and sea in Nice, Cannes or Marseille when they get the green light. However, we'd always advise you check the latest country regulations before you go.
In terms of staying safe while abroad, what would you recommend? 
Travelling after coronavirus will be different, but we're trying to make it as stress-free as possible. Once you decide on your destination, be sure to follow the local safety regulations – that means checking when and where to wear masks and, of course, washing your hands. If you're keen to be as prepared as possible, we've even got a guide on how to pack your bag for the new situation. 
What happens if you arrive at your hotel and you're not happy with the measures put in place? 
Most travel companies will be in constant communication to evaluate the safety measures their hotel partners have put in place since the Covid-19 pandemic started. Speaking only for ourselves, we've consulted over 200 hoteliers to create this study detailing the safety measures put in place across various properties, from social distancing to room disinfecting.
If you decide to come home early, is there any way to recover your costs?
If it is merely a personal choice to come back, the situation remains the same as before Covid-19, and we cannot refund you. However, there are always exceptions: for instance, if you're away and a travel ban comes into place. If you're feeling unsure, it's best to think about this pre-booking or pre-departure. Initially, it was a major concern of our customers, so we have since worked together with our airline and hotel partners to introduce measures and give travellers extra flexibility and peace of mind when making future plans.  
Finally, is it really worth trying to travel abroad this year?
It might sound biased, but yes. This year has been tough, but the whole planet needs a holiday after living for such a long time within our own four walls. Having said that, we want our customers to be sensible. That's why we've worked with other members of the travel industry to help people get away as safely as possible. There's also potential for some amazing deals this year, so if you've got something on your bucket list you've been dreaming about for months – now might be the time.
For more information visit LastMinute.com
DISCLAIMER: We endeavour to always credit the correct original source of every image we use. If you think a credit may be incorrect, please contact us at info@sheerluxe.com.