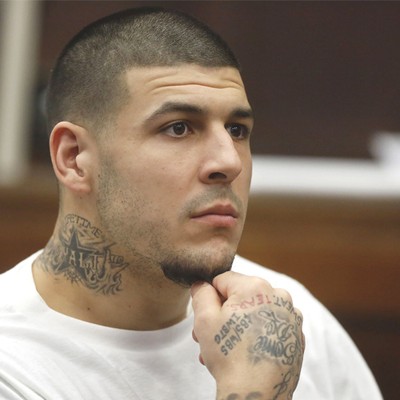 The True-Crime Podcast Exposing The Dark Side Of American Football

Podcast network Wondery are proving themselves as key players when it comes to uncovering important true-crime stories. After the success of Dirty John and Dr Death, they're back with the heartbreaking story of American football player Aaron Hernandez, who went from star NFL player to convicted murderer. Here's what you need to know...

What is it?
The Gladiator podcast is created by Wondery and the Boston Globe's Spotlight team, who are best known for their investigation of the sexual abuse scandal inside the Catholic Church (they even made a film about it starring Rachel McAdams and Mark Ruffalo). This time around, they examine the life of American football player, Aaron Hernandez. In just a few short years, Hernandez went from promising tight end for the New England Patriots, playing in the Super Bowl alongside Tom Brady, to convicted murderer. In 2015, he found guilty for the 'execution-style' killing of Odin Lloyd, a semi-professional player who was dating Hernandez's fiancé. While on trial for Odin's murder, Hernandez was also indicted for the double homicide of Daniel de Abreu and Safiro Furtado, but was eventually acquitted.
Five days after his acquittal for the deaths of de Abreu and Furtado, correctional officers found Hernandez hanging by his bedsheets in his cell at the Souza-Baranowski Correctional Centre in Massachusetts. There were drawings on the wall in blood which showed an unfinished pyramid and the all-seeing eye of God, with the word 'Illuminati' scrawled underneath. Three handwritten notes were found next to a bible opened at John 3:16, and 'John 3:16' was also written on Hernandez's forehead. The passage reads: "For God so loved the world that he gave his one and only Son, that whoever believes in him shall not perish but have eternal life."

Tell us more…
It only gets more tragic from there. Through interviews with Hernandez's former peers and never-before-heard telephone calls from prison, his disdain for homosexuality was extremely apparent, and he would often go on homophobic rants to his friends. But Gladiator reveals that Hernandez apparently struggled with his sexuality for a long time, after being sexually abused as a child and then forming a sexual relationship with friend and fellow football player, Dennis SanSoucie, as a teen. "Me and him were very much into trying to hide what we were doing. We didn't want people to know," SanSoucie told Spotlight.
After his death, Hernandez's family released his brain to Boston University to be studied for signs of Chronic Traumatic Encephalopathy (CTE). Their studies showed that the 27-year-old suffered the most severe case of CTE ever discovered in someone his age, which would have significantly affected his decision-making ability, his judgement and his cognition.
This heartbreaking podcast will make you think twice about cheering for such a violent game.

This contributes to what is commonly known as the NFL's 'concussion crisis', where it has been proved that playing tackle football leads to players being concussed which, in the long-run, can cause devastating brain injuries – in fact, over the past few years a number of former football players have committed suicide and, after giving their brains to science, CTE was discovered in all. Could a brain badly damaged by playing professional football have contributed to Hernandez's violent crime?
Will I like it?
If you recognised the name Wondery, it's likely because you're familiar with their other hit true-crime podcasts like Dr Death, which examines the gruesome case of rogue surgeon Christopher Duntsch; and Dirty John, the story of anaesthetist John Meehan and his manipulation of businesswoman Debra Newell, whom he met on an internet dating site.
Wondery only team up with the best of the best in reporting when it comes to making their podcasts – and you can trust that the Spotlight team will do a good job. After his arrest, people were quick to discard Hernandez's fractious football playing past and his penchant for hanging around with a dangerous crowd from his hometown of Bristol, Connecticut. But Gladiator delves deeper, uncovering the heartbreaking circumstances that would shape the footballer as an adult. And they don't go easy on the NFL either, taking the New England Patriots to task for turning a blind eye as Hernandez spiralled out of control. It'll make you think twice about cheering for such a violent game.
You can listen to Gladiator at Wondery.com
 
DISCLAIMER: We endeavour to always credit the correct original source of every image we use. If you think a credit may be incorrect, please contact us at info@sheerluxe.com.