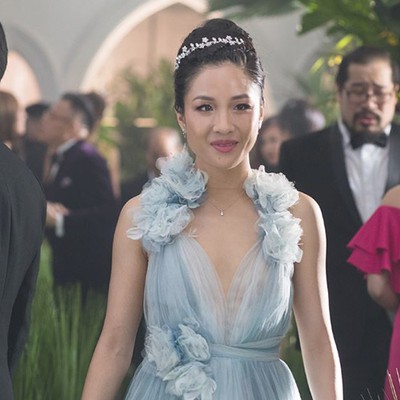 Film Review: Crazy Rich Asians

In case you haven't heard, Crazy Rich Asians is a pretty big deal. The first film in Hollywood in 25 years to feature an entirely Asian cast, the glossy rom-com has been on everyone's radar since it was first announced. Currently smashing the US box office, we were keen to see if it lived up to the hype…

What's the concept?
An adaptation of Kevin Kwan's bestselling novel of the same name, Crazy Rich Asians takes the classic fairy tale love story of poor girl who falls for a prince and revamps it for the modern age – this lucky lady is thrown into the glamorous but bitchy world of the Singapore elite. 
Things are getting serious between Rachel Chu and her handsome boyfriend Nick. So when best man duties call in Singapore where his best friend is due to get married imminently, Nick invites Rachel to be his date. Little does Rachel realise, Nick's family pretty much own half of Singapore, and the wedding? It's billed to be the event of the century. Turns out, Nick's the heir to a real estate dynasty and all his friends are similarly wealthy – or you might say, crazy rich.
As Rachel is introduced to Nick's extended family – and trust us, there's plenty of aunties to get through at this reunion – she soon realises that those who care about him are not ready to let him marry just anybody, especially not an ambitious American NYU professor.
Who stars?
The film centres around an effervescent Constance Wu's (Fresh Off the Boat) Rachel and Henry Golding's (due to star in Paul Feig's A Simple Favour later this year) Nick, who seems to get more handsome the more you look at him. Nick's mother and the matriarch of the Young dynasty is played by an ominously affable Michelle Yeoh (Star Trek: Discovery; Crouching Tiger, Hidden Dragon) and British actress Gemma Chan (Humans; Fresh Meat) takes on the role of his Audrey Hepburn-esque sister, Astrid.
When Rachel arrives in Singapore, she visits the home of old college friend Peik Lin, played by Akwafina (Ocean's 8), who brings the majority of the comic relief alongside her onscreen dad, Ken Jeong (Community; The Hangover). Both actors steal the scene at every opportunity – one joke in particular, which sees Jeong tell his two young twins to eat their nuggets because "There are children starving in America!" elicited plenty of shocked laughter from the audience.
"If you can look beyond the helicopters and Gatsby-style parties, Crazy Rich Asians isn't just a glitzy romcom, but a story about cultural tradition, forbidden love and not fitting in."
What about the outfits?
Don't even get us started. You can't be crazy rich and not own a walk-in wardrobe filled with designer dresses, right? Crazy Rich Asians is a costume designer's dream – one that actual costume designer Mary E Vogt bought to life with the help of renowned designers Valentino, Amani, Dior, Elie Saab, Caroline Herrera, Ralph Lauren, Stella McCartney and Alexander McQueen, to name but a few. The illusion of opulence was not spared in this film – in one scene, Michelle Yeoh wears a $300,000 (£232,950) Michelle Ong brooch as a belt buckle.
But it wasn't just a frivolous opportunity to feature designer dresses. There was a definite narrative being told through the outfits – particularly when it came to Rachel, whose clothes told the story of her confidence in New York compared to her nervousness around Nick's family. "[Director] Jon [Chu] talked a lot about that exact thing, and he referenced The Wizard of Oz," Vogt said. "When Rachel's in New York, everything we do is more black, white and grey-toned. She's a little more edgy in New York, in very simple, inexpensive clothes. Then, when she goes to Singapore, it's more bright and colourful, but she's a little out of her element. She wasn't expecting to be met with this mother who didn't accept her. Her clothing there is more vulnerable. She's more innocent and vulnerable looking, she wears a lot of chiffons and the patterns are very soft."
Will I like it?
Let's just say there's a reason why it's been at the top of the US box office for three weeks. If you can look beyond the helicopters, Gatsby-style parties and literal money shots, at its heart, Crazy Rich Asians isn't just a glitzy romcom, but a fish-out-of-water story about cultural tradition, forbidden love and not fitting in. And for anyone who's ever met their boyfriend's over-bearing mother, that all-too-familiar feeling of not being good enough will hit hard.
The film feels particularly vital right now – after all, this is the first time in 25 years that a major Hollywood studio has funded a present-day film that features an entirely Asian cast. This film, along with Netflix's latest YA romcom, To All the Boys I've Loved Before, are wonderful proof that you don't need white actors on the bill to make a great film sell.
While the latter's Asian lead (Lana Condor as lovestruck teen Lara-Jean Covey) isn't addressed and isn't central to the plot, Crazy Rich Asians' cast allows for what writer Clara Mae calls "intercommunity conversations" to play out: "This distinction between Asian and Asian American is a conversation we've rarely seen in mainstream films… Despite her best efforts to impress, Rachel immediately finds herself at odds with Nick's mother Eleanor, a matriarch steeped in tradition and duty who finds Rachel's Americanness wholly distasteful. 'You're a foreigner … all Americans care about is their own happiness,' Eleanor says to her. That Rachel has no longstanding cultural roots in any country, worked her way up from nothing and speaks of keeping her job were she to marry Nick, all single her out as an outsider, someone who is Asian, yet not, in all the ways that matter."
Besides the cultural significance that cultivates the mind, it's the glitz and the glamour that truly catches the eye. It's a style that suits director Jon M. Chu, who's more than used to creating pomp and spectacle – his CV includes the likes of Step Up, Now You See Me and G.I. Joe. And with the news that a Crazy Rich Asians sequel is officially in the making, Jon Chu is has been confirmed to return, too – so just when you thought it could get any more crazy or rich, we're confident Chu will find a way.
 
Crazy Rich Asians is in cinemas Friday 14th September 2018
DISCLAIMER: We endeavour to always credit the correct original source of every image we use. If you think a credit may be incorrect, please contact us at info@sheerluxe.com.