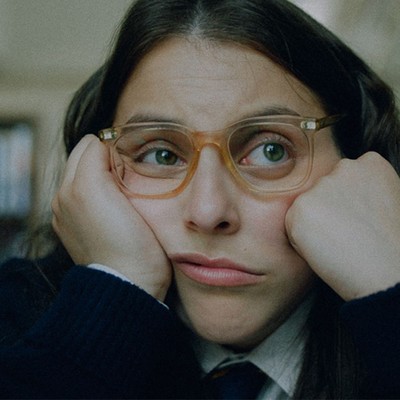 Film Review: How To Build A Girl

Originally scheduled for a cinema release, Caitlin Moran's film debut lands on Amazon Prime Video today. Starring Beanie Feldstein, Alfie Allen and Emma Thompson, How To Build A Girl is an uplifting, hilarious look at growing up in the 90s. Here's why you should watch it…

Based on the 2014 bestselling novel by Caitlin Moran, How To Build A Girl is a coming-of-age film that follows a 16-year-old's journey as she escapes the confines of a council estate in Wolverhampton. Set in 1993, the story focuses on Johanna Morrigan (played by the brilliant Beanie Feldstein), a bright but lonely schoolgirl – the kind who prefers to hang out with teachers rather than classmates, and enters poetry competitions held by the local news station. But this working-class teen has a plan to break away from her tiny, crowded house and fulfil her desire to have lots of sex. It involves reinventing herself as larger-than-life rock critic Dolly Wilde.
When we meet Johanna, she's shamed herself so badly on local TV she's decided there's no point in being herself anymore. So she sets out to save her oddball, poverty-stricken family (headed up by Journeyman's Paddy Considine, on fine form as a former musician who can't quite let go) by becoming a writer – like Jo in Little Women, or the Brontë sisters, all of who adorn her walls along with Elizabeth Taylor, Sylvia Plath, Cleopatra, Karl Marx and Donna Summer. Encouraged by her cooler younger brother (stage star Laurie Kynaston), who creates his own zines on their shared bedroom floor, she enters a writing competition at DNME magazine, a music title fronted by sneering, sarcastic 20-something men. 
After sending off a review of the Annie soundtrack to the paper, she's invited into its London office for an interview. Suddenly, Johanna's writing for the paper, skipping school, smoking cigarettes, getting drunk and having all kinds of sex with all kinds of men, all under the alter ego of Dolly Wilde. It's going rather well: she tours the UK, interviews and befriends troubadour John Kite (Game of Thrones and JojoRabbit's Alfie Allen) and is paying the bills back at home. But things start to fall apart when Johanna realises the life she's built as Dolly isn't one she wants to be part of anymore.
The film's worth watching for Feldstein alone. Following on from her roles in Lady Bird and Booksmart, she's now officially Hollywood royalty, which makes her on-the-money Wolverhampton accent all the sweeter. As Johanna, she manages to tread the line between cool and cringe, and creates a very likeable protagonist – even when she goes off the rails. Feldstein isn't the only big name here – there are cameos from Emma Thompson, Chris O'Dowd, Jameela Jamil, Lily Allen, Michael Sheen, Sharon Horgan, Mel and Sue, Andi Oliver and Gemma Arterton. That British line-up helps solidify the film's credentials as an indie project and pull the focus back onto the very British 90s setting.
The film is directed by Coky Giedroyc (Harlots, The Virgin Queen), written by Moran and produced by Oscar-nominated and Bafta-winning producers Alison Owen (Me Before You) and Debra Hayward (Les Misérables). Talking to The Times last weekend, Moran described the film as having a "matriarchal vibe", thanks to the three female producers, a female director and the most female/LGBTQ+ crew ever assembled on a British film. The result is a film that captures the experience of being a teenage girl, from the highs of first experiences (the scene when she attends her first gig is pure joy) to the crashing lows of having to push past perceptions and prejudice, particularly when it comes to class and sex.
Anyone who's read anything of Moran's over the decades will see much in the film that reflects her own experiences. Moran is the eldest of eight children and lived on a council estate in Wolverhampton. There are plenty of her trademark masturbation and period gags here, and Johanna knows how to deliver a sharp takedown and witty rebuttal. All of this foreknowledge reduces the element of surprise, but How To Build A Girl is an entertaining watch that's deftly presented in 90 minutes. A fun Friday-night watch, this film will have you pining for live music and feeling nostalgic for your own teenage voyage of discovery.
How To Build A Girl is available to watch now. 
Visit Amazon.co.uk
DISCLAIMER: We endeavour to always credit the correct original source of every image we use. If you think a credit may be incorrect, please contact us at info@sheerluxe.com.