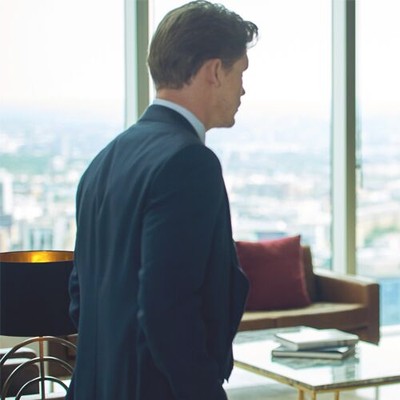 The Political And Psychological Thriller You Need To Watch Tonight

Richard Gere's career spans 40 years but the Hollywood star has never headed the cast of a TV series - until now.

In the new BBC drama MotherFatherSon, Gere plays Max Finch, a media mogul whose control over his child, estranged wife and influential empire is all-encompassing. Director James Kent admits it wasn't easy securing someone of Richard Gere's calibre. "It did take a long time but as an actor you put your faith in the production team and director, and Richard said he'd been in films that just didn't deliver so he's quite cautious. He doesn't need to do this, but he loved the scripts."
The eight-part drama's written by Tom Rob Smith, the author of Child 44 and The Farm. He was researching another project, American Crime Story: The Assassination of Gianni Versace, when he watched the 1980 movie American Gigolo. Recalling Richard's breakthrough performance, he says the actor managed to be "menacing and seductive in the same scene".
They're attributes shared by Max because there "are no villains in this piece," says Tom: "We're pulled and pushed all the time by everyone. You must love the mother, father and son otherwise it won't work. All three do things that are shocking and provocative, and you have to go with them at all points."
We first meet Max as he's flying into the UK on a private jet after some time away. We see him meeting the Prime Minister (Danny Sapani), the Leader of the Opposition (Sarah Lancashire) and visiting the glass newsroom where his son, played by Billy Howle, presides as the youngest ever editor of Max's prized broadsheet. Their relationship is complex, "like I think many father and son relationships are," notes Richard, 69. "Max is the kind of guy who has high expectations of his son and maybe pushes him a little too hard down a track that fits his expectations. Caden of course chafes at that, like many sons do."
Caden's the keeper of his father's dark secrets but is struggling to meet the demands thrust upon him and numbs the pain and anger with drugs. When he suffers a stroke and needs to learn everything again, his continued silence on matters of national interest is no longer a given, something that's of grave concern for Max. "I was still trying to figure out as I was playing him just how dark he could go," says Richard. "Max does questionable things, mischievous things, but I think his behaviour and actions are understandable."
It's the first time the Hollywood star has dedicated six months to a character and although he recently announced to the Radio Times, 'I don't think I'll do it again', he does see MotherFatherSon as "an eight-hour movie" that has "a Shakespearean scale to the story".
"It's rare to see this kind of depth and presentation of characters and human dilemmas," he observes. "This is the world we live in, because most families are dysfunctional to some degree, and this one certainly is. But the human story's set against a much larger story about international politics; and about the movement of populism. It's got real, human honesty, but also a vastness in its ambition of dealing with big questions."
Helen McCrory plays Max's former wife Kathryn, a woman who rebelled against her wealthy family to become a journalist but is now "a shadow of her former self". "Max leaves Kathryn with nothing. In a brutal divorce, he even denies her the one thing she needs more than anything - to see her only child, her son, and to be a mother," says Helen, 50. When Caden suffers the stroke, Kathryn sees a chance to reconnect to the boy ripped away from her years before. "The trauma of not raising her own child still haunts her, and while she can't fulfil her need to be a mother, her life has stultified," she explains. "The fact that Kathryn's unable to be part of the family she was born into, or the one she started herself, gives her an adrift quality, a detachment. She is the outsider."
Helen praises Tom's ability to depict "the chaos of life and allow that chaos to happen": "I mean halfway through the first episode a journalist announces she has cancer and normally that's the story but that's just one of many. At the same time, it's not chaotic, it is about something. And it's unpredictable, sexy, disturbing, uplifting and unflinching."
Helen turned down a lead in another series in the hope she'd get this job but even for someone of her experience, it wasn't a given. "My agent called me up to say there was a fantastic project floating about, but the only names that were reading it were big film stars. He couldn't tell me anything about it, nor were they sending it to me, but his excitement was palpable. He said, 'If I can get you into the room, I think you've got a chance…but I've got to get you into the room first'," remembers Helen. "So, we gate-crashed the auditions basically. There are bodies littered around Islington of the women in front of me," she jokes. "But it's one of the most original scripts I've ever read, and you always want to be part of the good stuff."
MotherFatherSon begins on BBC Two on 6th March.
 
DISCLAIMER: We endeavour to always credit the correct original source of every image we use. If you think a credit may be incorrect, please contact us at info@sheerluxe.com.