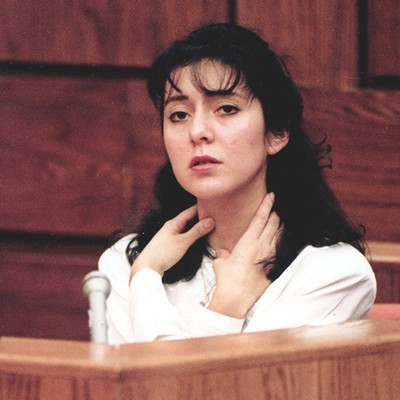 This Shocking Documentary Sheds New Light On An Infamous 90s Case

You might have heard of Lorena Bobbitt before, and her infamous story – but not like this. A new Jordan Peele-produced documentary looks beyond the sensational headlines to uncover what really happened before and after Lorena cut off her husband's penis in 1993.

In 1993, after years of being beaten and raped by her husband, John Wayne, then 26, Lorena, 24, cut off his penis with a kitchen knife as he slept. She fled the scene in her car, penis still in hand, eventually flinging it out of the window as she drove. The incident left him mutilated (he subsequently had his penis reattached) and both of them went on trial. The world was hooked – both cases were obsessively covered by the media and sparked major debates between men and women. Despite the abuse that Lorena endured during their marriage, the only thing people seem to remember is the 'hot-blooded Latina' who snapped and severed her husband's penis. 
This four-part series – premiering on Amazon Prime – examines the fact that the real story is far more complex than that. Over the course of four episodes, it covers the fraught history between Lorena and John Wayne, their relationship, and all the ways the media failed to do their due diligence in the reporting of the case, which significantly influenced how this moment in history has been remembered.
 
When the media reported on this case, it was only Lorena's case for mutilation that was televised, and not her husband's for sexual abuse. This documentary aims to separate the woman from the salacious headlines, to prove that Lorena didn't just do what she did on a whim, but instead because she could see no other way out of her abusive marriage. The documentary properly shows the evidence of John's sexually and physically abusive behaviour, shows how low the media stooped to get a juicy story. Howard Stern held a fundraiser in John's honour in order to help redeem John's reputation (this is the man who said on air that Lorena was too ugly to rape because she had acne), and American tabloid talk show host harassed Lorena to give him an interview.
Lorena cut off his penis with a kitchen knife as he slept. She fled in her car, penis still in hand, eventually flinging it out of the window as she drove.

What's interesting about this story is that both John and Lorena give interviews, as well as neighbours, friends and experts in domestic violence. A nurse who was there the night they were both brought to the hospital – John to have his penis reattached and Lorena to undergo a rape examination – offered a glimpse into the glaring divide between the way men and women felt about the incident: while male police officers waited for information in the corridors, they crossed their legs, all feeling some sort of sympathy pain even thinking about John's predicament, but the nurses were just "wondering what he did to make her do it."
After the trials, John decided to make lemons out of his situation and made two porn films entitled John Wayne Bobbitt: Uncut in 1994 and Frankenpenis in 1996. But even having his penis cut off didn't stop his bad behaviour – in 1994 he was convicted of battery for striking Kristina Elliott, a 21-year-old former exotic dancer he met while in Las Vegas on a publicity tour and again in 2003 and 2004 for battery charges against his then-wife Joanna Ferrell. Lorena attempted to keep a low profile, starting a foundation dedicated to the prevention of domestic violence, eventually having a child with her long-term partner, David Bellinger. 
For those who are old enough to remember the hysteria around the Bobbitt case, this documentary will shed crucial new light. But even those who weren't, or don't remember the story, will be able to relate to Lorena's plight, of not being believed, of blatant racism and misogyny, of a woman's trauma becoming a pop culture punchline, and, eventually, of a woman's overcoming. A really great and illuminating watch.
​
Watch Lorena on Amazon Prime now.
DISCLAIMER: We endeavour to always credit the correct original source of every image we use. If you think a credit may be incorrect, please contact us at info@sheerluxe.com.