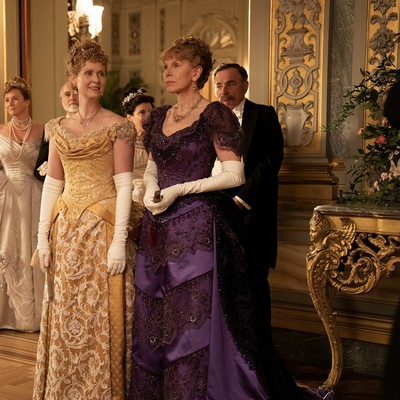 What To Watch Tonight: The Gilded Age

Downton Abbey will be back on cinema screens later this year, but those looking for an immediate period drama fix should get excited about Julian Fellowes' newest show, The Gilded Age. Set in 1880s New York, it follows Marian Brook as she moves to the big city after her father's death. But things get complicated when she tries to assimilate into the rest of the family. From the costumes to the cast, here's why it's worth a watch.

America's 'Gilded Age' was a period of economic change, great conflict between the old ways and new systems, and of huge fortunes earned and lost. It's against this backdrop that HBO's new drama The Gilded Age plays out. Written by Downton Abbey's much-loved writer Julian Fellowes, this is another of his classic family dramas that takes in class, money and social change – all with a dash of fun and plenty of whimsical fashion and interiors to pore over.
 
The series begins in 1882. We meet young Marian Brook (played by excellent newcomer Louisa Jacobson, who is Meryl Streep's youngest daughter, no less) in the office of her late-father's accountant. She's lived a charmed life, but has just been informed her father's life of excess was all a front: they didn't own their house and now she's left with just $30. With no remaining family members left in rural Pennsylvania, it's decided she'll make the long trip to New York City to live with her thoroughly old money aunts Agnes van Rhijn (Christine Baranski) and Ada Brook (Cynthia Nixon), who she's never met.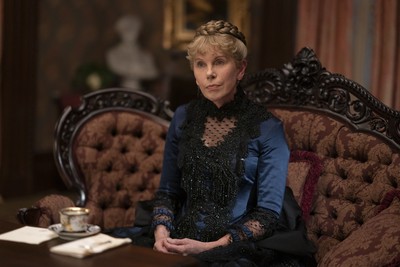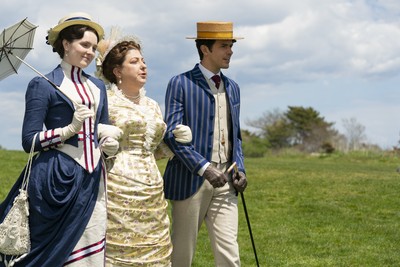 On her journey to the big city, she meets Peggy Scott (stage star Denée Benton), an aspiring writer seeking a fresh start herself. Through Peggy's character, we're exposed to the racism and struggles of being Black in post-slave trade America. But we also see a special friendship forged between her and Marian as the two of them begin their new lives at one of the city's most desirable addresses: Marian upstairs, and Peggy down with the other servants.
 
As the two navigate their way through their new roles in society, Marian inadvertently becomes embroiled in a social war between her aunt Agnes – a scion of the old money set – and their eye-wateringly rich neighbours, a ruthless railroad tycoon George Russell (Morgan Spector, Split) and his ambitious wife Bertha (Carrie Coon, The Leftovers). Exposed to a world on the edge of the modern age, will Marian follow the established rules of society, or decide to forge her own way?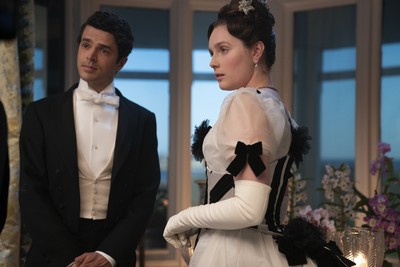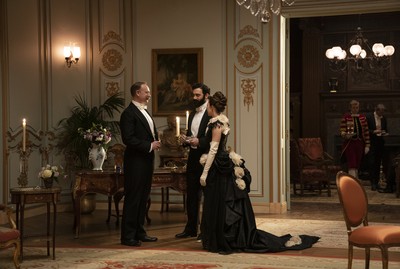 There's lots to love about The Gilded Age (especially the costumes) but the cast is the show's biggest pull. Both Coon and Spector are excellent as the good-looking, new-money disrupters, especially Coon who embodies both glacial indifference and searing rage as she attempts to ingratiate herself into old-school New York high society. Nixon is also on form as the innocent Ada, who accidentally oversteps boundaries and is far more welcoming than she should be to those outside the inner sanctum – much to Agnes' distain. It's a return to form for Nixon, which will come as some relief to those still watching her character Miranda's interesting plot developments on Sex & The City reboot …And Just Like That. And, of course, Baranski is as good as ever, remaining stony-faced and comically livid as the rules she's always lived by start to unravel around her.
 
While it's probably not going to have viewers on the edge of their seats week after week, The Gilded Age is what Fellowes does best, whisking viewers behind the scenes of grand mansions – both upstairs and downstairs – delving into feuds over class and status and weaving family drama with a fascinating historical backdrop. This isn't a bodice ripper like the genre-defying Bridgerton, which returns to Netflix on 25th March. However, on drizzly January evenings, this is exactly the sort of familiar, cosy drama many are craving. Until the much-anticipated second series of Bridgerton arrives, this will do nicely.
 
The Gilded Age is available to watch on Sky Atlantic and Now at 9pm tonight.
 
Visit NowTV.com
DISCLAIMER: We endeavour to always credit the correct original source of every image we use. If you think a credit may be incorrect, please contact us at info@sheerluxe.com.