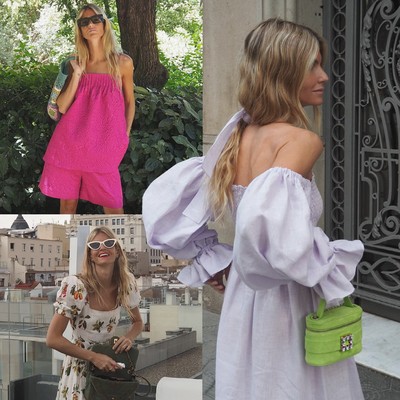 Style Rules: Patricia Sañes

After working as a fashion journalist in Barcelona for glossies like TELVA and Grazia, Spanish influencer Patricia Sañes went onto launch her fashion blog, Cool Hunter Diary, in 2010. Years later, her playful, colourful approach to style has helped her amass more than 150,000 followers on Instagram, as well as a host of big-name clients including Hermès, Louis Vuitton and Cartier. From the trends worth following to the pieces worth investing in, here are the style rules she lives by…

All products on this page have been selected by our editorial team, however we may make commission on some products.
My style is best described as eclectic, colourful and funny. It's how I would describe my personality, too, and while many of my outfits include contradictory elements, I like to think I wear them with enough conviction to make them work – I love to try things that, on paper, shouldn't 'go together'; I see it as a bit of a challenge. That said, I've not always felt this confident – I've experimented over the years and after plenty of trial and error, I've got to a point where I feel comfortable in my style. 
Your outfit choices should reflect your personality. It's a bit of a cliché, but I see fashion as a means to express yourself. For me, that usually involves bright colours, bold prints, loose silhouettes and quirky accessories. I feel most myself when I'm wearing these things, so it's a good idea to try and establish what those elements are for you. The key is to choose pieces you feel most comfortable in – you don't need to follow other people's lead. 
Trends are there to be interpreted, not followed blindly. As a fashion journalist, I keep my finger on the pulse but I don't follow trends to the letter. Instead, I choose which ones suit my body type and personality. For example, this season I've been loving crochet and vintage-inspired prints, but you wouldn't see me wearing chunky-soled shoes even though they're everywhere right now. My tip for making new season trends feel authentic is to wear them with something more classic – that way, your outfits will always look current, but still true to you.
When it comes to wearing bright colours, confidence is key. Don't be afraid to try unexpected combinations – I find deliberate clashes are a great way to make colour feel contemporary. Two of my favourite shades to wear together are green with fuchsia – if you like something, go for it. 
My tip for making new season trends feel authentic is to wear them with something more classic.
Your outfit doesn't always have to reflect your mood. I'll sometimes dress for how I'm feeling that day, but not always – in my experience, experimenting and pushing yourself to wear something a little bolder is a great way to lift yourself out of a funk. I'm always trying out different pairings and it sparks a lot of joy. 
Accessories and shoes are always worth spending a little more on. Even if you're wearing a white shirt and jeans, a great pair of shoes or a chic bag will make elevate your look. My all-time favourite bag is my Hermès Kelly, which my husband surprised me with when my son Claudio was born. It's blue and I love that it makes a real statement. My most worn pair of shoes is a pair of black Gucci flats with an embroidered pink flower, which I bought on a trip to Rome – they're the perfect accompaniment to jeans. Next on my wish list is a pair of Roger Vivier cage style sandals – the design is quite grunge-y, but they have a bit of embellishment which gives them a more glamorous twist. They'll work with a variety of looks, whether it's Bermuda shorts, cropped jeans or a sheer maxi dress. 
Shop with longevity in mind. Sustainability is something everyone is thinking about more, so I try to invest in pieces I know my nieces will be able to inherit, like bags, dresses from an haute couture Spanish brand called Tothom and jewellery my grandma passed down to me. With so much on offer these days, it's very tempting to impulse buy, but everyone has a responsibility to make more considered purchases. A couple of sustainable brands worth checking out are Juan de Dios and Mayla Stockholm. 
 

The secret to great style is to be yourself. Don't feel like you have to conform to fashion standards if they don't feel like you – for example, I didn't want to wear a pure, white dress for my wedding, so I had it designed with colourful embroidered flowers to put my own stamp on it.  There's no harm in learning a bit about fashion too. Read books, watch old films, visit museums and of course, don't forget Instagram. There's plenty of inspiration out there to inform your choices.
DISCLAIMER: We endeavour to always credit the correct original source of every image we use. If you think a credit may be incorrect, please contact us at info@sheerluxe.com.