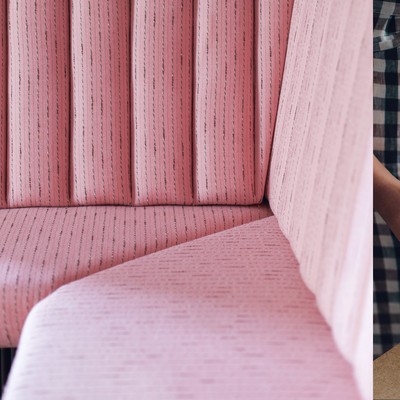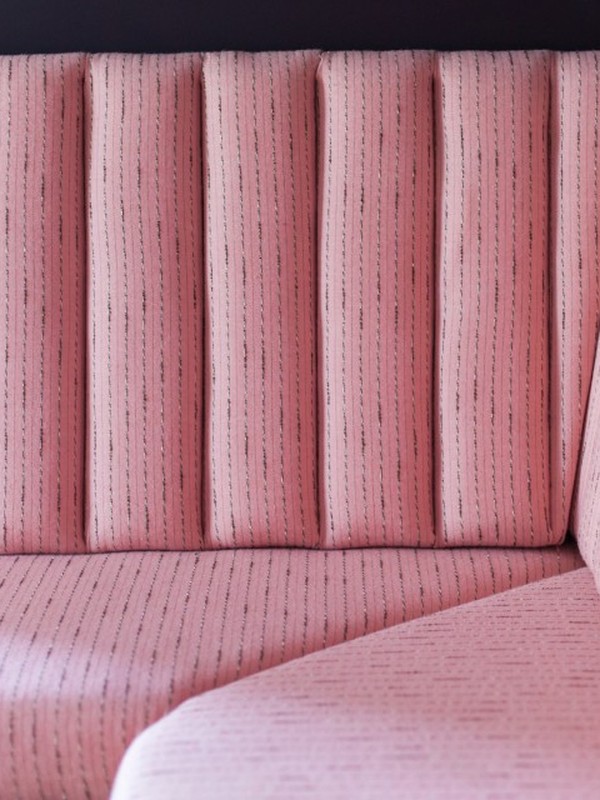 The Upholstery Course You Need To Know About

Anyone who's decorated a home knows upholstery is a skill set that comes with a real price tag. The good news is, it's actually relatively easy to learn yourself – and doing so could save you a lot of time and money. Plus, you might discover a new hobby along the way. Now, interior designer Micaela Sharp has teamed up with Create Academy to offer an online course that covers all the modern techniques, as well as a couple of achievable projects you can make at home. Here, we asked her to tell us more…

By Georgina Blaskey
First Off, Let's Start With A Bit Of Background…
I was brought up by my grandparents who were both quite thrifty. My nan taught me how to sew, and my grandad was a carpenter, so he taught me how to use different tools properly. Eventually, I realised the perfect intersection between carpentry and sewing is upholstery. After taking a course, I fell in love with it. As I've moved through my upholstery career, I've found myself more drawn to interiors as a whole, rather than individual pieces of furniture. That said, my knowledge and experience in hands-on making is what makes me a different kind of designer – I'm always assessing each piece and working out how we can add value to it. 
What Draws You To Fabric?
I love how fabrics offer endless possibilities in terms of colour, texture and pattern. They also add a softness that can't be achieved with furniture. When I look back on life's moments, I can always remember the fabrics – the cream weave of the sofa we used to watch movies on, the stripes on the dining chairs for Christmas dinner…
Tell Us About The Differences Between Traditional And Modern Upholstery Techniques…
Traditionally, upholstery used horsehair and other natural fibres to tie down and hand sew the form. Today, this process of layering materials still takes time, which is why the service is often charged at a higher rate. Modern upholstery uses foam, glue and staples. These cheaper materials are easily available and it's a quicker process – which is why I tend to favour it.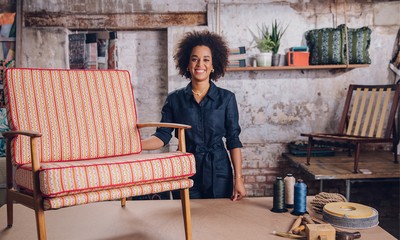 I love how FABRICS offer endless possibilities in terms of colour, TEXTURE and pattern. They also add a SOFTNESS that can't be achieved with furniture.

When It Comes To Furniture To Reupholster, What Should You Look For?
Try to ignore the overall condition of the item and instead focus on the quality of the frame. Is it sturdy and heavy? You'll want to avoid broken frames while you're learning. It's easy to let your eye wander to the existing fabric colour, but really you only need to look at the shape. Usually, the worse the condition of the fabric, the bigger the bargain – so don't rule out those worn-out items.
Which Fabrics Work Best For Certain Projects?
For domestic upholstery, I advise looking at the rub count of the fabric. This shows you how durable it is – anything with a score of over 35,000 is great. Next, you'll want to think about the qualities of the fabric – do you need it to be stain resistant for a sofa? Less textured for a footstool? Or perhaps natural fibres are important to you? Items such as headboards that don't get much wear and tear are great places to use more delicate fabrics and embroidery.
Which Techniques Are Hardest To Master?
Traditional upholstery is a more complicated process and that's why my new Create Academy course focuses mostly on modern techniques. Traditional upholstery involves more layers and lots of hand tying which can be hard on your hands, and can take many more hours to achieve a really smooth finish.
What Mistakes Do First-Time Upholsterers Make?
The key with upholstery is the tension of the fabric. Often, new upholsterers don't want to 'over pull' the fabric, but that's a bit of a myth. With so many soft layers of foam and Dacron, you need to pull the fabric super tight to make sure it doesn't develop creases and wrinkles over time. So always pull it as tight as you can. Other than that, it's really about confidence. You can always undo the staples and readjust the fabric, so just have the confidence to manipulate it into the desired shape and cut where needed.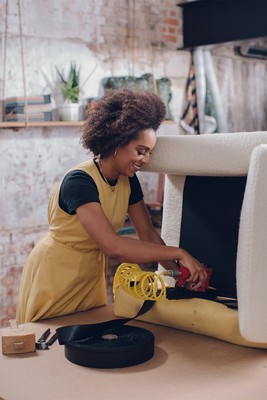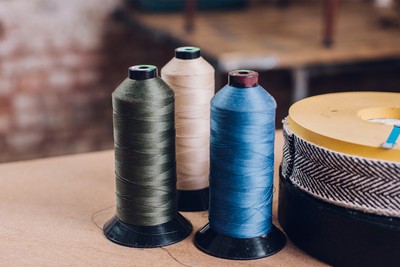 I'm a bit ADDICTED to pink and green – it's VIBRANT and CALMING in equal measure. The only thing I tend to AVOID is GREY.

What's An Easy Project To Start With?
My course starts with a headboard project which sounds far more complicated than it is. Usually, people start on a chair but a headboard is the same process, just on a bigger, more satisfying scale. Once you've mastered the skills to upholster a flat headboard, you can move onto more 3D shapes like sofas and armchairs.
Do You Need Lots Of Special Tools?
Upholstery uses a surprisingly small amount of hand tools – all of which are very affordable and easy to find at any hardware shop. The most important tool is your staple gun. A handheld gun only costs about £10, but for big items I recommend an electric gun, which is about £100. You'll be able to use it in all your projects – and your hands and arm muscles will thank you!
Can You Share Some Of Your Favourite Fabric Brands?
For affordability and stylish fabrics, I love Linwood. For more traditional patterns I love all the brands within Sanderson, especially Morris & Co. For sustainability and designer fabrics at lower prices, Haines Collection is a must!
Tell Us About Some Of Your Go-To Colour Combos…
I'm a bit addicted to pink and green – it's vibrant and calming in equal measure. I also love dark wooden furniture, which is why most of my schemes tend to include walnut tones as an anchor. The only thing I tend to avoid is grey.
Finally, What Kind Of Finishing Touches Do You Like To Use?
The finishing touches are what make an item stand out and elevate it from something that's mass-produced to a complete one-off. I really love using a contrast piping because it's a great way to tie in colours from the rest of the room. I also love how playful fringe can be. Trims are not hard to add and neither are studs. For me, it's truly these final touches that can make all the difference.
Book a place on An Introduction to Upholstery via Create Academy.
DISCLAIMER: We endeavour to always credit the correct original source of every image we use. If you think a credit may be incorrect, please contact us at info@sheerluxe.com.