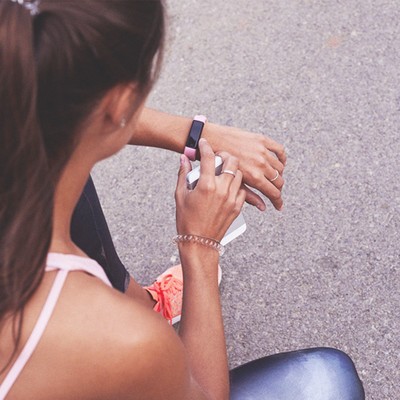 9 Ways To Make the Most of Your Fitness Tracker

If your fitness motivation is waning, the solution could be on your wrist. Whether it's an Apple, Garmin or Fitbit model, fitness trackers can help you take your training to the next level. From being your own personal trainer to racing against friends and family, here's how to get the most out of your gadget…

Know How to Wear It
Did you know your tracker should always be worn on your non-dominant hand? "A lot of fitness watches have apps where you can enter which hand you're wearing the watch on, but there are advantages to wearing your watch on the less dominant hand," explains Greg Vulinovic, product manager at Garmin UK. "Your less dominant arm moves less, which means you're less likely to get incorrect data from your tracker thinking you're taking steps when you're not," he says.
Get in the Zone
One of the key developments when it comes to fitness trackers is an integrated heart rate monitor, which will tell you when you're in a low steady state exercise (50-60% of your maximum), a cardio state (70-80%) and a peak state (above 80%). Generally speaking, the higher the heart rate, the higher the burn, but that doesn't mean lower intensity exercise should be ignored completely. In fact, keeping your heart rate at around 60% of your maximum will burn fat stores. If you're looking to improve your fitness, stay in the peak zone for as long as possible, and if you're doing a HIIT workout, your heart rate should be at 80% of your maximum for it to be working. If your watch has a monitor – use it your advantage.
Incorporate Sprints 
If you're into fitness, you may have heard the term 'interval training' mentioned at one point or another. A great way to boost your afterburn (the afterburn effect after a comfortable run is usually near zero, but after an intense interval workout, it can last for up to 48 hours after training, meaning your body is burning calories and building muscle long after your session); and improve cardiovascular fitness and metabolism, interval training is a great way to mix up your workout. Start out at an easy pace and incorporate eight to ten one-minute sprints in your run, aiming to reach 70% of your maximum during each sprint. Either walk or slowly jog for your recovery and remember to cool down at the end. Without access to a treadmill, a fitness watch is a foolproof way to keep an eye on the clock and speed and maximise your time outdoors.
Use The Data
While plenty of newer fitness watches provide insight into recovery, telling you when to take a rest day, you can use your resting heart rate as a straightforward guide. If your watch tells you your resting heart rate is higher than usual when you're not working out, this is a key sign of fatigue. Experts say changes of more than seven beats per minute is a sign your body is working overtime to recover and you could benefit from scaling back for a couple of days.
Upgrade Your Step Goal
With our time outside limited to around an hour per day, getting your daily steps in is proving tricky. However, the experts say it's totally possible to get your steps in while at home, even if you live in a flat. Lucy Wyndham-Read, a 49-year-old British personal trainer with more than a million subscribers to her YouTube channel, offers indoor walking workouts, which had around a million views in the first 48 hours of lockdown alone. Lucy claims you can cover up to 6,000 steps with one of her workouts, which science shows can significantly reduce the risk of dying early from heart disease and cancer.
Join a Challenge
Channel your inner competitive streak with a fitness challenge, ideal for raising your heart rate and staying connected with your friends. Apple, Fitbit and Garmin all offer the ability to 'add friends' so you can view each other's progress. Start competitions or challenges, or go head to head with friends or running club buddies to encourage you to stay consistent with your training – no gym required.
Find a New Route
If you're lucky enough to have a Garmin, take advantage of the tech's course creator tool. In the Garmin Connect app, simply enter where you want to start your run from, and for how long you want to run. The app will then find you a new route – ideal for beating the monotony of traipsing round the same streets for days on end – which then syncs to your phone in seconds.
Set Reminders
With zero commuting and limited trips to the supermarket, it's no surprise we're moving less. Consider setting a reminder on your watch at ten minutes before every hour, taking this as an opportunity to move your body and get some steps in. Even when it's not sending alerts, the visual reminder of a tracker can keep you motivated to get up and move.
Download An App
Most major fitness tracker companies offer some form of companion app, and they aren't just a gimmicky add-on. These apps allow you to easily track your daily, weekly and monthly progress, giving you a snapshot of your improving fitness levels. Some apps even award badges for accomplishing specific goals, which will add a level of much-needed motivation. Take the time to look at your weekly and monthly step counts, or how many miles you've run, and use this as a baseline for what you want to accomplish next month. Also, try breaking down targets into 'mini goals', session to session, week to week, to keep things in perspective. And if there's a day you want to swap your workout for Netflix and the sofa? Your step count can always wait.
Shop our top 3 fitness trackers below...
DISCLAIMER: We endeavour to always credit the correct original source of every image we use. If you think a credit may be incorrect, please contact us at info@sheerluxe.com.