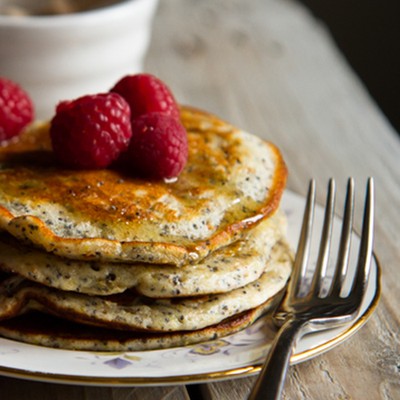 5 Easy Pancake Recipes

Whether you like them fluffy and American-style or prefer the European classic crepe, there are myriad ways to make pancakes these days. Ahead of Shrove Tuesday, SL contributor and food writer Chloe Scott-Moncrieff shows us five of her favourite sweet and savoury recipes.

1. Perfect No-Frills Pancakes
INGREDIENTS
150g of plain flour
2 eggs
300ml of milk
A splash of olive oil or butter
Seasoning options: 1 tsp of cinnamon powder, sugar, salt, pepper
METHOD
Sift the flour into a mixing bowl. Add a pinch of salt. Mix the eggs and milk in. 
Heat butter in a frying pan on high heat. Swirl it about and make sure there is no excess. 
Turn the hob onto medium heat and add the batter. Make sure it's spread across the pan. Let it set. 
Loosen edges with a spatula and by shaking the pan. 
Flip. Serve.
2. Potato & Chive Pancakes
INGREDIENTS
170g of flour
1 tsp of baking powder
​2 eggs
300-350ml of water or milk
150g of cooked potato or sweet potato, mashed
50g of cheese, grated
1 handful chives, finely chopped
Topping: Crème fraîche
METHOD
Sieve the flour, baking powder and whisk in the eggs and milk/water.  Season with salt and pepper. 
Add in the mashed potato. Mix in the chives and cheese – or wilted spinach and ricotta will make a delicious alternative. 
Heat a frying pan. Fry one small spoonful of batter at a time. 
Serve immediately with a blob of crème fraîche, black pepper and herbs. 
3. Nutty Chickpea Pancakes With Chilli (V)
INGREDIENTS
200g of gram flour pancakes (chickpea flour)
½ tsp of baking powder
300ml of water
1 green chilli, finely chopped
1 shallot, finely chopped
1 tsp of curry powder
METHOD 
Whisk all the ingredients together and season with salt and pepper. 
Put a splash of olive oil in the frying pan. Turn to high heat to get the pan hot then return to moderate heat. 
Ladle the mixture into the pan. Swish it around. Cook until golden and crisp. Turn it over. Cook for a further one minute. 
Optional: top with avocado, tomato chutney and rocket, finely chopped olives and tomato. Finely chopped fresh coriander would be the perfect garnish here.
4. Fluffy Pancakes
INGREDIENTS
300g of plain flour, pinch of salt or sugar
2 eggs
1 tsp of baking powder
300ml of milk
25g of melted butter
METHOD
In a large bowl, sift together the flour, baking powder, salt or sugar. 
Mix the wet ingredients, including the melted butter. Whisk until smooth. 
Heat a buttered pan or griddle on medium to high heat. Pour or scoop the batter onto the griddle, using approximately ¼ cup for each pancake. 
Brown on both sides and serve hot. 
For topping, try 1 tbsp of berries and 1 tbsp of crushed gingernuts with ice cream or Greek yoghurt; or slices bananas and maple syrup.
5. The Best Buckwheat Pancakes (GF)
INGREDIENTS
200g of buckwheat flour
1 tsp of baking powder
160ml of milk
2 eggs, whisked
2-3 tbsp of whipped cream
Zest of 1 orange
1 tbsp of Nutella
METHOD 
Make the batter by sifting the flour and baking powder. 
Whisk the eggs and mix in with the milk. If opting for a sweet option, add 1 tsp of sugar and grate in the orange zest. 
Heat a non-stick frying pan with butter. Ladle enough batter to cover the pan. Cook for a few minutes. Shaking the pan will keep the pancake loose. 
Flip. Serve each one with a blob of Nutella and some whipped cream.
DISCLAIMER: We endeavour to always credit the correct original source of every image we use. If you think a credit may be incorrect, please contact us at info@sheerluxe.com.