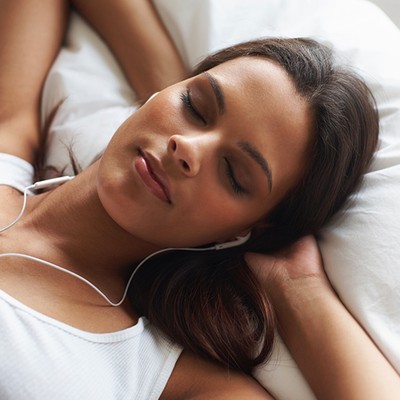 Why Audio Erotica Is Worth A Try

Audio erotica – aka aural porn – is the sexual wellness trend which has everyone talking. Offering a slower, more immersive form of stimulation, it's no wonder more and more women are tuning in. We caught up with one of the UK's leading sex bloggers and audio erotica producer Girl On The Net to find out more...

Why do you think audio erotica has become more popular in recent years? 
"A lot of its popularity comes off the back of podcasts – people more regularly use podcast apps on their phone, so audio is having a revival. We're also more comfortable talking about porn, which means not only are people seeking out new and different ways to get off, ideally they're looking for material that has an ethical focus that some of the big porn sites sorely lack. Ethical audio porn is incredibly common, and thankfully – so far – it has not yet been co-opted by the large, unethical tube sites. Being more open about porn also means we're aware of how diverse people's tastes can be – where visual people might enjoy filmed scenes, others prefer the way audio porn lets their imagination fill in the blanks."
What does audio erotica offer that visual content doesn't?
"Audio erotica is storytelling for the 21st century, and humans have been telling sexy stories for as long as we've had words. When people say 'traditional' porn that usually means video scenes, but people should be encouraged to ask themselves: what counts as porn? Why do we tend to see 'porn' as something defined so narrowly by mainstream tube sites, rather than something expansive that can be done in many different ways? Porn evolves as humanity does, and will always be used in clever ways to help people explore their fantasies and escape from the world for a while. Audio porn allows us to explore scenarios that would be expensive (or sometimes impossible) to capture on film: from supernatural erotica to large group-sex scenes, it makes everything possible. There are no budgetary or law-of-physics restrictions on what you can get off to. For the audio porn I produce, one of the key draws is that a lot of it is genuinely true. Because they are mainly non-fiction sex stories, the porn itself is less like a performance than it is someone whispering you sexy secrets over a pint in the corner of the pub."
So is aural porn shifting the way we see sex?
"Audio porn is reflecting how we see sex, rather than shifting it: its growing popularity is a sign we're expanding our definitions of what counts as erotic. We're learning that people get turned on by a wide variety of stuff, and audio erotica is just one more tool in our toolbox of sexual pleasure."
Is audio erotica linked to ASMR?
"For some people it definitely is. A couple of people who enjoy audio porn have said the whispering tone triggers the same autonomic sensory meridian response. There are lots of ASMR fans who would disagree, though, because they enjoy the sensations of ASMR in a non-sexual way."
What kind of person should give it a go?
"Anyone who likes words, and enjoys using their imagination. It sounds almost cliché to say it, but the most impressive sexual organ is the one between your ears. If you love dirty stories and filthy talk, and those moments when someone says 'let me tell you a sexy secret...' then you will definitely enjoy audio erotica. Here's a sample in case you'd like to see what it's all about."
Audio porn is reflecting how we see sex, rather than shifting it: its growing popularity is a sign we're expanding our definitions of what counts as erotic.

What inspires your content?
"Most of my content is real-life sex stories, so it comes hot off the press. But if I'm in need of inspiration, usually my partner will help me – we often spend a Friday or Saturday night making cocktails for each other, watching porn (or visiting online strip clubs during lockdown) and getting stuck in to some hot weekend sex. I also write audio porn about sponsor products, which is a great way to try out new kinks and toys – I have some fabulous content about ElectraStim equipment (where you use dildos and other toys to conduct electricity for extra tingling sensations), and a couple of really fun posts about adventures with a sex machine that was given to me by the site Eva Amour. There are also fantasy posts, as there are so many kinks to explore more fully as fiction – from emotional ones like this story on rebound sex to unusual scenarios like this one about a man being tied down and milked by strangers."
What's your advice for broaching the subject with your other half?
"If you're a little shy about bringing up topics like this, my first tip would be to ask them what they like first. Suggest an exchange of erotic material, where each of you pick one thing that really turns you on and share it with the other. The fact that you're both doing it can help you avoid the nervousness that comes from going out on a limb, and it means you get an insight into their desires, too. When you're more comfortable sharing the audio porn you like, broach the subject of listening to some together – or perhaps even recording some for each other. Making a short audio clip of yourself reading some sexy fantasies about your partner could be a fabulous way to introduce them to the delights of audio stories."
What are your top tips for getting started?
"Gone Wild Audio is a great place to get a feel for what's out there, especially if you're looking for a varied selection of work from lots of different creators. I'd also thoroughly recommend Quinn Rhodes and Molly Moore – two fabulous bloggers who are also turning a lot of their work into audio. There are some great audio apps as well – Dipsea is one of the most popular audio porn apps, and Siryn is a new platform with an ethical approach."
Visit GirlOnTheNet.com
DISCLAIMER: We endeavour to always credit the correct original source of every image we use. If you think a credit may be incorrect, please contact us at info@sheerluxe.com.