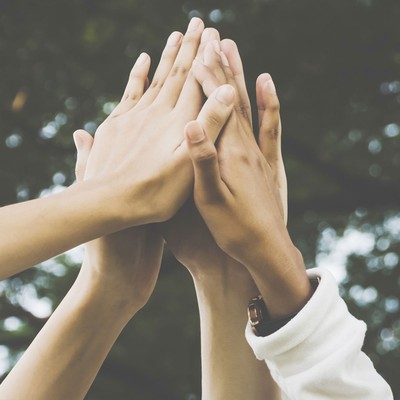 10 Charity Events To Get Involved In With Your Friends

If the past year or so has taught us anything, it's the importance of giving something back – and even better when you can do it with a little help from your friends. Be it signing up to the world's biggest coffee morning or raising money for breast cancer research – now's the perfect time to get a group of girlfriends together to really make a difference. Need some inspiration? Here's are just some of the events taking place this year and beyond.

Swim Serpentine
Swim two miles, one mile, half a mile or a full six with a group of your friends as part of this event organised by London Marathon Events. A festival held in and around the beautiful Serpentine in Hyde Park, the venue for the open water swimming competition at the London 2012 Olympic Games, this swim is considered a must-do event in the open water swimming calendar. All your needs are catered for with heated changing rooms, a dunk zone, pontoon start and finish, a full water safety crew, hot tubs and an exhibition area. Plus, you can raise money for a charity of your choice or Nerve Tumours UK.
 
18th September 2021, Hyde Park
Visit NerveTumours.org.uk
World's Biggest Coffee Morning 2021
The annual event is back in earnest this year after last year's coffee mornings had to be dialled down as a result of the ongoing pandemic. This year, thanks to vaccinations and restrictions lifting, cancer charity Macmillan is encouraging people up and down the country to get together to raise money to help people living with cancer. You can sign up to receive a fundraising kit online – all you have to do is tell Macmillan the date of your coffee morning, decide where you'd like to host it and Macmillan will let you know how to collect donations and submit the total afterwards.
24th September 2021; Nationwide
Visit Coffee.Macmillan.org.uk
Bubble Rush
Starting in a sea of bubbles, a Bubble Rush event involves moving around a course to experience four Bubble Stations, each one equipped with a cannon pumping out masses of coloured foam to create a 4ft deep bubble bath. It's typically a 5k (3.1 miles) but don't be daunted by the distance – the course only involves two laps, plus, there's no minimum (or maximum) age limit so everyone can take part. The events aren't timed, either, so you're not racing anyone – instead, each Bubble Rush event supports a local hospice or NHS hospital charity. While there's no fundraising requirement, organisers do ask participants to show their support for the charity by donating or fundraising ahead of time.
Various dates in September 2021; Nationwide
Visit Bubble-Rush.com
Memory Walk
This family friendly sponsored walk is a great way to make a real difference to people affected by the perils of dementia. It's free to sign up and accessible to all, with walks taking place up and down the country. Kicking off from September, there are up to 20 walks to choose from – simply head to the Alzheimer's Society website to find out which are happening closest to you. Failing that, you can register to undertake your own walk on 19th September along with the Alzheimer's Society – or any day that month – and you'll get a digital fundraising pack, plus a Memory Walk t-shirt in the post.
Various dates in September 2021; Nationwide
Visit Alzheimers.org.uk
The Great British Dog Walk
Take part in a fun-filled sponsored walk that aims to transform the lives of deaf people. A great way to safely explore a stunning location with your friends and family (with or without a dog), there are 15 events taking place across the UK during August, September and October and a virtual walk option – which you can do anywhere you like. The entry fee is £10, with more information on sponsorship and fundraising available on the website.
Various dates until 24th October 2021; Nationwide
Visit HearingDogs.org.uk
Dragon Boat Race
All charity events and races run by Dragon Boat Racing are open to the public, with no experience necessary. All you have to do is get a team together, pay an entrance fee to the event organiser, and agree to raise sponsorship money for charity. Depending on the event you may be able to donate your sponsorship money to a charity of your choice, or the event organisers may have a chosen charity or charities which will benefit from some or all the sponsorship money raised.
Various dates in September & October 2021; Nationwide
Visit DragonBoatEvents.com
Shine Night Walk
Experience a night like no other with either a marathon, half marathon or 10k charity night walk through your city of choice this autumn. Simply select the cancer type you want to support and raise money for life-changing research, regardless of whether you take on the full distance or not. Either way, there'll be various start times for each walk, with full support and easy ways to prepare and training tips provided ahead of time. 
Various dates in September & October 2021; Nationwide
Visit CancerResearch.org
Royal Parks Half Marathon
This half marathon in central London was the first and only one of its kind when it launched in 2008. The 13.1-mile route takes in some of the capital's world-famous landmarks on closed roads, and four of London's eight Royal Parks – Hyde Park, The Green Park, St James's Park and Kensington Gardens. The 2021 event will take place on Sunday 10th October – but places sell out every year, so if you want to be the first to secure a spot on the start line, register your interest here.
10th October 2021; Hyde Park
Visit RoyalParksHalf.com
Games Night In
Looking to have some fun with friends or family from home? Decide whether you're game for a quiz, keen to solve a mystery, eager to escape or love the thrill of a horse race and settle in for a night of virtual fun. Cancer charity Macmillan will email you everything you need and help you raise vital funds for people living with cancer, too. They'll even give you step-by-step instructions to set up a Virgin Money Giving page, so all participants can donate to take part.
Various dates throughout the year; Nationwide
Visit GamesNight.Macmillan.org.uk
Tough Mudder 
Tough Mudder is a series of obstacle and mud runs that will push your physical and mental limits –without the pressure of competition, and instead offering a fun way to raise money for a charity of your choice with your friends. From 5ks to all-night events, there's something to suit everyone, with different days taking place throughout the year and all over the country. It's even possible to sign up for VIP packages, complete with your own concierge and plenty of food and drink.
Various dates throughout the year; Nationwide
Visit ToughMudder.co.uk
DISCLAIMER: We endeavour to always credit the correct original source of every image we use. If you think a credit may be incorrect, please contact us at info@sheerluxe.com.