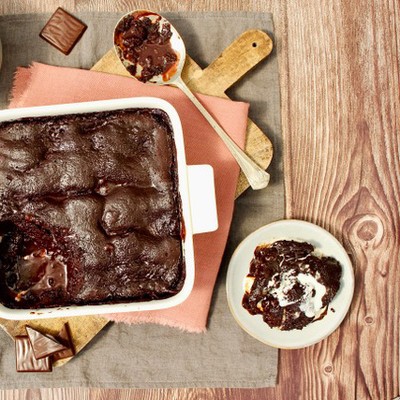 8 Cheat Puddings To Try This Weekend

Looking for some easy yet impressive puddings to make for your guests? Here, seven leading chefs share a selection of simple and delicious recipes you can make at home, using shop-bought ingredients such as ready-made meringue, Lotus biscuits, After Eights and even stale croissants to save on time...

Apollonia Poilâne, Poilâne
"This is a great recipe to use up stale croissants. Preheat oven to 180°C. In a medium bowl, whisk together 2 large eggs, 75g of brown sugar and a pinch of salt. Pour in 475ml of whole milk and whisk until frothy – or buy shop-bought custard. Tear up six two-day-old croissants, place in a large bowl and pour the egg mixture over them. Toss together and let the croissants absorb the liquid. Butter a 23cm x 13cm loaf pan. Transfer the croissant mixture, including any liquid, to the pan. Bake until the custard is set, and the top is browned. Cut the pudding into slices and serve warm or cold with whipped cream, if you like, and sliced strawberries or raspberries."
Visit Poilane.com
Jeni Iannetta, Bad Girl Bakery
"I love making meringue shortbread tarts. The tart shells are incredibly easy to make: there's no pastry or rolling out – it's just a thick layer of shortbread dough pressed into individual pie tins. Preheat the oven to 180°C. Weigh the 175g of unsalted butter, 100g of caster and 75g of icing sugar, 1 tsp of vanilla extract and ½ grapefruit zest into the mixer bowl or processor and mix until everything comes together and looks a bit lighter in colour. Add 275g of plain flour and mix on low until you have what looks a bit like breadcrumbs – it won't come together as a dough. Divide the mixture into six and press into each of the tins, working it up the sides to create a tart shell that's an even thickness all over. Put on a baking tray and bake for 25-30 minutes until the shells are light golden brown all over. Leave to cool on a wire tray. Once the shells are cool, take them out of the tins and fill each one with a layer of lemon or lime curd. Top each one with a shop-bought meringue and serve immediately."
Francesca Strange, The Proof
"Eton mess can be created using four simple ingredients – just crush some shop-bought meringues, whip up some double cream and throw in some chopped berries. We love to include strawberries and raspberries in ours.  And if you have a bit of extra time, throw a few berries into a blender with some icing sugar, blend and then sieve and you have a delicious berry drizzle you can pour over your Eton mess. Easy, delicious, and ready in minutes.
 
"I also love making white chocolate berries. Grab a bag of frozen berry smoothie mix from the supermarket, pour over some melted good-quality white chocolate – like Green & Black's – and then add some crushed-up ginger biscuits for a rapid dessert that tastes unbelievable."
 
Visit The-Proof.com
Chris Hill, Colette
"These banoffee cups are very simple to make. Preheat the grill. Whip 300g of whipping cream and 75g of icing sugar until soft peaks are formed. Slice a banana, sprinkle each slice with sugar and caramelise under the grill until golden brown. In a pan, bring 300g of sugar and 30g of glucose to a light golden caramel. In a separate pan, bring 300g of cream to the boil. Stir 40g of butter into the caramel, then pour over the boiled cream in small amounts, roughly four portions, before adding 6g of Maldon salt. Allow to cool in the fridge. To assemble, pour the salted caramel into the bottom of your pot, then sprinkle over 4 crushed digestive biscuits. Lay over the caramelised banana, and a generous spoon of the cream. Finish with some grated chocolate over the top."
 
Visit Colette.co.uk
Easy Peasy Baking
"This self-saucing pudding is made using After Eights. Preheat the oven to 160°C fan. Whisk together 100g of light brown sugar, 150g of self-raising flour and 30g of cocoa powder. Add in 60g of melted butter, 2 eggs and 100ml of milk and whisk until smooth. Pour half of the batter into baking dish, top with a layer of After Eights, then spread the remaining batter over the top. Measure 150g of boiling water and add 12 mint thins. Stir until they have completely melted, and you have a runny chocolate sauce. Carefully pour the sauce over the surface of the batter then bake for 20-25 minutes until risen and springy. Serve immediately, spooning the pudding out to reveal the sauce at the bottom. Enjoy with double cream."
Visit FabFlour.co.uk 
Mike Denman, Rock Rose Gin
"I would suggest using shop-bought meringue nests to make a chocolate pavlova. First, make some gin-soaked berries. Dissolve 150g of caster sugar in 100ml of hot water. When the mixture is cool, pour it over 500g of blackberries in a sterilised jar. Add 200ml of gin and allow to cool. Leave to soak for at least three days. On the day, melt 170g of dark chocolate in a heatproof bowl set over simmering water. Whisk 7 egg whites until they form soft peaks. Slowly add 40g of caster sugar with the whisk running, until the mixture forms stiff peaks. Quickly mix in one third of the egg whites into the chocolate, then fold in the remaining two thirds of the egg whites gently, until combined. Pour into a dish and place in the fridge to set for a couple of hours or overnight. Place a meringue on each plate. Top with a spoonful of chocolate mousse and add the blackberries. Drizzle over some of the syrup and serve. The leftover blackberry syrup can be used for a cocktail."
DISCLAIMER: We endeavour to always credit the correct original source of every image we use. If you think a credit may be incorrect, please contact us at info@sheerluxe.com.