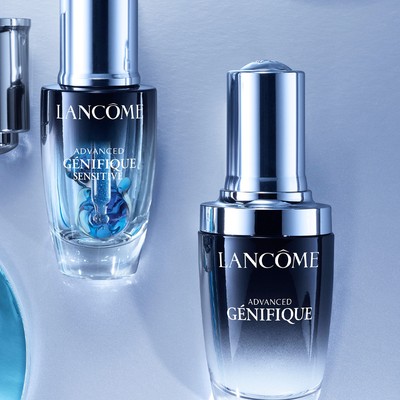 13 Easy Ways To Keep Yourself & Your Skin Healthy This Festive Season

The temptations of December can make it hard to look after yourself and your skin properly. To find out how to stay on track – without missing out on any fun – we asked a couple of experts. Here, gut specialist Dr Megan Rossi and master facialist Michaella Bolder share their advice for keeping your skin and gut happy throughout the festive period. From the importance of ice-cold sheet masks and hydrating serums to the value of plant-based foods, take note…

CREATED IN PARTNERSHIP WITH LANCÔME
The Skincare Advice To Follow
Master Facialist & Skincare Expert Michaella Bolder Says…
Don't beat yourself up at Christmas. First and foremost, don't stress yourself out post-drinks. I have some clients who get so cross with themselves for the night before they add to the inflammatory response from alcohol. Everything is heightened by alcohol, in fact, so keep that in mind. For example, if you suffer with certain issues like rosacea and breakouts, remember that alcohol will exacerbate any problems. 
Eat and drink well the following day. It's easy to get a burger and chips the day after the night before, but it's not worth it. If you're taking things away with alcohol, it's important you replace them the next day with the right foods for your body. I also recommend taking some collagen supplements, and drowning yourself with hot water and lemon to rejuvenate. 
Store cold tools in the fridge. I often put skin rollers or even big spoons in the fridge before a big evening out. Come morning, I can apply them straight onto my face to drain away puffiness and inflammation. Cold tools work to restrict blood vessels and the result is smoother, firmer-looking skin. The same goes for sheet masks – pop them in the fridge and come morning they'll feel incredible on your skin.
Splash your face 30 times with cold water. Do this first thing in the morning and keep going. The cold water will close your pores and tighten the skin. I recommend incorporating an exfoliating toner into your routine too – this will boost cell turnover and keep your complexion glowing. 
Invest in hydrating serums. Come winter, we all need better hydration. To achieve this, you have to continually work to hydrate both internally and externally. A go-to of mine is the Lancôme Advanced Génifique Serum. With seven prebiotic and probiotics it helps preserve your skin integrity and strength. Think of the set-up like a brick wall: the cement is the health of your skin, which starts to break down when you have inflammation and skin irritations. That's where the prebiotics and probiotics come in; they balance everything, working alongside hyaluronic acid, which locks in moisture and makes your skin's wall strong again. A stronger skin wall prevents unwanted bacteria sneaking in.
Look to sensitive formulas. If your skin is inflamed or prone to sensitivity, look to Lancôme's newly reformulated Advanced Gé​nifique Sensitive. It has all the benefits of the original Advanced Génifique Serum, but with ferulic acid and vitamin E which are great for soothing and taking down irritation. Use the original Advanced Génifique Serum in the morning and Sensitive formula at night under your moisturiser to reap the benefits of all the ingredients. I recommend two to three applications of serum for deep moisture. 
Stock up on masks. I've already mentioned them, but sheet masks are a godsend at this time of year. Lancôme's Advanced Génifique Melting Sheet Mask contains the same amount of bifidus extract found in 1 full bottle of Advanced Génifique Serum 30ml. They offer such speedy hydration and instant softness. If you have acne or inflammation, try a clay formula for the best results.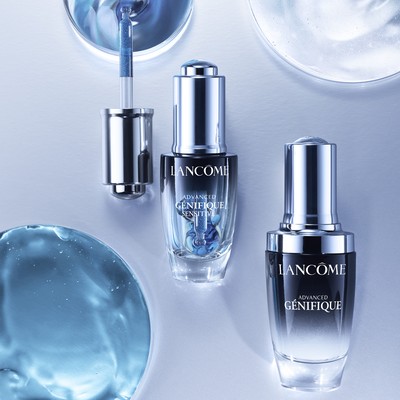 The Gut Health Advice To Follow
Dietitian & Gut Health Specialist Dr Megan Rossi Says… 
You don't have to go teetotal. To maintain a happy and healthy gut, you can still have small amounts of alcohol. The thing to remember is our gut has trillions of bacteria and they are living things, so if we overdo it, we do need to 'beg forgiveness' the next day. My recommendation? Eat plenty of prebiotic plant foods (which feed the beneficial gut bacteria) the following day. I make smoky beans (loaded with 7 different types of plants) and eat them with seeded sourdough toast- it's my gift to the gut the morning after. I'll also layer on some live yoghurt on top, which naturally contains good bacteria. 
 
Variety is key. When it comes to bolstering your gut throughout the festivities, a variety of whole plant-based foods is key. That includes not just fruit and veg, but wholegrains, nuts, seeds, legumes, herbs and spices. My challenge for you is to aim for 30 different types a week! The research shows that the more diverse the nutrients you supply your gut bacteria, the more diverse your unique collection of gut bacteria becomes. This essentially means more 'super powers' within you. I also recommend utilising foods like garlic after any big nights out, too. As it's a natural prebiotic, garlic can help nourish your gut lining, to which 70% of your immune system lives. The same goes for foods like artichoke and leeks. 
 
Mix your drinks up. If you choose to drink alcohol at social events, it's a great idea to alternate every second drink with something non-alcoholic like refreshing kombucha (which is fermented tea!)– that way you don't feel like you're missing out and your gut microbes (and your skin) will thank you in the morning. 
 
Do your food prep the day before. No one wants to prep a gut-loving feast the morning after a Christmas party. Preparation is often key to making better choices! I tend to make my smoky beans in bulk and freeze in single portions, so I always have some on hand. Other great options include pre-cooked grains (the more diverse, the better!) which you can pop in the microwave for 2 minutes, and they're ready to go with some additions like mixed leaves and smoked salmon, if you choose. Likewise, if you want an easy dinner, stock up on mixed vegetables that are pre-chopped and tinned mixed beans (in water not brine). Gut health is about plant diversity, the more the merrier! 
 
Take stock of the alcohol you're drinking. At the end of the day, alcohol is alcohol, but some variations may affect you more than others. Red wine, for instance, can be beneficial for the gut; however, when it's more than 150ml, any anti-inflammatory benefits become pro-inflammatory. As for spirits and mixers, it's the quantity you have to be mindful of. Finally, drinks like cider can contain lots of fructose, so if you're prone to bloating and stomach cramps, you might want to limit it.
 
Research supplements carefully. Probiotics are fascinating: they are living microorganisms. But the thing is, different probiotics do different things! Just like vitamins and minerals, you need to take specific ones for specific indications e.g. for immune health the evidence suggests two bacteria, LGG and BB12. My key advice is to do your research, make sure your probiotic has shown to have benefits in research studies. You want to be sure you're taking the right ones– otherwise, a diverse range of plant-based foods is a great way to support good gut health.
Shop The Must-Have Products...
DISCLAIMER: We endeavour to always credit the correct original source of every image we use. If you think a credit may be incorrect, please contact us at info@sheerluxe.com.