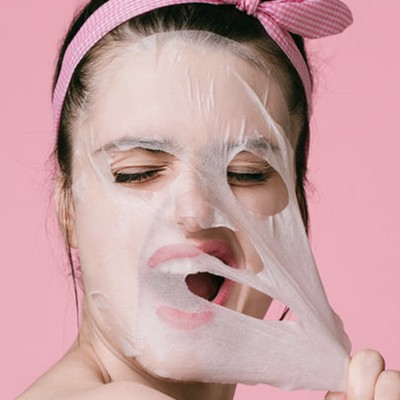 6 Reasons You Need a Face Mask Now

Gone are the days where face masks were relegated to pamper spa days. New potent ingredients mixed with age-old mud are evolving as exfoliants, with anti-inflammatories being added for radiant results,earning a firm place in every skincare regimen. Here are six reasons to embrace the power of the mask.

Masks Give You Bang For Your Buck
One of the biggest bonuses of masks is that they contain greater concentrations of active ingredients than serums or creams. Why? Because thanks to their on/off use, the formulations can get away with being a bit stronger - we know they're going to be rinsed off quickly, or in the case of sheet masks, binned, meaning less chances of irritation or allergic reactions. Sheet masks pack even more of a punch because they're usually in sealed pouches, protected from the air which can sometimes weaken key ingredients.

They Boost Your Other Products
Try choosing a mask that includes ingredients from the other skincare products that you use.. For example, if you usually blast your skin with hyaluronic acid cleanser in the morning, incorporate a mask with the same ingredient into your routine too. Not only will this generally give skin a boost, it'll also speed up and intensify the results you're looking for, whether that's hydration, spot relief or targeting pigmentation. Trust us, there really is a mask for everything now.

They Work In Your Sleep
Overnight masks are all the rage right now – sleeping in your mask will enhance your skin's cell turnover and boost hydration. Your skin can  lose a lot of water while we sleep, so this is the optimum  time to wear a mask. Overnight formulas are great time-savers and easy to add into your routine without fuss.  

Nothing Delivers Results As Speedily
You'd be hard pushed to find anything that brings skin back into balance like a mask does. They're especially good to try during seasonal changes when your complexion just won't play ball (like right now for instance). Try clay masks for bumpy, uneven texture. They work to zap up oil, giving breakouts a chance to clear up. Tired, lacklustre skin will need an injection of hydration, so look to sheet masks with hyaluronic acid for immediate gratification.

They Force You To Relax
When it comes to moisturisers and serums, we tend to haphazardly apply them while pulling on clothes and rushing around. Masks, on the other hand, force us to take time out, whether it's lying still for ten minutes or sitting upright wearing a sheet mask. Same goes for cream and gel masks – you can't move around too much with lots of goo on your face. So, use them as a tool to decompress and bring down your stress levels.

Your Other Ingredients Will Work Harder
Despite the fact they're not actually on your face for long, using a mask regularly will exfoliate and hydrate keep the skin's moisture barrier in peak condition. This means key anti-ageing ingredients (retinol, peptides, vitamin c) will penetrate even better than before. A good tip is to use a sheet mask after applying your face cream or serum as they work to lock in the ingredients from your previous step.

New Textures To Try:
Bubbles: Inspired by Korean sheet masks that transform into a bubbly foam when applied to skin, OH K!'s Sheet Mask Bubble, leaves skin feeling clean and bright without any tightness.
Peel away: Don't be put off by the bold copper colour of Origins Ginzing Peel- Off Mask To Refine And Refresh, £26.50. The gel formula removes dead skin and excess oil as you peel it off.
Super dry: Clever technology means the anti-ageing ingredients in the Charlotte Tilbury Dry Sheet Mask, £18, are absorbed more effectively by skin. As it's dry, it can also be used up to three times, too.

Shop our Beauty Editor's favourites below...
DISCLAIMER: We endeavour to always credit the correct original source of every image we use. If you think a credit may be incorrect, please contact us at info@sheerluxe.com.