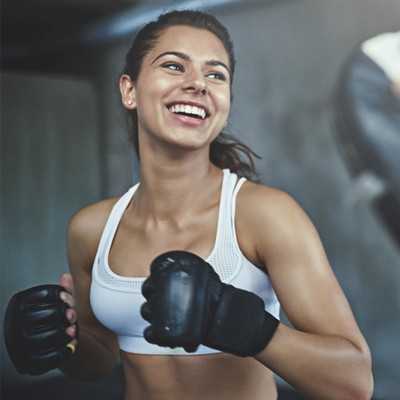 9 Beauty Products For Your Gym Bag

To say we're a bit sceptical about workout-friendly make-up is an understatement – surely this is a ploy by clever marketing teams to sell identical make-up and skincare but in cleaner, simpler packaging? SL contributor, Tamara Corin investigates...

Staying active is crucial for a healthy lifestyle, but while you're feeling the burn, you probably haven't considered what sweat (or a 'flushed glow', as we like to refer to it) is doing to your skin. Sweating has a bad rep but contrary to belief, it can be good for your complexion. As well as keeping you cool it helps boost endorphins – it's when sweat sits on your skin that the problems begin. Victoria Schofield, Education Executive at Dermalogica, explains: "Sweating is natural and necessary to cool your body temperature. There are positive skin aspects to sweating such as lifting impurities from your pores and increasing blood flow to feed your skin." Skin can 'breathe' so long as we avoid any occlusive formulas such as mineral oil-based products and comedogenic formulas that clog up pores. Schofield suggests "using products with ingredients that have a natural affinity with skin, such as light plant oils, that means we can moisturise and layer up actives without 'suffocating' the skin."
It's an age-old debate whether to wear make-up to the gym or not. Living in a world which is camera-ready and Insta-obsessed, sweeping on mascara or a touch of base before hitting the gym has become less shameful than ever before. It's also a huge time-saver especially when you're going from gym to dinner date, without having to worry about a flushed face. Celebrity make-up artist and skincare expert Stacey Whittaker agrees: "Wearing make-up to work out is a completely personal preference. I think it is more than okay to wear a little make-up to the gym to boost your self-esteem and reduce that self-conscious feeling." Stacey suggests brushing your brows – "It's a quick trick that makes you look instantly groomed and put together and will not clog your pores or run whilst you sweat."
This is when the new athleisure products make a difference and come into their own. Consider them a modern take on your 'no make-up' make-up look. Sweat-proof mascaras, tinted moisturisers, even highlighter sticks are all designed to put up with tough workouts. All formulas in this new ath-beauty category are super long-lasting giving all-day coverage that won't budge even with your heart pumping 100mph on your spin bike. With the added exposure of sweaty palms pressed all over shared gym equipment – the perfect breeding ground for germs – and stuffy studios, your skin is likely to suffer from this environment far more than a coat mascara on your lashes worn during your Zumba class.  
Whether you choose to try them sweating through a HITT circuit or a downward dog, there's no denying these convenient and budge-proof products are most definitely worth a try, if nothing more than for their staying power and innovative formulas.

Here's SL favourite gym bag grabs that keep skin cool and panda eyes and patchy redness at bay:
SportFX Cool Down Primer & Recovery Gel:
This gel-based high-performance primer has aloe vera gel, vitamins C, E & F and the anti-inflammatory panthenol to soothe and calm flushed faces. And like any primer, it will help your make-up last longer.
Tri Balm:
This triple-action balm is packed with blackcurrant, starflower, echium and oat extract to nourish and calm the skin. Great for quick yet thorough cleansing (with or without water) before or after your workout. 
CliniqueFit Workout Makeup SPF 40:
Be matte on the mat with this feather-light foundation that fights sweat and humidity without a streak in sight. 
 
Arrow BOOST Colour Enhancing Lip Balm in Berry Busy:
One of SL's favourite gym buddy brands. This high-tech balm reacts with your lips PH levels and transforms into a pinky shade to enhance your natural lip colour. Genius!  
FaceGym Training Sticks (available March 2019):
These are quite simply your skin PTs. A first of its kind, these motion-activated sticks will only work as hard as you do. The harder you work out, the better results for your skin. Swipe onto your face before exercise and then move – a lot!
EyeKo Sport Waterproof Mascara:
If you feel naked without mascara, this is your new BFF. Proven to give a full 24-hours of smudge-proof lashes that beats sauna heat too.
Foreo LUNA Go:
This sponge-like electric cleanser will remove 95.5% of dirt and oil from your skin. A must for a deep cleanse after excessive sweating and face wiping.
Tarte Brighter Days Highlighting Moisturiser:
Cheat your skin (and your friends) with this light-reflecting moisturiser that creates that 'just worked out' afterglow. Great for yogis.
QMS Medicosmetics Sport Active Cream:
This lightly tinted day cream creates the right balance between coverage and exposure – the added SPF makes it especially great for outdoor sports. 
Dermalogica Intensive Cleanser:
A hard-working cleanse before a work-out will ensure your skin isn't irritated with sweat or makeup while exercising.
DISCLAIMER: We endeavour to always credit the correct original source of every image we use. If you think a credit may be incorrect, please contact us at info@sheerluxe.com.