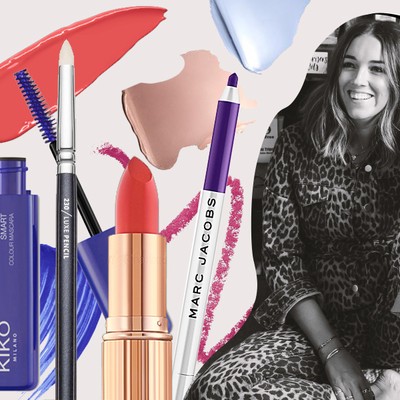 The Beauty Insider: Lisa Potter Dixon's Beauty Rules

It's been a long winter, but brighter, longer days should prompt a necessary a shake-up to your makeup routine. It's also a good reason to add a splash of colour back into your beauty look. Here are my favourite ways to achieve it…

A Wash Of Colour On The Eyes
This is a technique which can be subtle and flattering, as well as pretty simple to apply. Sweep your chosen shade over the centre of the eye lid and blend with a fluffy eyeshadow brush. Keep your eyes open to see where your socket is. Blend into this but not above. It's a great trick to make sure the shadow placement suits your eye shape. 
Glossier's skywash sheer matte lid tints are literally the ideal product. They come in seven shades and give a diffused, soft look. My favourites are Cornflower Blue, the most gorgeous pastel which is bold enough to experiment with, but subtle enough not to feel nervous about, and Burnt Sienna, a brick tone which looks great on everyone. 
Lashings Of Colour
Coloured mascaras are everywhere right now. Wear alone for a bolder look, or on the tips of your lashes for something more subtle. If you're placing it just onto the tips, use your normal black mascara first. Jewel toned mascaras are particularly chic – a royal blue is my favourite. This can actually make the whites of your eyes look whiter too, which is perfect after a long winter. I adore Kiko's smart coloured mascara in navy.
A Tone Change In Your Liner
Diverting from your regular black eyeliner is another great way to change up your look for spring. There are so many amazing shades out there, so it's definitely worth giving it a go. A subtle copper or a barely-there pastel can brighten your whole look. Try a pencil liner, and glide it as close to the lash line as possible, and then blend it back and forth with a pencil brush until there's no gap between the eyelashes and the lid.
Marc Jacobs matte gel crayons come in an array of shades. They glide on and blend beautifully thanks to the gel formula. I adore Earthquake, a soft buttery brown. And if you really want to get into the spring mood, try Mist Me. This is a beautiful pastel purple that makes any eye colour pop. 
If you'd prefer to experiment with products you already own, dampen an eyeliner brush and use it with any eyeshadow to create your own version. Most palettes have one or two slightly out-there shades which you may not have delved into before. This is the perfect opportunity to give them a go.
My favourite liner brushes...
Lipstick Change Up
Now is the perfect time to brighten up your lips. A change of lipstick can transform your whole look and make you feel great. For me, corals reign supreme at this time of year. Orange tones tend to suit most skin tones, although the deeper your skin tone, the deeper the orange should be. Try buffing a small amount of your lipstick onto your cheeks, too. A mono look is very beautiful. Put a dot of colour directly onto the apples of the cheeks and buff out with a blusher brush.
What To Do For…
Fair Skin 
Charlotte Tilbury's Coachella Coral delivers a rich pigment that looks beautiful patted into the lips as a tint, or applied all over for a fuller pout. It's a wearable shade and the formula is extremely conditioning.
Olive Skin 
Barry M lipstick in Peach 54 is a beautiful shade for a medium complexion. It has a warm undertone which really brightens your whole look.
Deep Skin
MAC's Morange is iconic. It actually looks incredible on pretty much everyone. But it looks super beautiful on a dark complexion. It's pretty bright, so you can always buff it into the lips with a fluffy eyeshadow brush if you want a softer finish. But it's best when applied straight from the bullet. 
So, these are my favourite ways to add a touch of colour to your makeup routine this season. 
Give them a go and let us know what your favourite look is.
Until next time,
Love & lipstick,
Lisa xxx
Lisa Potter-Dixon is a presenter, make-up artist and SheerLuxe beauty contributor. Follow her @Lisapotterdixon, tag her in your beauty pics with #LearnwithLisa and @Sheerluxe on Instagram.
DISCLAIMER: We endeavour to always credit the correct original source of every image we use. If you think a credit may be incorrect, please contact us at info@sheerluxe.com.