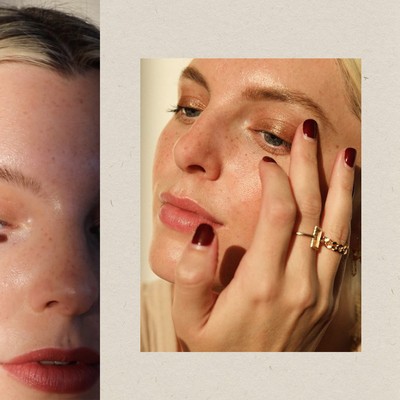 Beauty Lessons With Influencer & Creative Director Estée Lalonde

Canadian-born but London-based Estée Lalonde is an established influencer, podcast host and brand collaborator. Known for her honest approach to beauty – which includes simple tutorials and sound product advice – she's lucky enough to be able to road-test all the latest products and treatments. As such, she knows what works and where to spend your money. We sat down with her to talk all things beauty – from top advice to the products she's never without – plus, the inside track on her new brand Mirror Water…

All products on this page have been selected by our editorial team, however we may make commission on some products.
GO-TO MAKE-UP STORES
"Content Beauty is a great spot in North London. They have an amazing selection of unique, eco-conscious brands that are as slick as they are effective. You're guaranteed to find products you love there. In terms of brands, I love Tower28 for something a bit different, as well as Palm of Feronia."  
FIRST BEAUTY MEMORY
"My earliest beauty memory would be watching my mum apply blusher in the bathroom, or as she called it, 'rouge'. She used to tell me it made her look more alive as she frantically applied it before work – it was pretty simple, but it was also effective." 
BEAUTY ADVICE TO FOLLOW
"Be kinder to yourself. We're all guilty of looking in the mirror and being our harshest critics but the truth is, we're all beautiful. Take some time to think about that. It's also best to keep things simple – less is always more. Choose a routine that's practical for you and your lifestyle, then stick to it. You don't need a 12-step skincare routine –instead, maintenance and consistency are more important – especially for the skin." 
REPEAT BUYS
"Over the years I've been lucky enough to experiment with so many different products. That said, I always come back to a handful of the same ones. For starters, the NARS Pure Radiant Tinted Moisturiser has been an essential part of my make-up routine for the last couple of years. Lightweight and with a long-lasting, dewy finish, it's buildable and has in-built sun protection, too. The Kjaer Weis Mascara is brilliant as well. It's certified organic, so it's a bit gentler on the eyes. I love that it has natural oils inside. In terms of skincare, I will always have the MV Organic Rose Plus Booster on my shelf. It's my go-to when my skin is feeling a bit dry or troubled. My routine doesn't feel complete without it."
RULES TO FOLLOW
"Beauty is all about enhancing your natural features, so I try to follow this rule above anything else, especially when it comes to choosing products. The next rule is a given, but, everyone should wear sunscreen – enough said. Finally, instead of following trends, I've always enjoyed finding what works for me to fit my individual style and look." 
MISTAKES TO AVOID
"Everyone is entitled to wear whatever make-up they want, so it's hard to comment on what constitutes a 'mistake', but many of us –myself included – neglect cleaning their make-up brushes. It's essential so that you don't transfer further bacteria onto your skin, and it doesn't really take that long." 
FAVOURITE HAIRCARE
"The Oribe Dry Texturising Spray and The Living Proof Dry Shampoo are always top of my haircare list. Any bad hair day can be rescued by using just a small amount of either. The texture spray is amazing because it makes my hair look thicker and gives it some life – almost as if I've had a fresh blow-dry. As for the dry shampoo, it saves me from washing my hair several times a week and doesn't leave that white, chalky powder behind." 
HANDY HACKS
"Change your pillowcases regularly. It sounds basic but it was a game-changer for me in terms of keeping my skin clear. Also, carry dry shampoo in your work bag. If my hair looks a bit 'blah' by midday, it really helps give it some life. Likewise, always keep a multipurpose salve or balm on you. It's so essential – especially in the winter for keeping your lips hydrated. I am such a fan of multi-purpose balms I created my own – the Mirror Water Rub." 
DESERT ISLAND ITEMS
"It would be sunscreen. I am completely obsessed with the one by UltraViolette. I'd also take Glossier's Boy Brow and the By Terry Baume de Rose. If I had all those things, I'd be golden."
BEAUTY INSPIRATION 
"There are so many places to find beauty inspiration these days. Social media can be a great starting point, but you can sometimes find things in the most random places. Living in a city like London, finding inspiration on the street isn't difficult. Ultimately, a lot of my inspiration comes from my friends and the people around me. It's simple things like my friend Nadia wearing Elizabeth Arden 8 Hour Cream as an eyelid gloss – now, I'm never without it." 
SIGNATURE BEAUTY LOOK
"I love just doing a super sleek low bun with tiny, clear hair ties. I'll often pair this with glowy skin and perhaps a bold lip, then leave it there. It doesn't take me too long and you can dress the look up or down, depending on your plans." 
FIRST BEAUTY ITEM
"It was Maybelline's Great Lash Mascara. I love it so much, still, all these years later. It's one of the best high-street products out there." 
TAKEAWAY ADVICE
"If you want good brows, get them threaded. I'm a ride-or-die Blink Brow Bar fan and I never let anyone touch my brows except them. Having them professionally threaded completely changed my entire look. All I do now is add some brow gel and backcomb the hairs for a textured effect. My final rule? Always take your make-up off before bed. Removing make-up at the end of the day is essential for keeping skin healthy and happy." 
Follow @EsteeLalonde + @MirrorWater.Earth
DISCLAIMER: We endeavour to always credit the correct original source of every image we use. If you think a credit may be incorrect, please contact us at info@sheerluxe.com.