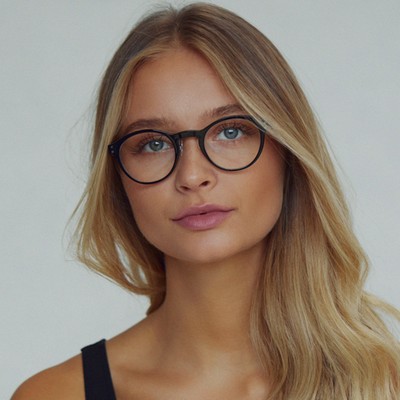 Beauty Masterclass: How To Wear Make-Up With Glasses

If you're a glasses wearer, you'll know how much they can interfere with your make-up – from nicking your mascara to rubbing off your foundation. The good news is it's easy to counteract these issues with a few simple tricks. Two professional make-up artists showed us what to do…

All products on this page have been selected by our editorial team, however we may make commission on some products.
Use A Magnifying Mirror
"Since you can't wear your glasses while you apply your eye make-up, the importance of a magnifying mirror is paramount," says make-up master and author of 'Everything Eyes', Bobbi Brown. "It allows you to get up close and see exactly what you're doing, so mistakes are less likely. It's also important you don't apply make-up with a heavy hand – you can always add more, which is easier than taking everything off and restarting."
Prep Skin Well
"Wearing glasses doesn't mean you have to completely change your routine, or even do anything drastically different, but it's good to be aware of a few things," says make-up artist Jessica Kell. "The first step is to prep your skin thoroughly. Pay close attention to the eye area and find a cream or gel that works for you to keep the area smooth and hydrated. This will help your concealer stay in place and less likely to move about when you put your glasses over top. Try the Beauty Pie Ceramides Elastic Boost Eye Moisture Serum or the Niod Fractionated Eye Contour Concentrate in your routine."
Keep Things Light
"One of the biggest changes I recommend making is to wear a lighter foundation," continues Jessica. "When your foundation is lighter, it won't rub or catch onto your glasses, which is often the reason for those ridges you find on the bridge of your nose. Try beginning with a primer under your foundation to help lock everything that follows in place – Laura Mercier's Priming Canvas is ideal. For foundation, I recommend Charlotte Tilbury's Light Wonder as it layers so well and never feels too thick and heavy. If you're making this switch but still want to use heavier coverage on certain areas, look to a thicker concealer, but keep the eye area as light as you can. Glossier's Stretch Concealer is brilliant as it hides all imperfections, but again is quite light and not too occlusive."
Get Your Liner Right
"Line your eyes across the top and bottom lash lines," advises Bobbi. "This means ensuring the line on the top lash extends across your entire eye – take it thinner on the inner corner and thicker on the outer corner. I also recommend using a liner that is darker than your natural eye colour. This is because it will create a perfect contrast that vividly defines the eyes while wearing glasses. Two coats of black mascara on the top lash only will also help keep eyes looking wide awake, but also fresh – if you apply it to lower lashes, your glasses are likely to cause smudging in this area, so try to avoid that." Jessica adds: "Look to pen liners or use a gel with a super fine brush, drawing a line as close to the lashes as you can, then buffing it out for a smooth, even finish."
Prevent Cast Shadows
"Sometimes glasses can cast shadows around the eye area, which might make you feel like the eye is darker than usual," continues Jessica. "If you are struggling with this, the key is to keep your eye area as light and as simple possible. Stay away from heavy matte powder shadows or overloading too many shades on the lids. I also recommend keeping under the eye area as fresh as possible by using a brightening concealer like the NARS Radiant Creamy Concealer. This will brighten the entire eye area and conceal any shadows – plus it's totally budge-proof, so it will stay in place all day." Bobbi adds: "Try the Jones Road Face Pencils to instantly lift and brighten this area. I also recommend picking a skin tone-correct formula that's one or two shades lighter than your foundation to lighten up any darkness. If you find concealer isn't cutting it, look to a peach or pink corrector which will counteract the purple or green tone – especially under the eye. Use your finger to apply product under the eye, pressing it in gently for best results – never rub or drag your fingers or brushes across the skin."
I recommend leaning towards cream-based products for your eye make-up. Powder products are more likely to drop down the face which can lead to dirtying your concealer, or darkening under the eye area.

Focus On Your Brows
"Eyeglass frames draw attention to the brows," explains Bobbi, "so wearers need to pay attention to this area in particular. Keep them well groomed by plucking or trimming any scraggly hairs, then fill in holes and sparse spots with a fine-tipped brow pencil, or even a powder shadow." Jessica agrees: "It's worth keeping brows neat and defined. Try to avoid making them too dark, simply because this can make the whole eye area look heavier, especially when you add a pair of frames. My advice is to brush the brows up, so they sit slightly flatter and fluffier. Define their shape with light strokes to mimic any hairs in patches that need it most. I personally rate pens like Suqqu's Framing Eyebrow Liquid as it neatens things up without going overboard. Another tip is to simply trim the tops of the hairs so you don't have any stray brows peeking over the top of your frames."
Opt For Cream Textures 
"If you wear glasses, I recommend leaning towards cream-based products for your eye make-up," advises Jessica. "Powder products are more likely to drop down the face which can lead to dirtying your concealer, or darkening under the eye area. The Laura Mercier Caviar Sticks are so easy to use and stay put throughout the day. I like to use a couple of different colours and blend them together, using the lighter shades in the inner corner, and the darker shades at the outer corners. If you do choose a more dramatic eye look, my only tip is to do this first then go under the eye with make-up remover to clean up any fallout or dropped product. This will ensure you don't accidentally dirty the under-eye area and it will keep everything neat and precise."
Finally, Don't Forget To Curl Lashes 
"Giving your lashes a good curl is a quick and easy way to open up your eye area, and in turn emphasise your eyes behind your glasses," finishes Jessica. "Just remember that not all eyelash curlers are made equal, with some doing a much better job than others. My go-to kit has to be the Kevyn Aucoin, or the cult favourite Shu Uemura. Once you have given your lashes a great curl, add a couple of layers of a lifting and volumising mascara to really seal the curl in place – for a good lift, I swear by Victoria Beckham's Future Lash Mascara."
Shop Bobbi And Jessica's Top Picks For Make-Up To Wear With Glasses...
DISCLAIMER: We endeavour to always credit the correct original source of every image we use. If you think a credit may be incorrect, please contact us at info@sheerluxe.com.