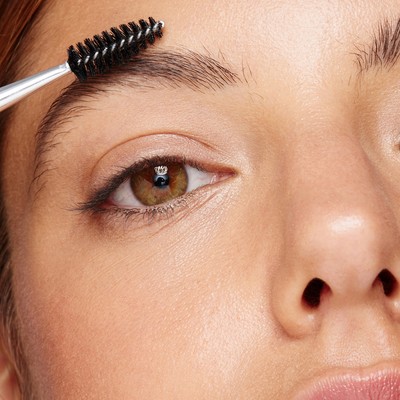 Google's Top Eyebrow Questions, Answered By An Expert

How dark should your eyebrows be? What's the best hair removal technique? How can you get naturally fuller brows at home? Here, we asked CEO and founder of Blink Brow Bar, Vanita Parti MBE, to answer the internet's most Googled eyebrow questions…

All products on this page have been selected by our editorial team, however we may make commission on some products.
Question: Should you use a brow pencil or powder?
Vanita's Answer: If you prefer something quick and easy, a pencil is your best option. They're versatile because they have different ends and can create a natural look once you brush them through using a spoolie. If you have fine or sparse brows, try one with a super fine applicator to fill in fine hair-like gaps, and if your brows are on the fuller side, try thicker pencils with a slanted end like our Ultimate Brow Arch Definer. You can turn a slanted pencil on its side for precision or keep it flat for more coverage. If you have a bit more time to spend on your brow routine, a powder is a great option. The trick is to apply them subtly to fill in patches and enhance the brow – don't be too heavy handed as this can result in a very dark or unnatural looking shape. Follow the direction of the hair and gently fill in any gaps, then blend it through with a brush or brow tamer.
Question: Should your eyebrows be lighter or darker than your hair?
Vanita's Answer: It all depends on your desired look. For a more natural and subtle brow, try to find an exact shade match to your natural hair colour. On the other hand, for those looking for a slightly heavier brow or if you have dyed their hair, you may want to opt for a shade lighter or darker than your natural tone. However, more than shade, products vary in texture, and this is what needs to be considered for different hues. For example, gels are best for offering a subtle amount of colour to brows as they only coat the brow hairs, while pencils and pomades are great for a more defined look to fill in any gaps and add colour and shape.
Question: What is the best brow hair removal technique?
Vanita's Answer: In my opinion, threading is the best technique, but it's best left to the professionals. Until salons re-open, use tweezers for more control and precision – our Super Grip Tweezers are great for avoiding breakages and ingrown hairs. Make sure you hold the skin taut, hold their hair tight at the roots, then pull in the direction of hair growth. Try not to touch the core shape, instead pluck around the area to get rid of excess hair that doesn't lend itself to the shape. A good trick is to use a brow pencil to lightly trace your natural shape, then pluck around it. It's also useful to take a concealer pencil and mark where the boundaries are, so you don't get too pluck happy. Once you're satisfied with the overall shape, brush your brow hair upwards and trim any hairs poking above the hairline, using a pair of sharp brow scissors – be very careful so as to not trim off too much. Sweep the hairs back for neatly groomed brows and apply some aloe vera to soothe any redness.
Question: What's the best way to shape your brows yourself?
Vanita's Answer: Measure your brows with a pencil to ensure that the start is at the bridge of your nose. Then, take a brow pencil and swivel it from the bottom of the nose to the end of your iris (rather than the centre of the eye) to map your arch and then again to the end of the eye to see where the brow should end. This should give you the perfect dimensions to create length, volume and a more defined arch. In terms of shaping them, while we're in lockdown, use tweezers to get rid of any unwanted hair as they allow more control and precision. Make sure you're somewhere with good lighting and a mirror. Try not to touch the core shape but pluck around this area to get rid of excess hair that doesn't lend itself to the shape. A common mistake people make at home is going too thin – it's always better to have an overgrown mass which can be tamed with products than thin brows that have been overplucked. 
Question: How can you get naturally fuller looking brows?
Vanita's Answer: Tinting is one of the quickest ways to achieve a thicker, natural-looking, long-lasting looking brow. Brow tints usually last between two to three weeks, but this can vary from person to person depending on your skin type, your skincare routine, and how much you are exposed to the sun (which can have a bleaching effect). Tinting is a great long-lasting option, particularly for those with light or blonde hair, as it picks up small hairs you never thought you had. If you really want to give it a go at home, invest in a good DIY tinting kit – a subtle colour one shade darker than your normal brow colour is best.
Brow lamination is another great non-invasive treatment you can try once salons re-open. It works to redirect and set your brow hairs to your desired shape, so you get the most fullness out of your natural growth. Depending on your brow concerns, the process, which is similar to a hair perm hair, can give dramatic results in a non-invasive way. Unruly, coarse brows can be straightened and smoothed, thinning brows can be lifted to appear thicker, and gaps can be hidden. The results mean a new brow shape can be completely manipulated – even the illustrious big fluffy brow is achievable.
Question: If you've over-tweezed your brows, how do you fix them? 
Vanita's Answer: Growing back your eyebrow hairs can be challenging. Try not to get pluck happy and always leave the parameters of your brows clear so you aren't tempted to pluck away hair that makes up your core shape. The middle part of your brows takes the longest to grow back and, beyond a certain age, can stop growing altogether. A nourishing product that stimulates brow hair growth is a perfect start – any oil (some of my favourites include castor oil and almond oil) should do the trick. Vitamin D or biotin supplements are also great for encouraging growth. I would recommend our BBB London Nourishing Brow Oil, applied every night. This natural oil formula encourages growth by nourishing and conditioning hairs. 
While you're waiting for them to grow back, use a slim brow pencil to subtly fill in any sparse areas. Our BBB London Ultra Slim Brow Definer is particularly good at filling in gaps with a natural finish. Gels are great, too – our Brow Build Gel, which is enriched with microfibers will coat tiny baby brow hairs to literally help you 'grow' and build your brows.
Question: How can you glue down brows?
Vanita's Answer: Use a long-wear brow gel to keep fly away hairs in place. My favourite is our Clear Brow Gloss which keeps brows in place for up to 14 hours while giving a natural finish. It can also produce a laminated effect for those who want it. When looking for a clear eyebrow gel, the key is to find one that creates a look as natural as possible without leaving behind a crunchy or sticky residue. Once you've filled in your eyebrows, you can use one to create volume and brush through any obvious pencil or powder strokes for an extra full look.
Question: What is eyebrow microblading? 
Vanita's Answer: If you're looking for something that lasts longer than a brow tint, microblading is a great treatment to explore. A form of semi-permanent makeup, the technique consists of creating fine hair-like strokes into the skin with a handheld tool, which is then filled with pigment. With its precise application, microblading creates a very natural finish that delivers long-lasting results. If you want to cover gaps, define or fill-in over plucked brows or replace barely-there brows, it's a fantastic option. Ensure you do a bit of research first, and don't just go for the cheapest option. Alongside BBB London, Tracie Giles London and Brow Haus are reputable salons to book with.
Question: What are HD brows?
Vanita's Answer: HD brows are a bespoke eyebrow treatment created by the company HD who have trained therapists to create the look in salons. The stylists combine their design formula with custom-blended colour, hair removal, and make-up to create fuller-looking brows. It takes around 45 minutes to complete, and the results last between four and six weeks. It creates a very sculpted look with high definition, rather than soft brow. 
Visit BBB-London.com and follow @BlinkBrowBar
CREDITS: OHLAMOUR STUDIO / STOCKSY UNITED
DISCLAIMER: We endeavour to always credit the correct original source of every image we use. If you think a credit may be incorrect, please contact us at info@sheerluxe.com.