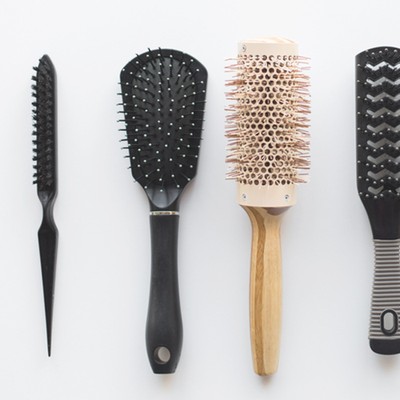 The Best Beauty Tools By Price: Hairbrushes

Getting the hairstyle you want starts with selecting the brush that's the right shape and size for your hair. From paddle to vented, here's the ultimate selection, starting from just £2...

CERAMIC BRUSHES
HAIR TYPE: Fine or thick – frizzy types may need a softer bristle for best effect
BEST FOR: Those wanting big waves
Not a fan of curling irons? Try one of these instead. The synthetic bristles make light work of knots, while the heated ceramic barrel sculpts strands into plump, bouncy waves with zero fuss.
DETANGLING BRUSH
HAIR TYPE: Dry, fine strands
BEST FOR: Those who suffer with knots and want less breakage
Never underestimate the power of a detangling brush – especially when hair is wet and in its most delicate state. In comparison to others, they're designed with wider-tooth bristles to release tangles painlessly. They also have super-firm bristles that can help bulk up fine hair and add volume.
THE HOT BRUSH
HAIR TYPE: All
BEST FOR: Those with thicker hair tend to get better results, but everyone can give them a go
Fast becoming the go-to hair tool of choice, these deliver poker straight hair and the lustrous effects of a blow-dry in minutes. Thanks to their integrated bristles, they also have the added benefit of reducing frizz, helping strands to dry and set quickly.
PADDLE HAIRBRUSH
HAIR TYPE: All
BEST FOR: Those wanting to detangle and create smoothness
Their larger size ensures a wider surface area can be detangled at speed, and thanks to their typically nylon or rubber bristles, there is little or no damage. In fact, the extended bristles usually end up giving the scalp a little massage as you brush through – a bonus. Expect less frizz and smoother strands in seconds. Can be used with or without heat.
ROUND HAIRBRUSH
HAIR TYPE: All
BEST FOR: Anyone styling their hair properly with a dryer, seeking control as they go
A favourite among stylists, these brushes offer tension when blow drying to get the best technique and finish – ideal if you want some added bounce. Look for the ones with natural boar or soft, flexible bristles, they're healthier for your hair as they prevent snagging or pulling.
SCALP BRUSHES
HAIR TYPE: All
BEST FOR: Sensitive or irritated scalps
Typically used in the shower to sweep through shampoo or conditioner, these relatively new brushes soothe tension and stimulate blood flow with soft, plastic bristles. They're also reported to encourage hair growth and exfoliate product build up. A staple for all.
TAIL COMB
HAIR TYPE: All
BEST FOR: Styling and adding extra oomph
Not everyone needs one of these, but if you like to backcomb or create quirky partings, this is for you. The hard comb allows you to press into your hair and keep strands firmly into place – making it a great tool when blow-drying or straightening hair. 
VENT HAIRBRUSH
HAIR TYPE: Fine hair
BEST FOR: A speedy blow-dry
The holes in this brush allow air from your blow dryer to pass through, speeding up dry time but also creating an effortless style. Ideal if you're always in a hurry, but worth noting this doesn't allow as much control, so don't expect optimum sleekness.
WIDE TOOTH COMB
HAIR TYPE: Curly or afro hair 
BEST FOR: In-shower use to detangle and nourish
Experts says everyone with thick, curly, frizzy hair should keep this installed in their shower. The large wide comb is perfect for taking out knots when strands are wet. Try using it while conditioning your hair so it's not only easy to run through, but makes sure your hair gets maximum nourishment.
DISCLAIMER: We endeavour to always credit the correct original source of every image we use. If you think a credit may be incorrect, please contact us at info@sheerluxe.com.