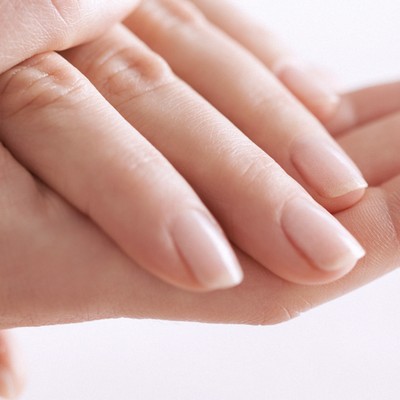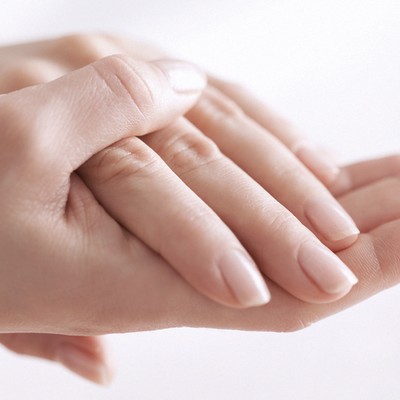 A Guide To Strong & Healthy Nails

Nails change as you age – for some they go yellow and become thicker and ridged, for others they get brittle and break or split easily. From filing them correctly to maintaining healthy cuticles, four nail experts share their essential advice for ensuring yours look and feel their best.

Image: iSTOCK/NADYA PHOTO
All products on this page have been selected by our editorial team, however we may make commission on some products.
"Yellowing of the nails often happens when you wear nail varnish without any base coat. It's usually nothing to worry about and is, more often than not, a result of staining. You can combat this by ensuring you use a good quality base coat before applying your choice of nail polish. Favourites of mine include Dior's Base Coat Abricot and Renew Beauty's Seaweed Calcium Base, both of which nourish as they polish." – Emma Jackson, nail expert & artist
"It's common to see people file their nails in both directions, but it's better not to in order to minimise breakage. Keep your file on one side of the nail; use the full range of it, moving to the other side in one swift stroke. A forwards and backwards sawing motion can separate the fibres and cause peeling. Make sure you file them regularly, though, as this encourages nails to be stronger, just like trimming the ends of your hair." – Loui-Marie Ebanks, manicurist & nail expert
"Ridges often appear later in life. If they appear suddenly, they can sometimes – but not always – indicate health problems or a vitamin deficiency, so be sure to seek out professional advice from your GP in this instance. If it's purely an age-related issue, there are several base coats on the market that can help minimise the appearance of ridges in the nails before applying polish. My go-tos include OPI Ridge Filler and Essie Smooth Base Coat – both instantly conceal uneven texture and give a healthy glow to the nail that hides imperfections with just a single coat." – Emma
"This is especially relevant if you have dry, mature hands and parched cuticles. Every night, apply a product like Dior's Abricot Crème to your nails and cuticles – it's the best time to restore some essential moisture. Again, take a small amount and rub it in circular motions anywhere that needs it. You can then wear gloves to lock in the moisture, or just leave the formula on overnight. Either way, you'll wake up and see how much better your nails look – think of it like you would a hair conditioner. It's a staple in my kit." – Harriet Westmoreland, A-list manicurist
"Remember, it doesn't have to be a gel manicure every time. A regular one will keep nails in the right shape so you're not hacking away at them yourself. It's a myth that nails need to 'breathe' and you shouldn't get manicures too often. If anything, regular ones can help to bolster hydration and keep your nails neat at all times. That said, I do recommend a short break from treatments once a year. During this time, follow an intense conditioning programme to keep nails in the best health possible." – Emma
06
Invest In Nail Strengtheners
"A targeted nail strengthener is beneficial for anyone struggling with dry or brittle nails. Look to products like the Ethos Seaweed Calcium Base from Renew Beauty. It contains calcium, magnesium and zinc which work in tandem to harden your nails. Keeping tips hydrated with cuticle oils and balms is also essential, as this prevents them from drying out and splitting, and cracking or peeling. Navy Professional's Cuticle Balm is so easy to use and is never sticky, as are the Elim Cuticle MD and Dior Crème Abricot. Try massaging any of these in lightly into the cuticle – this will promote growth and better strength overall." – Emma
"There are so many treatments now that not only stimulate growth but also rehydrate parched older nails. Base coats like Nails Inc's Superfood Base are very restorative for natural nails, while its Superfood Nail Oil is another great way of ensuring moisture can penetrate deep down into the nailbed. Most of these are available from Amazon, so it's an easy way to treat your nails yourself if you can't reach a professional for whatever reason." – Loui-Marie
"A good quality hand scrub used twice a week can improve the overall condition of the skin on your hands and nails. It will help rid dead skin cells, allowing any hydrating products you use to better penetrate. I recommend Byredo Hand Scrubs for a bit of luxury and a beautiful scent, too, but there are many gritty ones on the market that will do the job swiftly and just as well." – Emma
08
Stop Submerging Your Nails
"Contrary to popular belief, water doesn't hydrate nails if you soak them for too long. Regular swimming, long baths or washing up without wearing rubber gloves can cause excess peeling as the moisture penetrates the nail fibres, expanding and lifting them, which in turn results in flakiness. Try to keep them out of the water as much as you can to minimise brittleness." – Loui-Marie
"If you're on a budget and don't want to invest in numerous treatments, look for what you might have at home. Pure shea butter is incredibly moisturising and can be mixed with other essential oils to provide some much-needed nourishment. Almond and jojoba oils are also a great remedy for scraggy nails and withered skin. Get creative, mix things together and keep up the treatment every single day – your hands and nails will come out all the stronger for it." – Loui-Marie
"It's important to use a gentle filing tool that's not too abrasive to avoid damage to your natural nail and issues like splitting and peeling. A nail file with a grit of around 220/240 is perfect for the free edge – the top of your nail – and to shape and take down length if needed. Just don't use a nail file like a saw – stick to one direction and remove the file with each stroke. Also, avoid filing into the side walls of your nail. This causes weakness and can result in snapping." – Emma
"Most of the time, cuticle work should be left to the pros, but you can push them gently after a shower or bath. This is when the skin is at its softest, so your cuticles are easier to move. Don't ever cut cuticles to excess – if they begin to bleed or you've made them sore, you've gone too far. I also don't advise using cuticle oil or hand cream before you apply nail polish – it will chip instantly, trust me." – Michelle Humphrey, session celebrity manicurist 
"Always buff your nail plate prior to painting. I have done this for years – it removes excess oil and helps your nail varnish stay put longer. Do it either with a bristle brush or your standard nail file in a gentle motion. Another handy tip is to balance your pinkie finger on your opposite hand while you apply your polish – it allows you to steady your hand and makes life so much easier." – Michelle
13
Finally, Treat Gels Differently
"Steer clear of products that aren't designed for cuticles and nails when and if you have gel colour. Certain ingredients can cause gel to lift, which is a primary cause of premature brittleness. But it's still important to layer on a cuticle balm or oil – the right products can actually prolong the life of a gel manicure and lock in extra moisture, so that when the gels come off, you're not left with dry nail beds. Finally, it should go without saying, never peel off your gels. When you peel anything off, you take the top layer of the nail with it, which is why it takes such a long time to recuperate. If you're desperate, try using the Peacci Basic Gel Removal Kit at home. It breaks the seal of the top layer of gels to remove everything more gently." – Emma
Are your nails permanently brittle, yellow or splitting despite regular care? Book in to see a nail dermatologist for further advice and tailored treatments. We rate the following:
---
Shop SL-Approved Nail Essentials Below...
DISCLAIMER: Features published by SheerLuxe are not intended to treat, diagnose, cure or prevent any disease. Always seek the advice of your GP or another qualified healthcare provider for any questions you have regarding a medical condition, and before undertaking any diet, exercise or other health-related programme.
DISCLAIMER: We endeavour to always credit the correct original source of every image we use. If you think a credit may be incorrect, please contact us at info@sheerluxe.com.