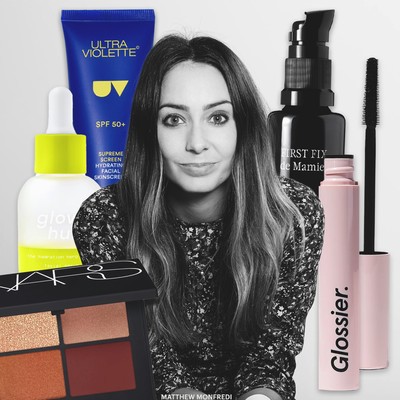 How To Master The Beauty Basics

Brilliant basics are the cornerstone of any good beauty routine and can help you cut down on the time – and stress – involved in getting ready. Often though, the real battle is finding those basics. Here, Georgia Day shows you how to do it, and takes you through a few of her most revered and reliable finds…

The beauty world can sometimes feel a daunting and overwhelming place. With so many options and opinions vying for attention, it's little wonder so many of us feel like we have no clue what we should be using and where to start. That's where your basics come in, allowing you to build the foundations of a great routine which you can then easily add to. In curating an arsenal of products that are as hardworking as they are hard-hitting, you're guaranteed to get it right pretty much every time. Here are the essential products I think you need – and my pick of the best basics in each category…
The Everyday Mascara
Possibly my most asked beauty question is, 'What's the best mascara?' Frankly I understand, because finding a good one that won't smudge, slide or flake is the holy grail of beauty finds. To get it right, assess your criteria. If you want subtle, school-run lashes (i.e. something that makes you look half awake and human) then I'm raving to anyone who will listen about Glossier's Lash Slick. It's genuinely brilliant, isn't a faff to remove and coats lashes with a fine layer of super-lengthening glossiness that's eye-opening but doesn't look theatrical. If you want polar opposite, extreme XXL lashes, then I have it on good authority that MAC's Magic Extension is a good choice. For somewhere in between I really rate high-street brands, whose formulas are every bit as sophisticated as their high-end counterparts. Max Factor is usually unbeatable (I love Divine Lashes) as is Rimmel (its Wonder'extension Mascara is great).
The Failsafe Palette
A good palette will be one of the hardest working products in your kit. If you want one you can rely on, whatever the occasion, it's crucial to find one that doesn't contain a dud shade. Which is easier said than done when so many seem to house an erroneous lime green or 80s shade of blue. In my opinion, Nars and Dior do it best. It's virtually impossible to find a shade you won't wear in Nars's range of Quad Eyeshadow Palettes. For ultimate wearability the Orgasm Quad Eyeshadow edition is about as universally flattering as they come. All of Dior's 5 Couleur Couture palettes are excellent but the champagne-to-cocoa spectrum of 599 New Look will suit everyone.
The Seamless SPF
You know by now that sunscreen is a non-negotiable part of your everyday skincare routine, but the best SPF is the one you're actually going to use. This usually means forgetting about the latest fads. Here, though, some of the new fancy formulas are among the best I've tried: Carbon Theory's Day-Lite SPF50+ has been created especially for sensitive and acne-prone skin so is featherlight and sits under make-up like an absolute dream. I'm also a huge fan of La Roche Posay's Anthelios Age Correct SPF50+ which feels like a premium skincare cream and has the added bonus of protecting against UV and correcting existing sun damage. Finally, Ultra Violette Supreme Screen SPF50+ is a silky broad-spectrum formula for those who need extra hydration.
The Hardworking Serum
The penetrability of serums makes them a hugely effective way to treat skin. The key is to choose ingredients according to your needs. I love the simplicity (and price) of Glow Hub's newly launched serums, which are formulated on the premise of a synergistic blend of two acids to target different skin concerns. Serums that address symptoms of stress are new but much-needed contenders on my agenda (signs of stress range from dehydration and lack of firmness to fine lines and breakouts) and for that reason I'm hooked on De Mamiel's First Fix serum which is such an elegant formulation and really does enliven skin.
The Transformative Body Scrub
It might seem like a curveball, but I am a true believer in the power of a good body exfoliator. So overlooked but so worth getting right, it can transform your skin and make you feel as confident as a brilliant fake tan can. One of my all-time favourites is Legology's Exfo-lite, a proper old-fashioned gritty scrub that was designed for sloughing shins but is excellent at general all-over resurfacing. One sachet is more than enough to attend to your whole body, and it leaves skin gleaming, smooth and scented with the heavenly aroma of Amalfi lemon peel.
Read More From Georgia Day
DISCLAIMER: We endeavour to always credit the correct original source of every image we use. If you think a credit may be incorrect, please contact us at info@sheerluxe.com.