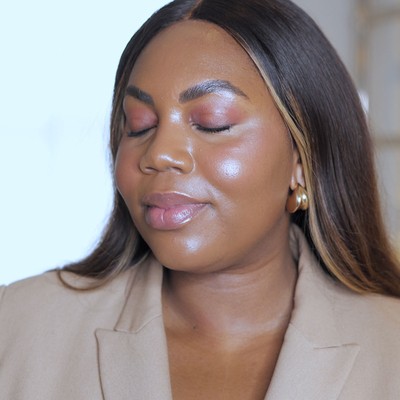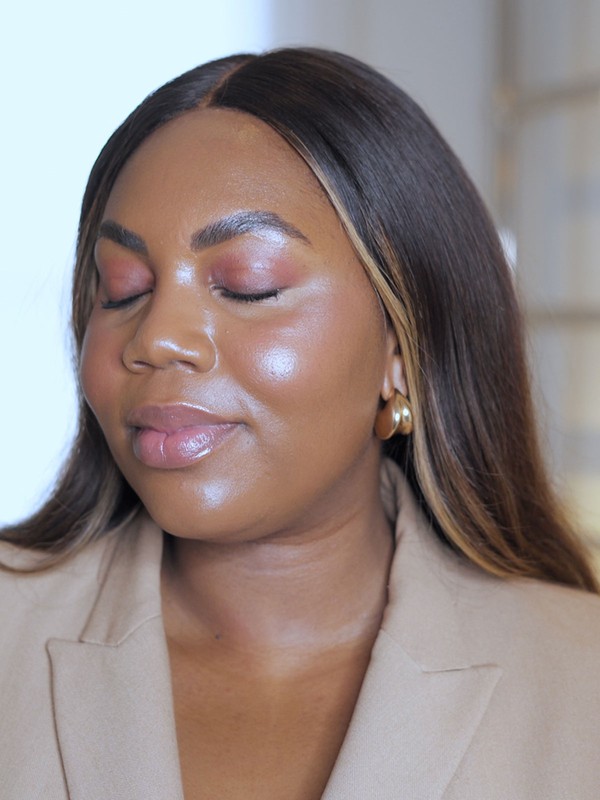 How To Prep Your Skin For Make-Up That Lasts

Adeola Gboyega knows exactly how to create natural, glow-y make-up that lasts – even in the height of summer. So who better to share their tips? In this instalment of her monthly column, she reveals ten key steps to properly prep your skin and ensure your make-up looks its best for as long as possible.

By ADEOLA GBOYEGA
All products on this page have been selected by our editorial team, however we may make commission on some products.
01
Start With Your Evening Routine
"Your 'night before' skincare routine can be just as important as what you use before applying make-up in the morning. Before you go to bed, focus on products that exfoliate, hydrate and brighten your skin. If you have any heavier products in your routine, use them in the evening and save your lighter formulas for the next morning. A great oil can work wonders in your evening routine, and it means you can avoid using one just before make-up, while still reaping all the benefits the night before."
02
Always Start With A Cleanse In The Morning
"Always cleanse your skin before applying make-up – you want a smooth, blank canvas to work with. Otherwise it's like a kitchen surface that's not been cleaned. If you don't cleanse, you're applying make-up on top of existing dirt and oil, which is what leads to breakouts. Cleansing will also allow your products to absorb better, giving you more even, flawless results. Find the right cleanser for your skin type and ensure it never leaves you feeling dry or tight – my favourites are M·A·C's Hyper Real Cleansing Oil, Sable Labs' Qasil Cleanser, Shani Darden's Cleansing Serum and Dermalogica's Oil-To-Foam Cleanser. All four suit most skin types and are designed to seal in hydration long-term."
03
Don't Underestimate Exfoliation
"Once you've cleansed, exfoliation will help remove any dead skin cells that can cause texture and uneven bumps. You only need to exfoliate once or twice a week, but you'll find your make-up sits better on your skin afterwards and is less likely to streak or flake off. Another benefit of exfoliation is the glow – this will breathe through any make-up you apply on top. Once you've exfoliated, flood your skin with moisture. I love using hydrating serums, like Eve Lom's and Garnier's Active Repair – they both plump the skin and give it a healthy, supple texture. It goes without saying that a sheer, but nourishing moisturiser should come next. Find one that suits your individual skin type – be it dry, sensitive or breakout-prone – for the best results and maximum absorption."
04
Minimise Oiliness & Shine
"If you suffer with oily skin or are prone to shine, always use an oil-free moisturiser. It will still give you the hydration you need, but will prevent anything else on top from sliding around or creasing . This may be enough without using a primer, but if you feel you need to, I recommend MILK's Pore Eclipse Mattifying Primer to create a smooth base and further control shine. If you're the opposite and suffer with severe dryness, focus on layering up on hydration, before sealing everything in with an emollient-rich moisturiser."
"Lips are an area that are so often neglected, but your lip products will sit so much better if you pay them proper attention. Apply a thick balm as part of your skincare routine to keep them feeling nourished and protected. Do this well in advance of any lipstick application so the formula has time to sink in and smooth out any texture. You want the formula to have fully absorbed before you apply any colour so the two don't intermingle and break down."
"Primers are mainly designed to create a smooth canvas and soak up oiliness, but not all are created equal. You need to choose one that works for you – for instance, if you're concerned about your pores, find formulas that target this, or if redness is your bugbear, look for those that cancel out any discolouration. There are so many on the market these days, but it's worth taking the time to shop around. It's also worth noting that a primer isn't essential for skin prep. Just taking the time to cleanse and exfoliate can be enough, without the need for excess layers."
"A lot of people worry about pilling – something that happens when different skincare formulas are layered on top of one another and they don't agree with each other, creating little lumps that come away from the skin. The main culprit is silicone: if you're using multiple skincare products with a high silicone content, they will ball together when met with any sort of movement – like a foundation brush. If you want to work out how much silicone is in your chosen product, check the ingredients list and see how close to the top silicone appears. Look out for ingredients that end in '-cone' or '-siloxane'. Or simply stick to products that are labelled as silicone-free."
"When you do come to applying your foundation, build it up in thin, light layers. This way you'll get gradual coverage that's never too thick or heavy on the skin. Taking this approach will also reduce the likelihood of your make-up looking cakey or creasing, allowing your skin to breathe and every little layer to last a bit longer."
"To ensure your make-up looks fresh and lasts for longer, it's important to use the right tools. I find clean, buffing brushes are best – your hands end up disturbing things you've already applied and can add oiliness back into your skin. Brushes are best for achieving a smooth and long-lasting finish. Always use them in a dabbing motion – never sweep, as this can cause pilling."
10
Finally, Set Everything Properly
"You've worked hard on the prep, and have applied your make-up, I recommend a good setting spray. They aren't always foolproof – you still need decent skin prep – but the right formula can prevent make-up from fading. The best way to use one is in combination with a lightweight powder. You don't have to use heaps of the latter, just dust a little on the areas prone to shine – so your nose and forehead, perhaps your chin, too. There are plenty to choose from, but I love Charlotte Tilbury's and for a powder, you can't beat the NARS Matte Advanced formula or SAIE's Radiant Loose Setting Powder – you can barely feel them on the skin and neither interfere with any look you've created."
---
SHOP ADEOLA'S TOP SKIN PREP & MAKE-UP-ENHANCING PICKS
Read More From Adeola Gboyega
DISCLAIMER: We endeavour to always credit the correct original source of every image we use. If you think a credit may be incorrect, please contact us at info@sheerluxe.com.