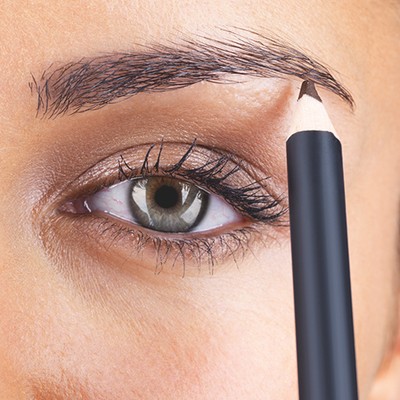 9 Ways To Boost Your Brows

We all know well-groomed brows are the foundation of every great beauty look, but what do you do if your arches are less than perfect? From the tools to invest in, to the latest products on the beauty shelves primed to highlight your best facial friends, here's everything you need to know...

1. Ditch The Tweezers
"To help boost growth, the most important thing you can do is avoid tweezing your brows," explains BBROWBAR founder Vanita Parti. "It's far too easy to get carried away when it comes to plucking and if you don't know how to shape your brows, this can lead to quite a dramatic change to your facial features." If you want to grow your brows, put the tweezers down.
2. Consider Microblading
On the hunt for a fuller set of brows without the upkeep? It could be worth considering microblading – a form of semi-permanent tattoo where pigment is implanted under your skin in tiny strokes that look just like real hairs. If, over the years, your brows have lost their shape, then microblading can add a slight arch. Plus, the results last for years.
3. Stay Groomed
If your brows are fair, sparse, uneven or over-plucked, it's worth getting them tinted and regularly groomed by the professionals – defining what's naturally there will instantly make your brows look thicker and fuller. "When it comes to shaping, the key is to accentuate the natural shape and only remove a few stray hairs – this will always be the most flattering look," explains Vanita Parti.
4. Less Is More
For the most natural-looking brows, match them as best you can to your skin tone and hair colour. "Avoid cool-toned products if you have warm undertones (and vice versa), aiming to go no lighter or darker than two shades from your natural hair colour," advises Vanita Parti. Iconic London's Sculpt & Boost Eyebrow Cushion, £26.99, comes highly recommended – it'll create instant fullness as well as stimulate hair growth in the long run for thicker brows. Plus, each cushion compact is made up of two shades for a bespoke colour that'll match your skin tone.
5. Boost Growth
If over-plucking over the years has been your downfall, invest in a product that'll boost hair growth. Keep an eye out for products containing caffeine; to encourage hair growth as well as keratin to help strengthen hairs. BBROWBAR Nourishing Brow Oil, £16, is our go-to – packed with sweet almond oil, sandalwood, lavender and rosemary, it'll soothe and strengthen weak hairs.
6. Fake Thickness
One of the most fool-proof ways to disguise thinning brows is to fill with a brow powder such as Too Faced's Bulletproof Brows, £27. This will help to give a soft but full effect that also looks natural. For areas that need a little extra colour, try using cult brow brand Anastasia Beverly Hills' Dipbrow Pomade, £19, an industry-approved formula which makes defining brows a breeze.
7. Use A Spoolie
When it comes to creating the most realistic-looking brows, invest in a spoolie. Try to avoid filling in your brows with one single stroke of any product, whether it's a pencil, powder or brow wax. Instead, try to mimic brow hairs by using small, flicking motions with a spoolie followed by the same method using a brow pencil, always working in the direction your hair is growing.
8. Don't Get Carried Away
Remember brows are sisters, not twins, so don't obsess over getting yours to look identical otherwise you'll end up plucking them to nothing. At the same time, try to avoid copying other people's brows. "The best looking brows are the ones that suit your own face shape," says Make-Up Artist Tonya Crooks. "Your face gives you the blueprint to your eyebrows. Hold a brow pencil vertically from the side of the tip of your nose straight up to the brow bone; that is where the brow should start. Then, draw an imaginary line from the tip of your nose, across the centre of the iris to the brow bone and that is where the arch should be. Lastly, draw an imaginary line from the corner of the nose to the outer corner of the eye, then to the brow bone, and that is where the brow should end."  
9. Try A Supplement
A brow conditioner can help speed the growth process along. RevitaBrow, £75, is an industry favourite but one size doesn't necessarily fit all. "You may need to try different products with different active ingredients," advises Make-Up Artist Maribeth Madron. "Talika's Eyebrow Lipocils Expert, £39, is a great option. It could also be worth considering the same supplements that help your hair grow – biotin and Viviscal can help brow hairs sprout."
Ready to boost your brows? Shop our edit of the best right here...
DISCLAIMER: We endeavour to always credit the correct original source of every image we use. If you think a credit may be incorrect, please contact us at info@sheerluxe.com.