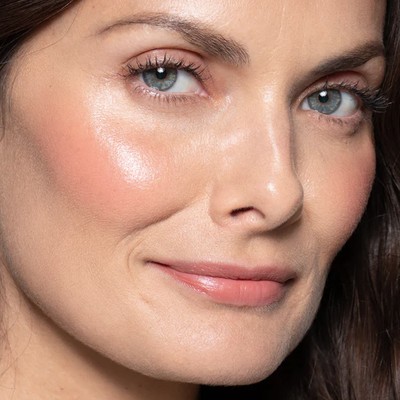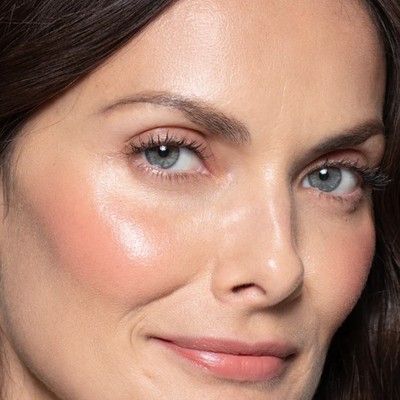 The Best Cream Blusher Tips For Mature Skin

Cream blushers can do more than perk up your complexion – they can add a youthful glow, boost hydration and provide a natural-looking lift to your features. And what's more, they also last longer than a powder as the velvety texture sits better on the skin. Here, make-up master Tania Grier shares how best to use them for luminous results and subtle definition.

Image: ILIA BEAUTY
All products on this page have been selected by our editorial team, however we may make commission on some products.
Creams Reign Supreme For A Reason
"It comes down to personal preference, but there's no denying that a cream blush is more flattering than a powder, so it's easy to see why this topic is often discussed on the SheerLuxe Community. Cream blush formulas are silky-smooth and full of hydrating, rich emollients that keep more mature, dry skin feeling and looking luminous. Whether in a tube, compact or stick form, you'll also find them easier to apply – you don't need a brush and your fingers are enough to get an even but natural finish. Another benefit of cream blushers is that, as the day wears on, your skin maintains a glossy, youthful sheen, and the formula won't sit in fine lines – unlike some pigmented powder blushers."
Application Is Everything
"Fingers are fine, but where you apply your blusher requires attention. Make your focal point the high part of your cheekbones and use your middle and ring finger to tap the formula into the skin. Always blend it in a clockwork motion. Never try to sculpt or contour with blush, it will just look old fashioned and dated. Always keep application high for a lifted, flattering effect. If you don't like using your fingers, I recommend Chanel's Pinceau Kabuki Retractable N108 Brush. Push it up or down, depending on how much pigment you like – either way, it will help you buff the formula smoothly for a flawless finish. For smaller shaped faces, try Iconic London's Cheek Glow Duo Brush – it's the perfect shape for cream blushers."
Different Skin Types Require Different Formulas
"There's a cream blush for everyone, but it pays to find the right texture for your needs. If you suffer with occasional oiliness, look to satin mousse textures that dry down matte. If your complexion is dry or dehydrated, a sheer, glossy blush with a lightweight finish is best. You'll need a few layers to build up your colour and help it stay put for longer."
The Right Shade Should Brighten Your Skin
"Take the time to find your cream blusher tone. You're either 'cool' or 'warm', so pop into a store and have a play at various counters until you discover the tones that suit you. Typically, blusher is designed to make your face look alive, so if you feel you look fresher, boosted and more lifted, you've nailed the colour. I always recommend finding one shade for summer – a brighter one – and a subtler, more muted one for winter." 
Highlighter & Blush Are The Perfect Pairing
"To make your cream blush work harder, use it with a creamy highlighter. Together, the two will add extra radiance to your cheekbones. For pale to medium skin tones, try Typology's Concentré Illuminateur Glow Drops. These have a subtle shimmer and look incredibly natural on more mature skin types. One drop is all you need – blend it onto your cheekbones before or after blush. For warmer, golden skin tones, I love Merit Beauty's Highlighting Balm in Citrine. It blends effortlessly and leaves you with a silky, youthful sheen. If you don't want to layer too many products, try By Terry's Brightening CC Liquid Blush in No2. It's the ultimate hybrid, merging a bronzer, highlighter and peachy blush in one." 
There's a CREAM BLUSH for everyone, but it pays to find the RIGHT TEXTURE for your needs.
Natural & Organic Brands May Be Best
"I say this because mature skin can be dry and prone to irritations. The benefit of going for natural and organic brands is they are full of new technology and, therefore, gentler ingredients that do more than just provide you with a youthful flush. Cream blush formulas are now designed to hydrate your skin and prevent it from drying out as the day wears on. ILIA Cosmetics is a great example of this – its blushers are unrivalled and give skin a bouncy, healthy glow thanks to the quenching ingredients inside. As far as irritation goes, it's worth using an app called YUKA. It allows you to scan any product with a bar code and then it tells you which ingredients you should avoid. It's worth doing if you often have reactions to make-up or have started to post-menopause. Some blushers include linalool and fragrances, both of which cause irritation, so it's worth ruling these out." 
Shimmer Should Be Avoided
"As should dull shades. Only go for colours that lift and brighten your face. The reason to avoid shimmer – whether it's a powder or cream blush – is because it will draw attention to any fine lines. Stick with shimmer-free creams that blend easily – you will still get the illusion of plumper skin. I think it's better to add highlight where you need it, rather than in too many layers."
It's Worth Setting Cream Blushers In Place
"If you want to extend the life of your blush, I can't recommend Iconic London's Underglow Blurring Primer enough. Not only does it give skin a healthy glow, it smooths and preps the cheeks for application and prolongs the life of any blusher. If you prefer to set blusher after you've applied it, Anastasia Beverly Hills' Dewy Set Setting Spray is brilliant. It gives your skin a radiant, satin finish and never feels tight or dry – unlike some setting sprays. For the red carpet, I often pop a dusting of a similar shade of powder blush over cream blusher. It's an extra layer, but it really works to boost pigment and increase the wear of blush. This technique prevents it melting into your pores, too."
Some Stand Out From The Crowd
"There are endless cream blushers available now, but some are better than others for mature skin. I swear by ILIA's Multi Stick in Tenderly for pale to medium skin tones. Its cool, fresh pink shades are really flattering. The 3INA No Rules Sticks are worth checking out too. Not only are they affordable, they have a matte finish that's ideal for oilier skin types; while Anastasia Beverly Hills' Blush Stick in Peachy Keen is the same, but with a slightly dewier dry down. It has a brush one side for easy application. For darker, olive skin tones, I recommend trying Ateh Jewel Beauty's Blush of Dreams in Radiant Rav for a hint or coral that adapts to any skin tone, as well as Armani Beauty's Neo Nude Melting Colour Balm in 51. This shade is a dusty peach and it has the most beautiful, velvety finish that's easy to work with. The Oh Espresso Glassy Blush is a favourite find of mine, too. It applies clear then begins to show colour when it warms up on your cheeks – it adapts to everyone, so everyone can wear it. Finally, I love Trinny London's Lip 2 Cheek pots. They are so pigmented, easy to blend and there's a shade for everyone – Munchkin and Freddie are my favourites for darker skin."
Final Takeaway Tips
"If you have rosacea or are suffering with hot flushes, avoid applying your blusher to the apples of your cheeks. This will only enhance your natural redness so, instead, apply blusher as high as you can on the tops of your cheekbones. Stay away from 'hot' pinks too – peach tones are more flattering. Another tip is when choosing or applying blush, make sure you have already applied your under-eye concealer. Dark circles can distort how much blush you think you need. Once that shadow has gone, everything related to your cheeks looks fresher."
For more make-up tips & product recommendations, follow @TaniaGrier
---
Shop Our Edit Of Cream Blushers For Mature Skin
DISCLAIMER: We endeavour to always credit the correct original source of every image we use. If you think a credit may be incorrect, please contact us at info@sheerluxe.com.