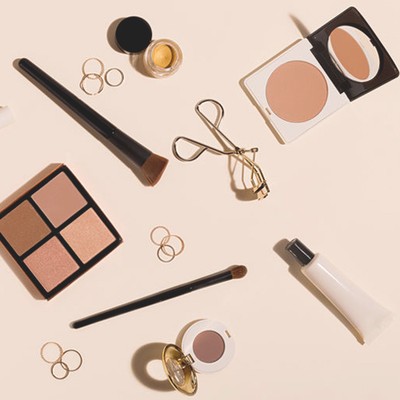 What I Learnt From Going Make-Up Free

Going make-up free to work, parties and big events is as intimidating as it is liberating, as SL's Health & Beauty Editor, Rebecca Hull reveals.

Let me start by saying two things: I've never been someone who applies stacks of make-up and I'm aware going au natural doesn't win for experiment of the year. But after ten years of daily use, I realised I'd become so accustomed to seeing myself with my 'face on', from foundation all the way through to a finishing swipe of mascara – that it was time to try something different.
It wasn't just down to my own epiphany either. The #nomakeup selfie piqued my interest (the ones that were real), and I was inspired by the increasingly naked-faced models that continue to grace the catwalks season after season. Some of the models were  sent down the runway wearing just moisturiser – and it looked fresh, cool and perhaps even prettier than a full face? My friends and colleagues had also clocked the trend and were asking me if there was any easy way to pull it off. So, why not see for myself? In true journalistic fashion (I know, I know, pass me the award), I decided to forego all make-up and step out fresh faced and glow-y like an off-duty Rosie Huntington-Whiteley.
Except as the experiment began, I soon realised there's one big problem: I'm not a super model. And this was going to be much harder than I thought, especially as I looked about 12 again. It got even worse when one friend turned to me and said: "You haven't been…crying, have you?" Christ, much harder than I thought. Not only did I feel completely exposed and vulnerable, I also felt scruffy and dull with every black head, blotch and scar on display.
I'd like to say it got better, and to a certain extent, it did. I wasn't so worried about what people thought and I certainly felt freer, with my skin in much better condition than ever before. I also came to realise that while I'll never be a make-up teetotaller, I wouldn't wear a full face of make-up daily again, which is all thanks to some very handy hacks I picked up along the way, shared with you here below. So, whether you're wanting to try bare faced yourself, or you simply want to pare it back with just a hint of something, try one of these tricks and I guarantee you'll never look back…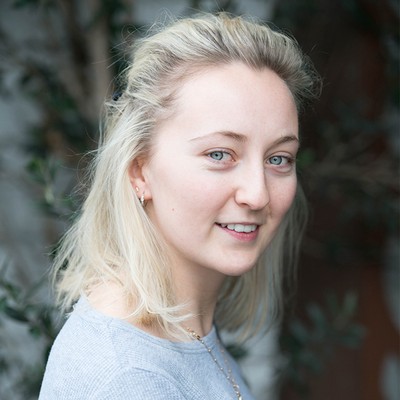 I'll never be a make-up teetotaller, but I wouldn't wear a full face of make-up again.

1. Use Skincare As Replacement Makeup
A makeup artist taught me this during my little test, as above anything else, I really craved some kind of glow. Obviously, skincare won't give you coverage, but you can use it to give yourself a real boost and highlight your cheekbones. Try using serums for this, as they bring good texture and light to the face with a subtle sheen. I layered up two for a quenching hit of hydration that gave my skin a juicy glow in minutes. Try Lumene's Arctic Dew Quenching Aqua Serum and The Ordinary's Hyaluronic Acid. 

2. You Don't Have To Be A Total Barefaced Convert
Less make-up is one thing but being completely barefaced can look rather draining. I also had to remind myself that most of the runway models still had a dab of something on. So, whether you try just a dab of concealer to cover dark circles or just a hint of creamy blush for warmth on the cheeks, you'll feel much braver to go minimal elsewhere. A swipe of Rosie For Autograph Starstruck Lip & Cheek Colour will give a healthy glow while Laura Mercier's Ultra-Longwear Concealer provides coverage that doesn't cake.

3. Always Carry A Spoolie Brush
It sounds random, and you may get strange looks when you whip one out in public, but this really helped me when it came to subtle tweaks. It keeps your brows groomed without a load of gel or liner and fans out lashes nicely so they at least look fuller, even if they are mascara-free. Better yet, get a clear gel spoolie so the hairs set in place. Remember you can use lash curlers too. A top tip once given to me was to warm up your curlers with a hairdryer or on the radiator – this just gives them a nice lift and natural oomph.

4. Invest In A Good Eye Cream
As much as I love concealer for brightening up eyes, a good cream can deliver results just as radiant. I love the Body Shop's Drops of Light Pure Healthy Brightening Eye Cream and Origins GinZing Refreshing Eye Cream – a dab of either goes a long way, delivering a pretty, dewy sheen that widens eyes nicely.

5. One Mascara Layer, No More
Another very basic trick I learnt was one layer of mascara (and I do mean one) looks far fresher and cooler for daytime than five. Try finding one with a thinner wand so you don't get any clumps, like Urban Outfitters Ohii Mini Mascara or Glossier's Lash Slick.

6. Use Accessories As A Distraction
If you're going full-frontal bare, try using little fashion statements as a distraction. It sounds silly, but a nice big hair slide or bow really helped me feel a bit more pulled together, as well as letting others know that I was making some sort of effort! I also loved a roll neck or any top that had some sort of print to it.

7. Don't Underestimate The Power Of A Lip Balm
There are so many great ones out there and a tinted balm can give some much-needed colour, try Benefit's Benebalm or for a real treat, Chanel's Healthy Glow Lip Balm. A clear one is key too, dabbed in the corners of your eyes and even brushed through brows for a few gleaming accents.
 

Shop Rebecca's no-make-up make-up recommendations below...
DISCLAIMER: We endeavour to always credit the correct original source of every image we use. If you think a credit may be incorrect, please contact us at info@sheerluxe.com.