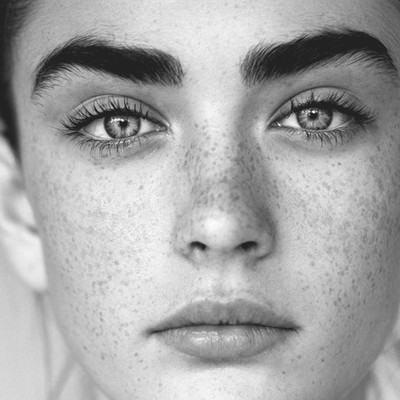 Your Essential Guide To The Latest In Brows

We're all aware of beauty's obsession with brows, and they continue to be one of Google's most popular search terms. But with so many different products and brow bars, how do you know what really works? From new launches to the best hacks we've overheard, we're here to help make sense..

If you're not paying enough attention to your brows, you're missing one of the biggest beauty tricks in the book. They have become the instant 'tweak' point for your face, so naturally, there are now more ways than ever before to enhance your own set. Here, we reveal the best new brow buys, tricks and places to go for a quick-fix. Whatever your biggest brow bugbear or challenge, we guarantee you'll be putting your best arch forward this year.
Four new arch supports worth your pounds:
The 2-in-1: Urban Decay Brow Blade, £18
WHY WE RATE IT: It's been dubbed as microblading's make-up equivalent, and we can see why. Not only does this deliver razor-sharp precision, it also adds extra depth and dimension, creating the illusion of fullness with no smudges in sight. The slimness of the two tips makes it easy to use too. We recommend starting with the pencil to fill in any sparseness, then follow up with the inky end to build up colour in light strokes. 
The pencil: Benefit Brow Contour Pro, £28.50
WHY WE RATE IT: Available in five shades (with an edge definer and highlighter), this new one-stop shop is perfect for on-the-go touch-ups, it also blends seamlessly in comparison to other pencils we've tried.
 
The quick-fix: Brow FX Gel Mascara, £14.95
WHY WE RATE IT: This new, non-sticky gel gives a perfectly groomed shape in seconds with the ideal amount of colour to bulk up brows subtly. Great for those that want minimal fuss and a fluffed-up effect.
The stain: Maybelline Brow Tattoo Long-Lasting Tint, £12.99
WHY WE RATE IT: A DIY brow tattoo sounds petrifying, but Maybelline's latest tint is anything but. Thanks to its thinly tipped brush, the amount of dye you apply is easy to control, so you don't need to worry about going overboard. Simply leave on for 20 minutes, then slowly (too fast may take a few hairs out) peel it off to reveal the colour. If you're fair, leave on for less time,  trust us when we say how impressed we were with the natural results.
Five steps to perfect brows:
The smallest change makes all the difference when it comes to brows, and you can now get a lot out of doing very little. Steal these tips from our brow hero and SL's beauty insider, Lisa Potter-Dixon.
1. Get grooming: Invest in a good spoolie brush, I always have one to hand. Use it to just brush through the brows after applying product, you'll notice it gives you a softer, more even finish and removes any unwanted product.
2. You can pluck above the brow line: It's an old wives' tale that you can't pluck above the brow line. In fact, doing this will help define the shape of your brow and give a gorgeous, clean finish. People think it means the hair will grow back thick and fast, but it doesn't, it will grow back at the same pace as under the brow – promise!
3. Know your colours: When choosing your tint or any brow product shade, match it to the colour of your brows, not your hair. So many of us dye our hair now that it's too tricky to use that as our guideline. Matching it to your arches will just give you a natural look that suits your complexion.
4. Go back and forth: I recommend using a product that combines wax and powder, this will add shape, definition and colour in one go. Use them together by going away from the hair first, then apply backwards in the direction of the hair for a defined, yet natural, bushy finish.
5. Leave the shape to the pros: Everyone's actual brow shape should be left to experts, this is one of my biggest rules. But tweezers aren't a total no-go, just don't get too pluck-happy with them. Only use them on stray hairs to avoid ruining your shape.
 

Our little black book of brow bars to try this 2019:
Don't want to DIY? These SL approved go-to destinations deliver the most stylish results when you want accuracy and perfection…
1. BBB London (Blink Brow Bar): Still the beauty editor's choice for a quick brow shape, Blink's threaders are consistently good and will throw in an Indian head massage, too.
Treatments from £17, BlinkBrowBar.com
Lash Perfect: Bringing bespoke to the high-street, the extensive menu caters to all your brow (and lash needs) in a no-fuss way. They also try to make the experience as holistic as possible, so you can expect to feel calm and relaxed throughout your treatment.
Treatments from £16, LashPerfect.co.uk
3. Nails & Brows: Boasting a serious celeb clientele, this is the brow hotspot to try in 2019, founded by beauty expert Sherrille Riley. Our favourite treatment? 'The Audrey' which is a brushed-up but subtly shaped brow that feels fresh and modern – move over definition, this is dubbed to be 2019's new style. Word on the street is it also happens to be Meghan Markle's favourite treatment, who is a regular at the salon. If it's good enough for Meghan…
Treatments from £29, NailsAndBrows.me
4. Benito Brow Bar: Not based in central London? Look out for this brow bar. Benito's is big in the north of England and is now slowly working its way around the country. Offering everything from waxing to threading and tinting, all your needs are catered for here. We also like the fact they offer 'private modesty rooms' for those who prefer their treatments in peace and quiet.
Treatments from £15, BenitoBrowBar.com
5. Benefit Brow Bar: Would it even be a brow bar round-up if we didn't include Benefit? It will always be in our top five for its speedy, walk-in service that's great for any last-minute grooming needs. The perfect place for those who prefer waxing to threading.
Treatments from £14.50, BenefitComsetics.com/uk
DISCLAIMER: We endeavour to always credit the correct original source of every image we use. If you think a credit may be incorrect, please contact us at info@sheerluxe.com.