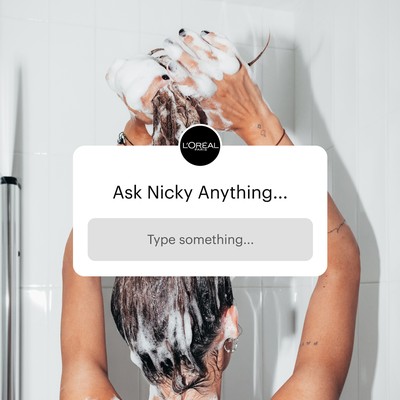 The Most Common Hair Washing Questions, Answered

A lot of us are guilty of investing in our skincare but using any old or the same shampoo we've used for years. Sound familiar? Turns out, you might not be getting as much out of your hair washing routine as you might think. To shed some light on the issue, we asked Expert Hairstylist and Master Colourist, Nicky Lazou, to answer some of the most commonly asked questions…

CREATED IN PARTNERSHIP WITH L'ORÉAL PARIS
ELVIVE MORE THAN SHAMPOO
Q.
What Are The Most Common Mistakes People Make When Washing Their Hair?
A: "If you only wash your hair two to three times a week, then just doing one shampoo, in my opinion, is a mistake. The first shampoo cleanses the hair and the second treats it, so doubling up is important. Likewise, rushing and not cleaning your hair properly is a mistake. Washing your hair should be a luxurious experience, not a botch job that will mean you haven't cleaned your scalp thoroughly. If you rush, your hair will get greasier faster and product will build up on your scalp, too. Often, we forget to wash the nape of our neck, as well – this area is home to so much grease and dirt. Another mistake is not rinsing thoroughly – take the time to do this (at least 40 seconds), otherwise your strands will feel limp and heavy. Finally, never skip conditioner. Shampoo works to open the cuticles and clean the hair, with conditioner applied to seal the cuticles again. Even if you have fine hair, this is key – just make sure your conditioner is applied to the ends only."
Q.
It's Often Said You Shouldn't Wash Hair Daily – Is This A Myth?
A: "Washing hair too often can sometimes dry your hair out, or affect the colour, but on the flipside, not washing enough will lead to scalp issues – the answer is balance. If you suffer with dandruff or irritation, you need to balance the pH of your scalp and washing it too much can strip all of that away. My advice is to wash your hair every three days. For people who don't suffer with oiliness, or have thicker hair, then go as long as you can without shampooing." 
Q.
If You Colour Your Hair, Does It Need A Special Shampoo & Conditioner?​
A: "Yes, big time. Coloured hair needs specialist care as dye can gradually disappear and make strands appear dull, lifeless and brassy. If your hair is dry and damaged, it won't hold onto colour as well, so a dedicated shampoo and conditioner is important. Hard water, heat styling tools and harsh shampoos can strip away the colour pigment deposited in the hair, making it appear less vibrant. Colour-enhancing shampoos and conditioners are created to be gentle and never stripping." SL recommends L'Oréal Elvive's Colour Protect More Than Shampoo – it softens, hydrates and helps lock in colour with more shine.
Q.
Should You Switch Your Shampoo & Conditioner Seasonally?
A: "Definitely. It's good to switch it up, as the seasons can have a big impact on our hair without us realising. Our hair loses moisture – especially in the winter with the heating on – so as it gets drier, we should change to a more nourishing shampoo. Likewise, dry hair can break more easily, so humidity and pollution can exacerbate the issue. A good nourishing shampoo is key in summer, too, when we're exposed to the heat – think of your hair as you would your skin and listen to what it needs."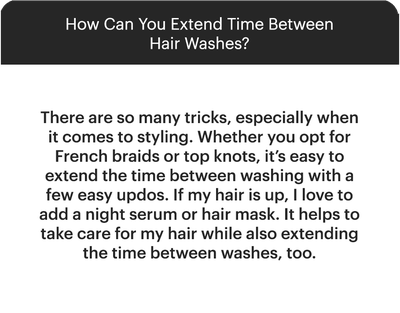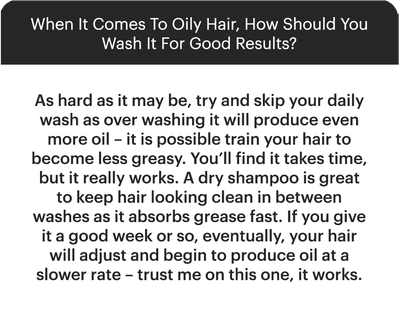 Q.
Do You Always Need A Good Lather From Your Shampoo?
A: "Too much foam is rarely a good sign – in fact, it can be really harsh on your hair. You need to strike a balance between cleaning power and foam for the best wash. If you're doing a double wash, the first shampoo won't lather up as well as your hair is full of dirt and oil, but you'll notice the second one will in a more satisfying way. Moderation and balance is the message here."
Q.
Is There A Correct Way To Shampoo In Your Professional Opinion?
A: "Washing your hair is all about cleansing your scalp, but learning how to do it will make a huge difference to your overall hair health. Always shampoo twice – as mentioned above, it's best for a thorough cleanse. Never rub or scrub the hair either, as this can be so damaging. Spend time going around areas like the nape to remove dirt thoroughly. Finally, rinse everything away for at least 50 seconds."
Q.
If You Have Dandruff, Should You Wash Your Hair In A Specific Way?
A: "Wash regularly and take care of your scalp. Put simply, if the scalp isn't clean, it's a great environment for dandruff to breed. Try not to use too many harsh products that will strip your scalp, as this may eventually cause hair loss. Find the right shampoo for your symptoms and stick to it, but always focus on a really good wash first and foremost."  
Q.
Is It Ever Necessary To Pre-Wash The Hair?
A: "A pre-wash is nice for the hair every so often. It does a good job of removing product build-up and leaving your hair looking shiny, vibrant and softer, too. It's great for extra nourishment and it makes your shampoo – as well as other products – work harder."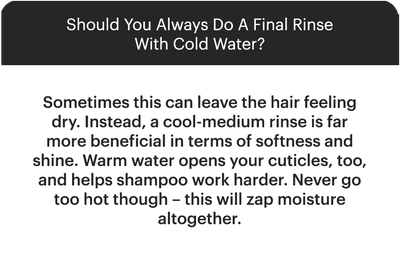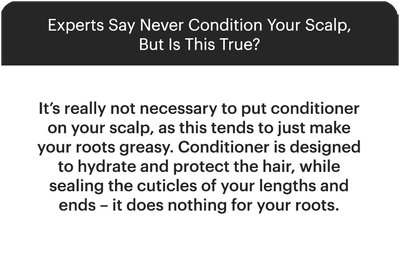 Q.
What's The Best Way You Can Get Rid Of A Dry, Flaky Scalp?
A: "Make sure you use the right water temperature and the right product for your hair type. A pre-shampoo works well, too, as it will remove product build up first. The right hair washing technique is what's most important though – cleansing your scalp well will remove any flakes."
Q.
Is It Possible To Wash Your Hair Without Causing Frizz?
A: "Using the right shampoo for your hair type, as well as regular hair masks will help prevent frizz. Some shampoos have specific formulas to correct moisture levels or retain hydration – there are so many that cater to every hair type these days, including those with extra-long and curly hair. These two hair types tend to be drier, so making the most of the right ingredients is vital. Finally, never rub your hair with a towel either – this creates friction and in turn, frizz." SL recommends L'Oréal Elvive's Extraordinary Oil More Than Shampoo. It cleanses your scalp, but conditions and cares for it like a mask, thanks to lipids – a key ingredient in professional treatments – which latch onto dry, parched hair.
Q.
Shampoo Aside, What's The Best Way To Clean Your Scalp?
A: "Start shampooing from your hairline down onto the nape, then work your way around your whole head in circular motions. Always spend extra time on massaging your formula in for a thorough wash. This will remove oils and dirt as well as make-up that gets trapped in your hairline. A clean environment will give you healthy hair."
Q.
Finally, What's More Important – Shampoo, Or Conditioner?
A: "Both! They do completely different jobs and both are as necessary as the other. Just remember shampoo is there to cleanse, while conditioner is there to smooth and seal your cuticles."
Follow @NickyLazou for more advice and tips.
Try L'Oréal Elvive's New More Than Range For Affordable & Effective Shampoos...
DISCLAIMER: We endeavour to always credit the correct original source of every image we use. If you think a credit may be incorrect, please contact us at info@sheerluxe.com.