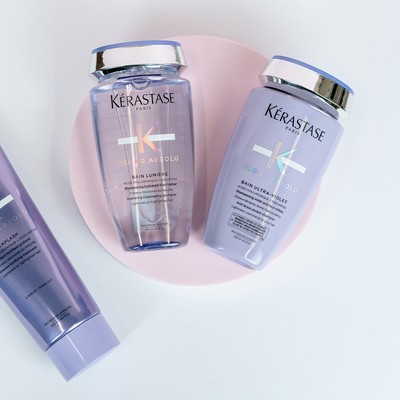 The Must-Have Haircare Range For Blondes

All blondes know how tricky it can be to maintain bright, healthy-looking hair, which is why the right products – specifically those which protect against dullness, damage and discolouration – are key. Cue the Kérastase Blonde Absolu range – considered the gold standard in haircare, if you've yet to try it or are looking for products to fight brassiness and enhance luminosity, here's what you need to know…

CREATED IN PARTNERSHIP WITH KERASTASE
What The Range Is & How It Works…
Dedicated blonde treatments are everywhere these days, but many can leave your hair feeling lacklustre. That's where the Kérastase Blonde Absolu range is different. Designed to eliminate the guesswork, you'll find four easy to use, customisable products for all shades of blonde in the line-up. There's a hydrating and illuminating shampoo (Bain Lumiere), an iridescent purple shampoo (Bain Ultra-Violet) to neutralise brassy tones and Cicaflash – a lightweight conditioner that nourishes, repairs and reconstructs the hair from within. Finally, look out for Cicaplasme – a lightweight heat protectant and treatment which bolsters colour, and acts as a shield against the dulling effects of heat styling. The best bit? All blondes can benefit – from sun-kissed, to ombre, right through to platinum and even silver grey.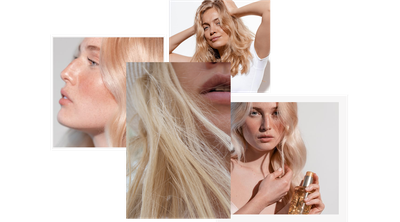 STOCSKY UNITED / SONJA LEKOVIC
Why It's So Popular…
Each product in the Blonde Absolu range is designed to deeply nourish and neutralize brassiness  without compromising the health of your hair. The range is formulated with a unique combination of potent Hyaluronic Acid and Edelweiss flower to lock in moisture for extra softness and shine. Kérastase in-house haircare expert, Milly Whittle explains: "The hydrating power of hyaluronic acid (HA) is no secret, and now we're seeing it filter through into haircare – especially for blondes. In terms of hydration and moisture, it's considered the gold standard. It can hold a thousand times its weight in water, giving it the power to fill and heal hair fibre wounds from within, smoothing your cuticle and leaving strands feeling soft and looking brighter. It's one of the reasons why the range is so well-loved."
How & When To Use The Products…
Gentle enough to be used daily, the beauty of the Blond Absolu range is you can dip in and out as you need it – especially when it comes to the conditioning and heat protective treatments. With regular use, you'll find the range helps to maintain and extend the life of your in-salon colour, without ever drying it out or leaving it feeling brittle. The softening benefits of each formula mean hair is left shiny, silky and soft, while frizz and flyaways are also smoothed. Milly also recommends using an oil to enhance your tone even more: "Promising to leave hair six times visibly shiner, it's worth using an oil like the Kérastase Elixir Ultime. One to use if dullness is your main concern, you only need a small amount to see a brighter, healthier looking result."
 
The Key Products In The Range…​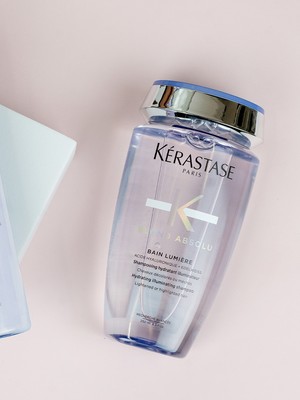 For Dull Hair… Bain Lumiere, £23.50
Why We Love It: Unlike some blonde-dedicated shampoos, this is incredibly lightweight, so it never feels heavy, or like it's causing your hair to go lank. It also uses the skincare hero hyaluronic acid to keep hair hydrated as well as more illuminated. With regular use, we love how much it enhances blondes tones, while boosting better shine, too.  What Milly Says: "Blonde hair can often feel dry and lacklustre, which is where this luminous, lightweight shampoo comes in. Containing hyaluronic acid, it deeply nourishes to leave blonde hair feeling light, bright and fresher-looking. It also contains an ingredient called edelweiss flower, which is a powerful antioxidant that shields hair against pollution, which is known to cause damage to blonde hair. Use it daily – it's gentle and won't ever weigh your hair down."Available here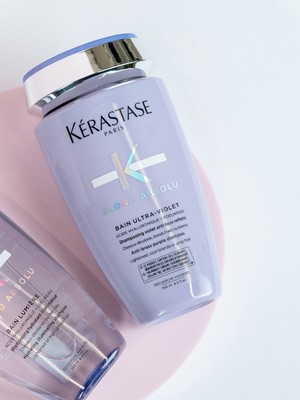 For Brassiness…Bain Ultra Violet Shampoo, £23.50
Why We Love It: If brassiness or yellow tones is your bugbear, you'll love this shampoo. It works well to maintain the warmth of your blonde without changing or interfering with the tone. Extra points for the creamy, thick texture which locks in hydration and keeps hair feeling smooth and silky-soft post-use. Easily one of the best purples shampoos we've tried.  What Milly Says: "Ideal if you suffer with brassiness, this works fast to neutralise yellow tones to keep blonde hair vibrant, fresh and cool. It might be highly pigmented, but the formula is designed to deeply nourish your hair. The beauty is you can create your own rules with it, depending on your goals. If you want an icy look, use it with every wash. If you just want to freshen the tone, add it to your existing routine only when needed."Available here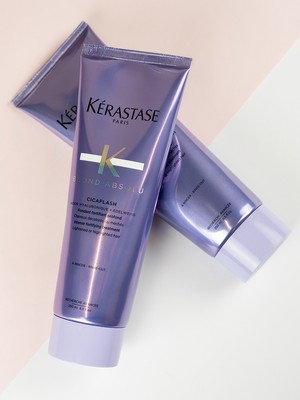 For Hydration…Cicaflash, £28
Why We Love It: This consistently earns 5* reviews and it's easy to see why. Providing better volume and smoothness, it's totally weightless for a conditioner and works hard to keep yellow tones at bay. Nourishing and hydrating, it's one of the best products we've tried for reviving damaged, dry hair post-bleach. It gives a glossy, well-groomed effect to the hair that's unbeatable, while the shine it leaves behind is unbeatable. Great for helping to detangle any unwanted knots, too.  What Milly Says: "Nothing hydrates blonde hair quite like Cicaflash. A luxurious, yet lightweight, conditioner, it leaves lightened or highlighted hair feeling intensely nourished with a formula that reconstructs the hair fibres to prevent further breakage. With the restorative power of a hair mask, but the speed of a conditioner, it's perfect for those short on time. Use it daily or when your hair is in desperate need of some moisture – a coin-size amount worked through towel dried hair is enough for silky-soft results." 
Available here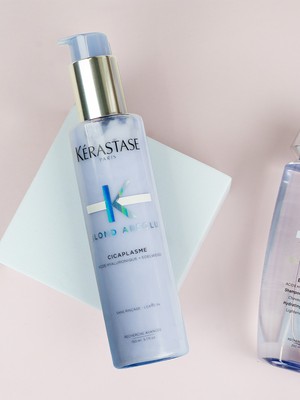 For Heat Protection…Cicaplasme, £28.30
Why We Love It: Often dubbed a 'miracle product,' this does so much more than protect against high heat. Just a small amount rubbed into hair helps give strands a smoother, shinier finish, but better still, we found our hair dried faster when using it as well. Light in texture, it doesn't leave behind any build-up on your scalp or weight-y feeling, in fact, you won't detect it at all once you've dried your hair. A staple for those with fine, bleached or damaged hair needing some extra protection. What Milly Says: "This leave-in cream seals split ends and smooths frizz, leaving behind a glossy sheen that enhances the vibrancy of your blonde. As a result of the lightening process, blonde hair can be more prone to damage if it's not cared for properly, which is why products like this are so essential. In fact, every time you heat style your hair, you should be using a product like this. Heat damage can happen even with temperatures as low as 90°C. Cicaplasme also protects up to 230°C. Use just a small amount – the UV filters will protect against daily aggressors, while the lightweight texture never feels greasy or tacky. Expect a soft, smooth and shiny finish as you style."
Available here
DISCLAIMER: We endeavour to always credit the correct original source of every image we use. If you think a credit may be incorrect, please contact us at info@sheerluxe.com.