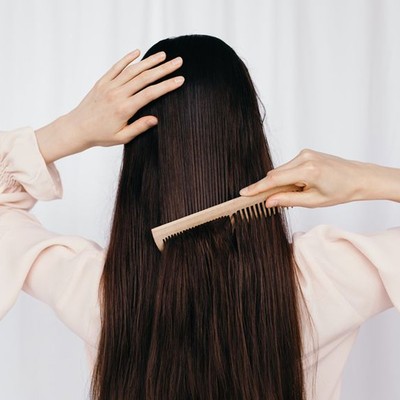 The Products To Try For Thicker, Healthier Hair

Hair loss is much more common than you might think. Around half of us suffer from hair loss at some point, for reasons spanning stress, nutrient deficiency, hormone imbalance and pollution. On a mission to change the current approach to hair loss is supplement brand The Nue Co. Its latest launch is a first-of-its-kind dual approach that works within weeks – here's why it's one to keep on your radar…

CREATED IN PARTNERSHIP WITH THE NUE CO
What's the latest?
When it comes to wellness brands, probiotics, supplements and skin care, you'd be hard pushed not to have heard of The Nue Co. Its forward-thinking formulas never disappoint, and its latest launch is no exception. A supplement duo formulated to address hair growth and volume from the inside out, the new Growth Collection takes an ingestible and topical approach for total inside-out hair growth support.
So, tell us the story behind it?
Did you know that a quarter of women struggle with hair thinning and breakage, and that this figure is on the rise since hair loss was identified as a Covid-19 side effect? On a mission to provide a practical and science-backed solution to thinning hair, the hot-off-the-press Growth Collection uses patented technology to boost unhealthy, slow-to-grow hair with tangible results in just 12 weeks. "Hair has meaning," Jules Miller, founder and CEO of The Nue Co., tells us. "Having gone through phases of losing substantial hair (most recently after my Covid recovery), I've learnt a lot about the much-needed cutting-edge technology necessary to address hair growth from the inside out."
How does it work?
It all starts with Growth Phase, an intelligent supplement that has been formulated to address hormonal imbalances, pollution, nutritional deficiencies and stress to reveal thicker, healthier hair. It contains essential minerals, adaptogens, micronutrients and vitamins (think biotin, vitamin C and B6 and B12), as well as a clinically studied complex containing growth factor proteins, peptides, collagen and amino acids, all of which work together to increase hair density, reduce shedding and kickstart hair growth. All you need to do is take three capsules every morning. The other half of the duo, Supa_Thick, is a topical scalp treatment proven to support the health of the scalp, aid circulation, rebalance the scalp microbiome, remove product build-up and protect the follicles. Packed with probiotics and Ayurvedic extracts, the serum-based formula leaves roots feeling refreshed and your scalp calm and nourished.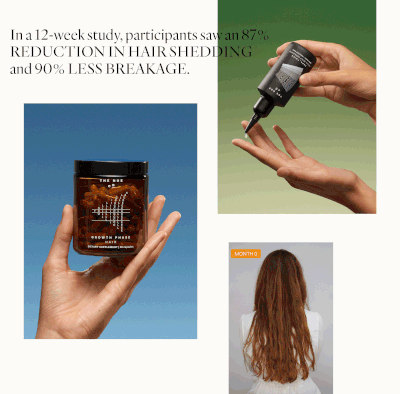 How do you use the serum?
For the best results, use it two to three times a week. Start by dividing your hair into six sections prior to washing and apply to the scalp; then gently massage your scalp to stimulate circulation and enhance absorption of the active ingredients. Leave it on for 20 minutes and then wash out as usual.
Does it really work?
When used together, the Growth Collection is a sure-fire route to thicker, shinier and healthier hair. After 12 weeks, Supa_Thick was found to increase the hair growth phase by 9%, decrease the percentage of hair in the hair loss phase by 17%, and boost overall hair density by 8%. The supplement is also clinically proven to supercharge the health of your hair. In a 12-week study, participants saw an 87% reduction in hair shedding and hair loss, and reduced hair breakage by up to 90%. There was also a 40% improvement in hair growth over a five-month period – it's impressive stuff.
Who's it for?
"The Growth Collection is perfect for the woman who is shedding more and more hair, and is looking for medical-grade results, using a non-hormonal and drug-free solution," says Jules. The duo is also one to try if you're prone to dandruff, scalp dryness or if your diet is lacking in key hair health-boosting blocks such as protein, B vitamins and iron, or if you are noticing hair fall in menopause.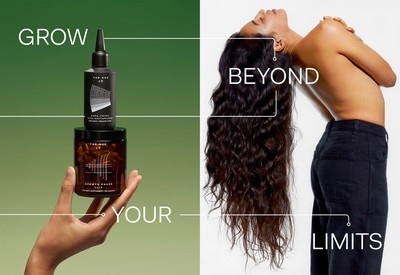 Anything else?
Like all The Nue Co. products, the new range is entirely free from toxic preservatives, additives, flavourings and sweeteners, as well as being organic and gluten- and cruelty-free. The Nue Co. also responsibly sources its ingredients from around the world and 95% of its materials are recyclable. 
 
Want in? The Growth Collection is available now at TheNueCo.com.
 
 
DISCLAIMER: Features published by SheerLuxe are not intended to treat, diagnose, cure or prevent any disease. Always seek the advice of your GP or another qualified healthcare provider for any questions you have regarding a medical condition, and before undertaking any diet, exercise or other health-related programme.
DISCLAIMER: We endeavour to always credit the correct original source of every image we use. If you think a credit may be incorrect, please contact us at info@sheerluxe.com.