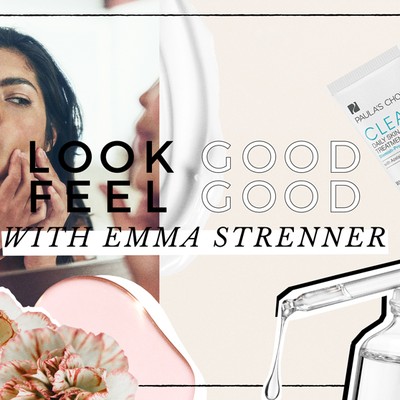 The Active Ingredient You Need In Your Skincare Regime

We're always looking for the latest miracle skincare product to help improve our complexion –but azelaic acid is one that constantly flies under the radar. However, the ingredient is proving to be more than worthy of our attention; SheerLuxe's new beauty columnist Emma Strenner gives you the low down.

Among the great perks of working in the beauty industry is the access to experts – and when it comes to my skin, I won't take anything but the gold standard in derms. After all, a hair disaster you can rectify with a perpetual up-do, or even a great hat, but your skin? The person you entrust with this must know what they're doing.
 
Facialists are the same, but this is a story for another time. You've no doubt heard of and probably used Retinol (Vitamin A) – it is, after all, the hero of anti-aging ingredients and proven to be the most effective in helping to reduce the appearance of lines, tackle pigmentation, and minimise acne. In fact, it's so mainstream now that you can even buy a decent dosage of it in Elizabeth Arden's Retinol Ceramide capsules, and from the Scandinavian line Verso, which uses Retin A as the core ingredient in its products.
 
Azelaic Acid on the other hand, has largely gone unnoticed – an unsung hero, shall we say – but can offer your skin a myriad of benefits. It is used mainly as an anti-inflammatory for the skin, favored by dermatologists for helping rosacea and even acne with its antibacterial benefits, but is also a great clarifier of the pores and helps to prevent pigmentation, too.
 
And here's the kicker: it won't cause your skin to freak out like other active ingredients do on first usage. While retinol, glycolic acid and high-percentage vitamin Cs will do wonders for the clarity of your skin, they do irritate. In fact, on average, it takes about two weeks for your skin to settle once you start to use them, initially causing dry patches, extra sensitivity, you name it. But Azelaic acid is far more demure in its approach: it gently buffs away at the pores in the background, so you can use it in the daytime – with sufficient protection, of course – and your skin's clarity will thank you for it.
 
When it comes to clearing the complexion, not just of breakouts but also pigmentation, lines and redness, a softer approach to tackling the pores first is a must. Without unclogging your pores, cell turnover begins to slow down and lines will start to form as the skin thickens and loses its elasticity. Abrasive granular exfoliators, where skin has to look red raw for you to feel like it's worked its magic, are now a thing of the past. Azelaic acid continuously works on your pores, unnoticed, revealing clearer, calmer, younger looking skin – think of it as a deep but gentle clean.
 
This is one active ingredient you can buy over the counter without a prescription, but opting for something that is at least 15% in strength is a good starting point. Because it's a natural exfoliant, it's unlikely to cause too much of a reaction and works brilliantly as a daily complexion clearer. "It's suitable for use day or night, and layers well with other actives like vitamin C and niacinamide," says Cosmetic Dermatologist Sam Bunting. "Like most actives, it will work best when applied to cleansed skin, before moisturiser and SPF use."
 
For the highest efficacy, look for 5-20% concentration. "While it's not always clear what the percentage is when bought over the counter, if it's listed in the top one-third of the ingredients list, there are likely to be significant levels", adds Bunting.
 
The best formulas available are: Paula's Choice Daily Skin Clearing Treatment (best for breakout prone skin) and Jan Marini Rosalieve (best for rosacea and redness).
DISCLAIMER: We endeavour to always credit the correct original source of every image we use. If you think a credit may be incorrect, please contact us at info@sheerluxe.com.